It's true that it's not easy to keep your kitchen well organized…
Fortunately, there are tips for having an organized and tidy kitchen.
We have selected 10 awesome and inexpensive tricks for you that you will love. Look :
10. Add a spice rack to the side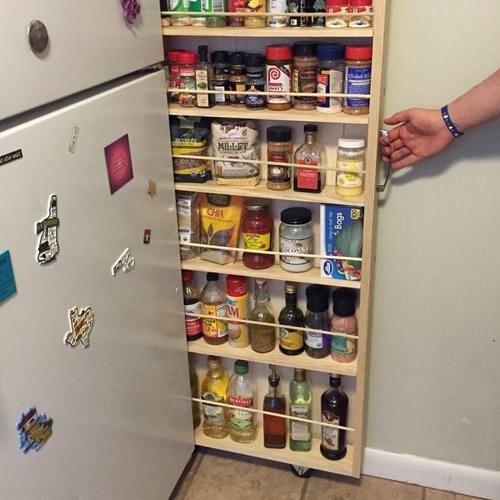 If you like to cook, you know that any recipe needs spices. But it's not always easy to keep all your spices tidy. Use a spice rack on wheels like this to hide them behind the fridge.
To discover : Are you missing a spice for a recipe? Here's what to replace it with.
9. Use clipboards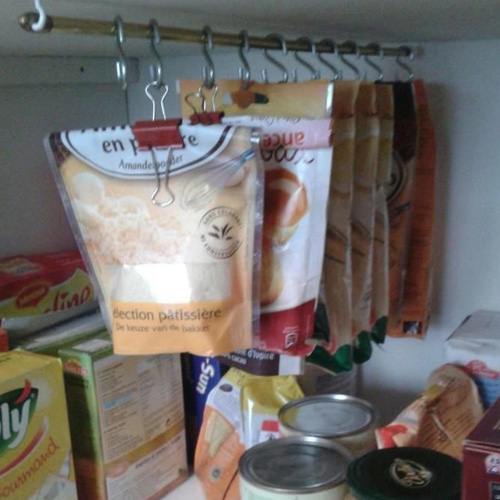 When you've run out of room in your cupboards, why not hang them on a bar to save space? No need to spend a fortune! Just use a metal bar with hooks and clipboards to hang your products.
8. Use plastic bins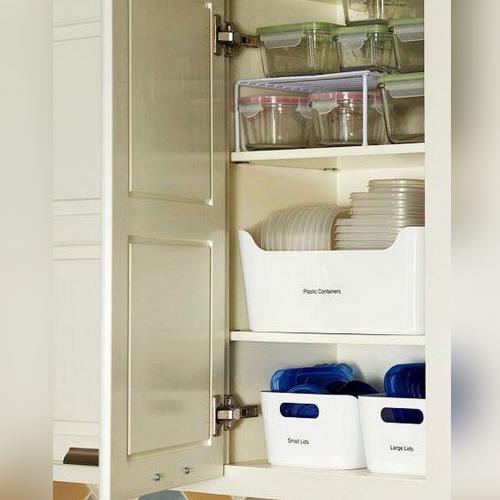 Plastic bins are great for tidying up your cupboards. You can easily find it here for a few euros. Use them for example to store your Tupperware. Add a tag to be even more organized!
7. Use closet doors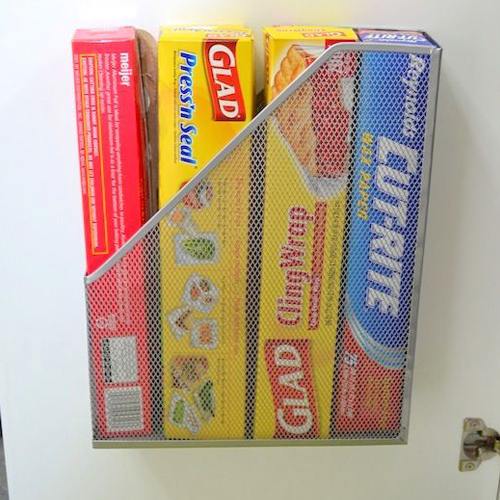 If your kitchen is small, use all available spaces including doors! Get yourself a magazine holder like this one and hang it on the door to store your kitchen paper rolls.
To discover : The New Storage For Your Rolls Of Kitchen Paper.
6. Add a small shelf above your sink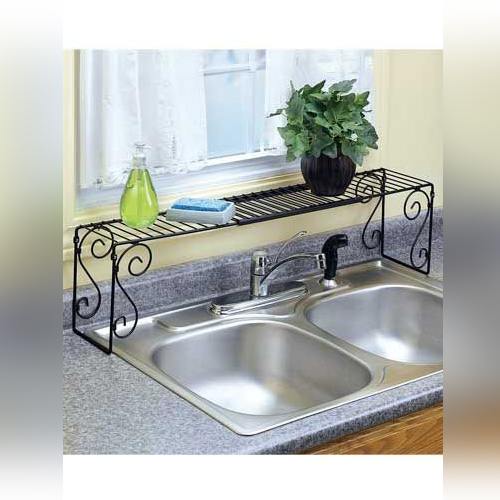 I don't know about you, but for me there is nothing worse than doing the dishes! To make washing up a little more enjoyable, add a nice shelf above your sink like this. This way, you can store your sponge and dishwashing liquid, and even add something nice like a plant.
5. Use glass jars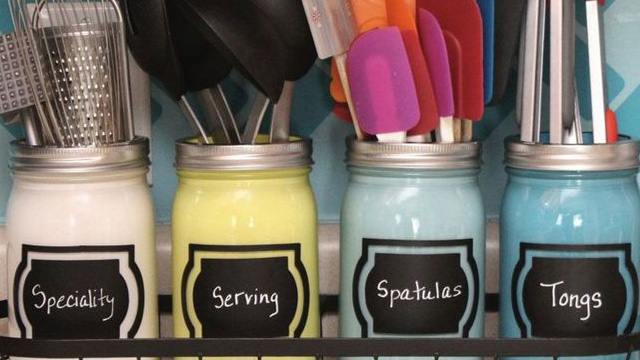 You can use glass jars to store your various kitchen utensils. You can buy cheap jars and paint them or recycle pickle jars for example.
To discover : The New Trick To Open A Jar Easily.
4. Use a drainer to store your dishes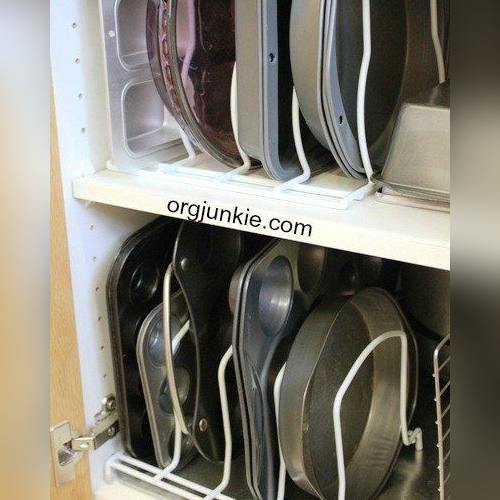 Instead of putting your different dishes on top of each other, this trick will allow you to have them tidy. And above all, each dish will be easily accessible! No more searching for them.
3. Use a multi-stage turntable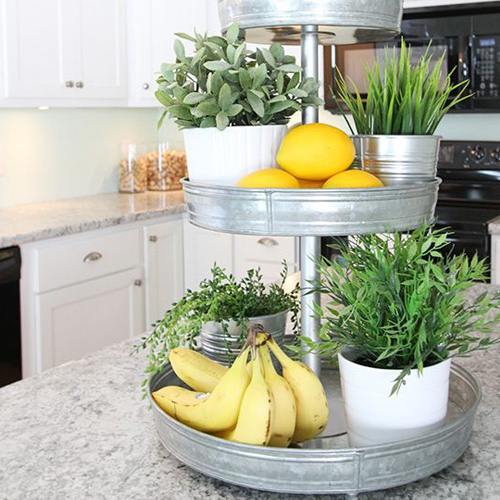 A great trick for storing your fruit and herbs is to use a multi-tiered turntable. It saves space and looks great on a counter. You can try to make it yourself or buy one like this one in steel.
2. Organize your pantry with baskets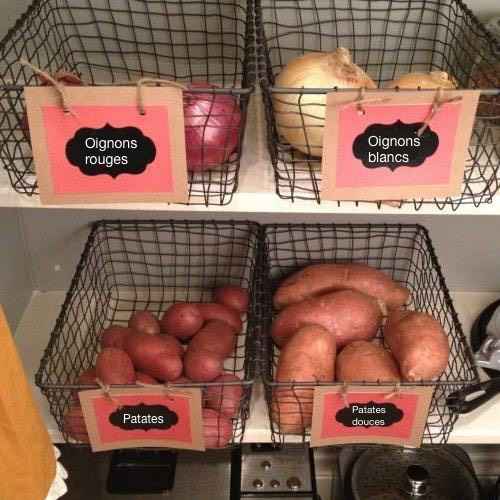 When you see the food in front of you, you are more likely to want to eat it. Store all your vegetables in metal baskets so that they are visible and easily accessible. You can even add tags for easy storage after shopping.
1. Use the outside of your fridge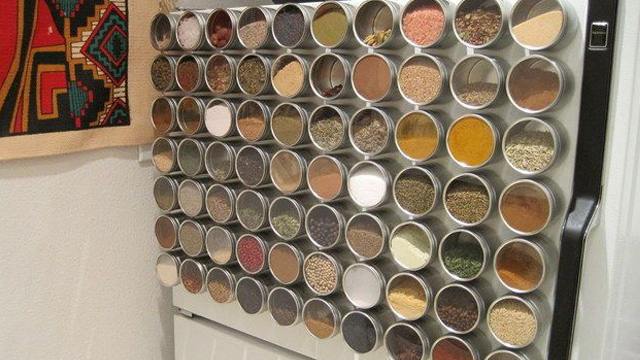 Do you have plenty of spices at home? Why not use the outside of the fridge to store them and have them close at hand? For this, use spice boxes magnetized like these to stick on the doors of the refrigerator.
Share this tip
Do you like this trick ? Click here to save it to Pinterest or click here to share it with your friends on Facebook.
Also to discover:
8 Great Storage Hacks For Your Kitchen.
No Place To Store Your Spices? Here is the Tip for Little Kitchen.