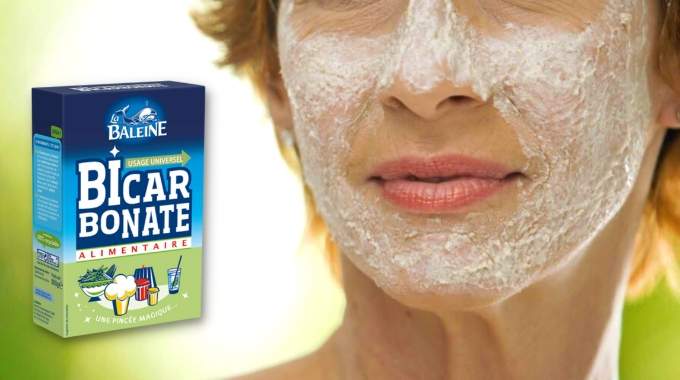 THE benefits and uses of baking soda are numerous… Especially for the skin!
It may seem surprising.
Because in general, we know its benefits for whitening teeth, in mouthwash, for washing hair, for cooking or cleaning the house…
But taking care of your skin is another story.
SO, how to use baking soda for skin ?
This is the question I asked Marie, my beautician.
And yes, she confirmed to me that the virtues of baking soda for the skin are numerous.
Here is 10 benefits and uses of baking soda for the skin. Look :
The benefits of baking soda for the skin
Is baking soda good for the skin?
Generally speaking, yes.
Baking soda, also called sodium bicarbonate, is a precious asset for your beauty.
It is alkaline and it also has a soothing and anti-inflammatory power.
Baking soda is a fine white powder, slightly abrasive and 100% natural.
Of course, it has cleansing properties, but it also softens the skin.
And that's not all.
Thanks to his alkaline pH, it helps to rebalance the pH of the skin. And it stabilizes it.
Let us now see what are the different baking soda based skin care products.
1. To cleanse face and body
Baking soda turns into a cleanser suitable for problem skin.
This care cleans impurities and unifies the complexion.
The recipe for homemade scrub is very simple!
Because you only need 2 ingredients: baking soda and coconut oil.
You mix 2 tablespoons of coconut oil with 1 tablespoon of baking soda.
Apply the cleanser to your dry or damp skin.
Then rinse it by making small circular movements, pressing lightly.
At the end, don't forget to put on a moisturizer.
To use this scrub all over the body, just increase the proportions.
2. To make a purifying exfoliating scrub
The little grains of baking soda work wonders like purifying exfoliating scrub.
They gently remove impurities and dead skin cells.
The complexion becomes luminous and he finds its brilliance.
For this, mix 2 tablespoons of baking soda with a little warm water.
Adjust the amount of water to make a paste.
Take this paste and apply it on the face.
Massage the face in circular motions all over the face, emphasizing the T-zone (forehead, nose, chin) and scars.
If you have oily skinyou can leave your care to act for 5 min before rinsing it off.
This trick allows you toeliminate excess sebum.
On the other hand, with dry skinadd a little olive or coconut oil to moisturize the skin on the way.
Know that by increasing the quantities, but keeping the same products, you can body scrub.
3. To make a brightening face mask
Be careful, we are not talking about whitening the complexion, but about having an even and luminous complexion… in short, clearer.
There recipe for this lightening mask is very simple and uses only natural products: of honey and bicarbonate.
Mix a teaspoon of each ingredient.
And we apply the mask on the clean and dry face for 5 minutes.
We rinse with clear water and finish the scrambled complexion!
This treatment can be adapted usingrose hydrosols to soothe irritation, witch hazel hydrosol for a purifying action…
Or even of aloe vera gel for a moisturizing action.
4. To remove blackheads
Blackheads, nobody likes that.
But fortunately, we can limit the damage with a natural treatment made with baking soda.
Thanks to his exfoliating powerit eliminates dead cells and rids the face of impurities.
The result before after is not long in coming!
The skin of the face is more luminous, soft and clean.
To make this exfoliating treatment, mix 1 teaspoon of baking soda, 1 teaspoon of water and 1 teaspoon of cider vinegar.
Wet a glove with warm water and place it on the problem areas to open the pores of the face.
Then apply the exfoliating paste on the blackheads and massage gently.
Then, leave the mask on for 5 minutes and rinse with cold water.
Then mix a few drops of cider vinegar with a teaspoon of water.
And with a cotton pad, apply this lotion on the face.
It's a treatment you can do once a week.
5. To fight against acne pimples
Use baking soda to fight acne pimples is a simple and economical treatment.
The idea is to make a mask with sodium bicarbonate.
For this, it is enough to moisten his face. Then we take a little sodium bicarbonate in the hand.
And apply it directly to the face.
Can also apply this paste with a cotton swab directly on the pimples.
Leave the mask on for 5 minutes then rinse with lukewarm water.
Finally, don't forget to put on a suitable cream to moisturize your face.
6. To fight against wrinkles and fine lines
How to get rid of wrinkles, fine lines on your face with baking soda?
Many of us ask ourselves this question.
To give your skin a natural boost, you can prepare a homemade anti-wrinkle treatment.
It's about making a homemade exfoliator. We reinforce its effectiveness thanks to essential oils pure lavender, frankincense and raw manuka honey.
For this, mix 1 tablespoon of baking soda, 1/2 tablespoon of honey and 1 drop of each essential oil.
We use this anti-wrinkle scrub to remove dead skin.
The essential oils can thus better penetrate the epidermis.
And their powerful active ingredients that act in depth are more effective.
7. To soothe eczema
Bicarbonate has soothing and anti-inflammatory properties.
If you are prone to eczema, hives or psoriasis, it will become the star of your bathroom!
To take advantage of its properties, you can take a bath with baking soda.
To soothe eczema, run warm water in the tub.
Then put 2 to 3 tablespoons of baking soda in it.
It will neutralize the effects of limestone and make your skin softer and soothed.
8. To soothe sunburn
A sunburn… And the skin burns!
You can use baking soda to soothe the sunburn.
To soothe sunburn, nothing could be simpler.
It is necessary to put 1 tablespoon of baking soda in 250 ml of fresh water.
Mix to dissolve the baking soda.
Then a compress is soaked in this lotion and applied to the sunburn.
We leave to act for 15 minutes and if necessary we start again until the burning sensation disappears.
9. To fight against itchy bites
We don't teach you anything if we tell you that mosquito pimples itch terribly…
Fortunately, there is a simple natural remedy for quick relief from mosquito bites.
The trick is to mix a little baking soda with water to make a paste.
Then just apply this paste on your ugly pimple.
The homemade poultice is left to dry. And the itching goes away.
10. As a whitening treatment for the armpits
If you want to whiten your armpits, you can also use baking soda.
Baking soda helps whiten dark areas under the armpits.
For this, mix 2 teaspoons of baking soda with a few drops of lemon juice.
Apply the mixture under the armpits with your hands and gently rub in small circular movements.
Then leave on for 10 minutes before rinsing off with lukewarm water.
Plus, baking soda is a great natural, homemade deodorant that costs nothing.
What is the danger of baking soda for the skin?
Some will tell you that baking soda is dangerous.
Indeed, they are not entirely wrong.
It is true that baking soda has the disadvantages of its advantages!
That is, it has an abrasive effect, which can irritate some skin.
And it can have a drying effect on the epidermis, no matter whether it is black or white skin.
After using it, one may have an unpleasant feeling of tightness.
Conclusion ? It is not not suitable for sensitive or irritated skin.
Do not exfoliate too frequently and be gentle.
It's not about scouring with baking soda!
Always do a test on a small part of the skin to check that you do not have a reaction: allergies, redness, blisters…
Although baking soda is safe during pregnancy, the skin may be more sensitive during this time.
So, if you have any doubts, talk to your beautician or dermatologist.
Which baking soda to use for the face?
To limit the dangers of baking soda on the skin, you must use the right baking soda, the one that is most suitable for cosmetic treatments.
One thing is certain is that household baking soda should not be used.
This one is not fine and pure enough to take care of your skin.
Ultimately, you can use baking soda.
But the best is to use cosmetic baking soda which is particularly well suited for a facial or body treatment.
Your turn…
Have you tried these tricks with baking soda for the skin? Comment in the comments to find out if it worked for you. We can't wait to read you!
Share this tip
Do you like this trick ? Click here to save it to Pinterest or click here to share it with your friends on Facebook.
Also to discover:
Baking Soda For Hair: 5 Benefits Nobody Knows About.
How To Get Snow White Teeth In No Time.