If you're looking for a way to add some color and nutrition to your meals, look no further than yellow zucchini. This delicious vegetable can be used in a variety of recipes, from soups and salads to pastas and desserts. Here are ten of our favorite recipes that will help you get the most out of this underrated ingredient.
1. Yellow zucchini gnocchi, a vegan recipe!
Gluten-free chickpea gnocchi with yellow zucchini, peas and Greek basil. A vegan, quick and healthy recipe.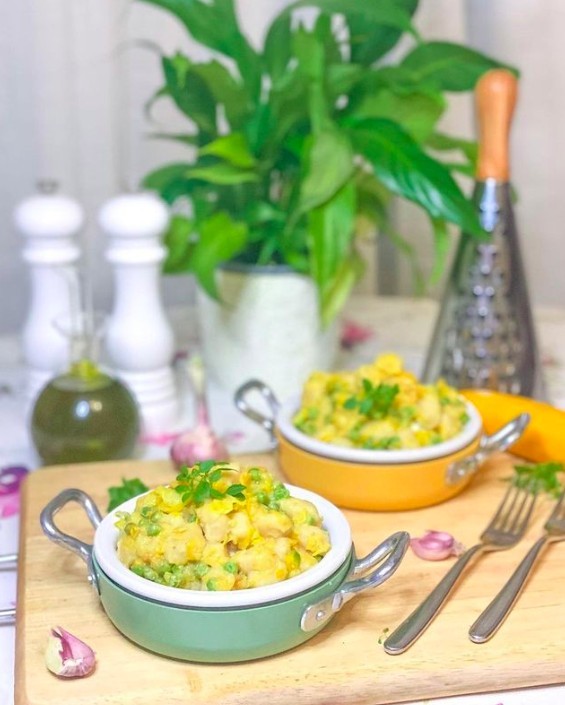 Ingredients :
1 package of chickpea balls.
2 yellow zucchini.
200g shelled fresh peas (also frozen)
1 clove of fresh garlic.
1 glass of water (for cooking the gnocchi)
Extra virgin olive oil to taste
Himalayan pink salt to taste
Preparation :
Wash and grate 2 yellow courgettes.
Heat a large pan with a drizzle of extra virgin olive oil and a clove of garlic.
Remove the garlic and sauté the yellow zucchini for 6 minutes.
Add the fresh peas and chickpea gnocchi.
Mix everything for 3 minutes and mix with a glass of water.
Cook over low heat with the lid on for 6 minutes, stirring occasionally.
Put some herbs to your liking in my case fresh Greek basil.
2. Yellow and green zucchini pancakes!
Delicious vegan patties made from yellow and green zucchini. They are perfect for a quick and easy meal!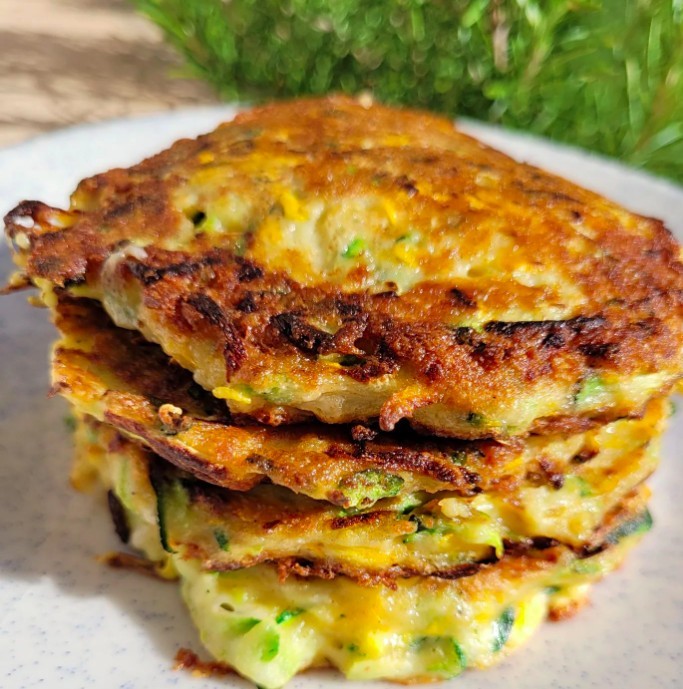 Ingredients :
100g green zucchini
150g yellow zucchini
30g flour
1 egg
Salt, pepper, paprika
20 g grated parmesan
30g grated cheese
Preparation :
Grate the courgettes
In a paper towel, wring them well
In a salad bowl, mix all the ingredients
Cook the pancakes in a hot pan with a little olive oil and using a cookie cutter for 4 minutes on each side
3. Ricotta, eggplant and yellow zucchini gnocchi!
This dish is a fun and easy way to use up some of your homemade ingredients! The gnocchi are combined with ricotta, eggplant and yellow zucchini, then topped with parmesan.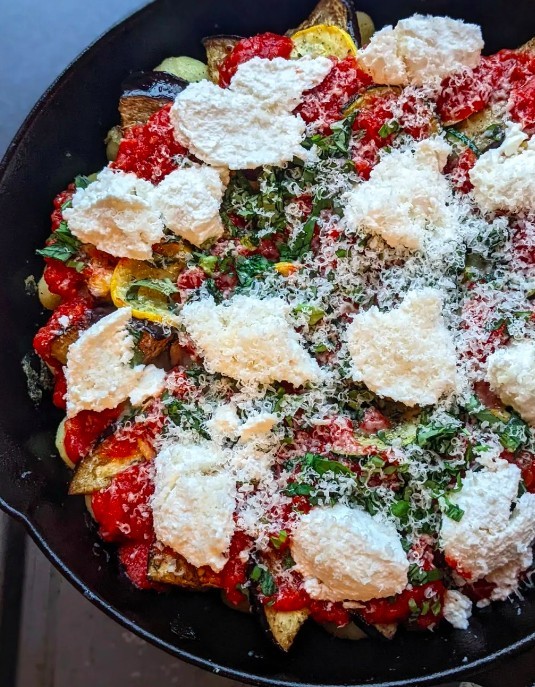 Ingredients :
yellow zucchini
Eggplant
Olive oil
Thyme and Basil
Salt
Ricotta
Preparation :
Thinly slice your yellow zucchini and eggplant and roast them in the oven at 180°C for 10 min.
Cook your gnocchi then add them to the pan with olive oil, move them around a bit then flatten them to form a tight base, let them fry over low-medium heat for 5 minutes until what you can tell they get crispy underneath.
Start layering your vegetables on top in circles, drizzle with olive oil.
Pour good quality Italian tomatoes, lightly crushed to arrange them, add thyme and basil.
Place a spoonful of ricotta on top as it will start to cook and spread while it's in the oven.
Bake at 180°C for 10-15 mins. Take out, serve and enjoy!
4. Mini gratin with yellow zucchini and Gruyère!
Miniature gratins made with yellow zucchini and Gruyere cheese are the perfect appetizer for any occasion! Individual portions are easy to prepare and can be customized to your liking.
Ingredients (For 10 mini gratins):
1.2 kg of yellow courgettes, 600g after cleaning.
1 red onion
50g of grated cheese
75ml milk
200ml 4% semi thick cream
55g flour
2 eggs
Salt, pepper and oregano
Preparation :
Grate the zucchini then remove the excess water by leaving them in a colander or under a cloth.
Cut the onion into small pieces.
In a pan, sauté the zucchini and onion (the zucchini water is enough to cook) for 10 min.
Put them back in the colander if necessary to remove the excess water.
In a bowl, mix the rest of the ingredients then add the zucchini.
Separate the preparation into individual molds and bake for 40 minutes at 180°
5. Zucchini tart with ricotta, lemon and basil
This zucchini pie is a delicious and easy dish to prepare for the summer. It's made with ricotta, lemon, and basil, and it's the perfect way to use up fresh zucchini from your garden!
Ingredients :
Pie dough (broken or puff pastry)
1 red onion
2 yellow zucchini
250g ricotta
The juice of half a lemon
1 C. olive oil
1 C. balsamic vinegar
1 handful of pine nuts
A few basil leaves (optional)
Salt & pepper.
Preparation :
Preheat the oven to 180°C.
Spread the pie dough on a baking sheet and pre-bake it for 15 minutes.
Heat a little oil in a frying pan then fry the finely chopped red onion for about 10 minutes. Add a tablespoon of balsamic vinegar at the end of cooking.
Mix the ricotta, lemon juice, a little lemon zest (if your lemon is organic) and olive oil, salt and pepper. Spread this preparation on the pie dough, then add the golden onions.
Cut the zucchini into thin slices of 3-4 mm max). (You can help yourself with a mandolin if you have one) then place the zucchini slices on the pie.
Lightly salt the pie, pepper and sprinkle with pine nuts.
Bake for 20 minutes, then sprinkle with fresh basil and serve with a few salad leaves.
6. Yellow courgettes stuffed with minced meat!
Ground meat, onions and cheese are stuffed into fresh yellow zucchini for a delicious and easy meal. This is a perfect dish for any time of year!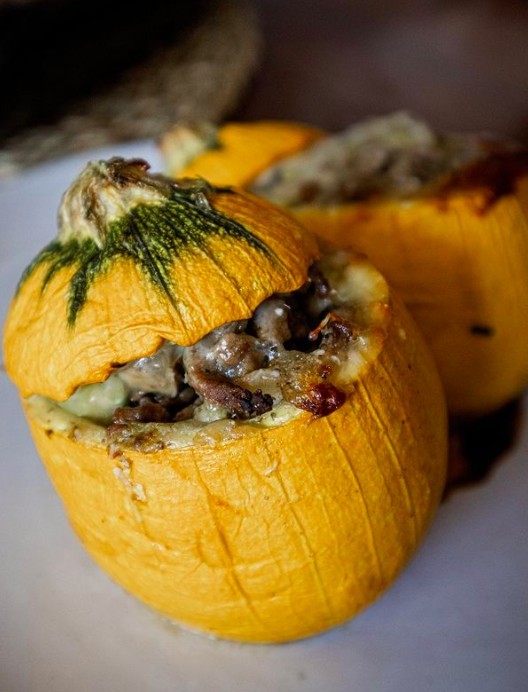 Ingredients (for 4 zucchini):
4 round zucchini
200g minced meat
1 large onion
2 cloves garlic
2 tbsp Herbes de Provence
50g of parmesan
Olive oil
Salt pepper
Preparation :
Preheat the oven to 180 °.
Chop the onion and garlic, and brown them in a pan with olive oil. Then add the minced meat well crumbled. Leave to cook for a few minutes. In the meantime, cut the zucchini caps and dig the zucchini to remove the flesh. Be careful to keep a little more thickness in the bottom to avoid piercing the zucchini during cooking.
Cut the flesh into small pieces and add it to the preparation with the Herbes de Provence. Season everything with salt and pepper and leave for a few moments. Be careful not to overcook the meat.
Once the zucchini flesh begins to release its water, start stuffing the zucchini. Pack well to incorporate all the stuffing. Once filled, grate the parmesan over the stuffing. It's up to you whether you want to cover with the hats or not.
To avoid mess and to keep the cheese and stuffing soft, we will park the hat. Plant toothpicks so that the zucchini keeps its balance with its hat.
Bake for 40 minutes.
7. Salad with two courgettes, pine nuts and parmesan!
This light and healthy salad is perfect for a summer picnic! Two courgettes are grilled then cut into thin slices, mixed with grilled pine nuts and parmesan cheese. It's a simple yet tasty dish that is sure to please.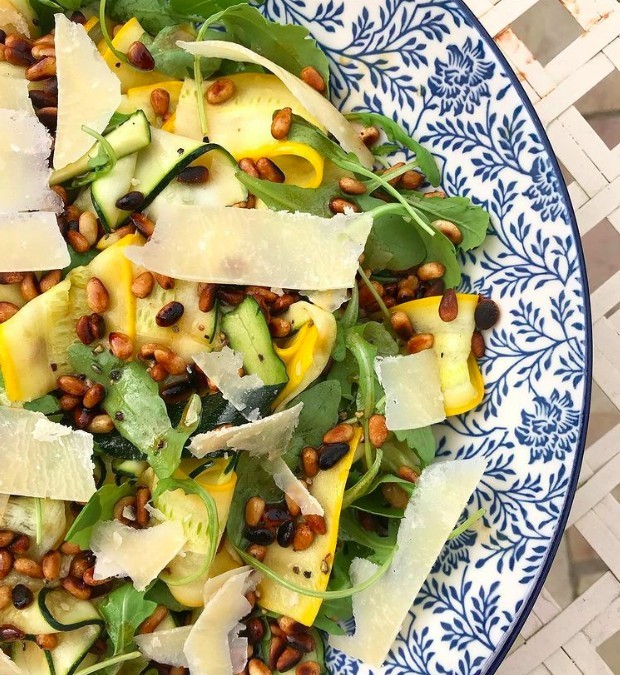 Ingredients :
1 yellow zucchini
1 green zucchini
75ml extra virgin olive oil
25 ml aged balsamic vinegar
squeezed lemon
50g toasted pine nuts
50 g parmesan shavings
Arugula leaves
Preparation :
Wash and cut the courgettes lengthwise using a mandoline or a vegetable peeler (in strips about 3 mm thick)
Place the strips in a colander over a bowl, season with a little salt.
Leave to stand for about 10 minutes to extract the excess water then wipe with absorbent paper.
For the vinaigrette, pour the balsamic vinegar into a large bowl. Gradually stir in the olive oil and finish with a drizzle of lemon juice, salt and pepper.
Pile the zucchini on a large plate, mixing the yellow and green zucchini.
Sprinkle with toasted pine nuts and drizzle with balsamic vinaigrette.
Add rocket leaves and drizzle with a little balsamic vinaigrette and finish with a scattering of parmesan shavings.
8. Yellow zucchini velouté!
This recipe is perfect! It is light and makes a perfect snack or side dish.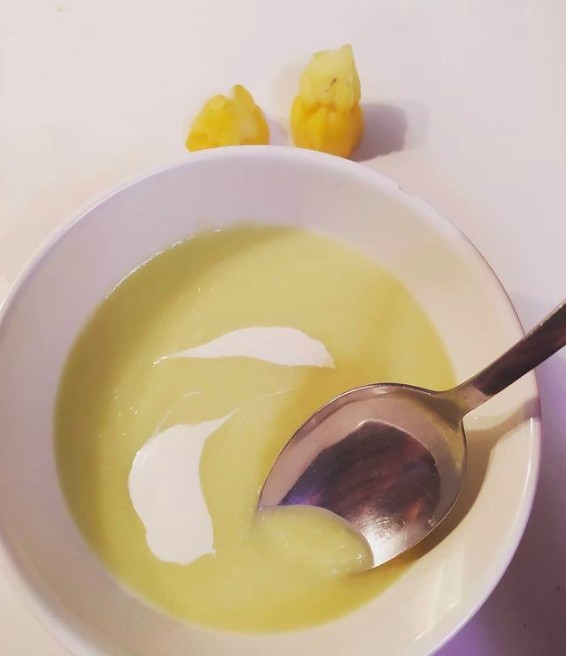 Ingredients for 4 persons) :
3 yellow zucchini
1 white zucchini
1 leek
1/2 onion
1 potato
Cream cheese
Vegetable soup
Preparation :
Clean all the vegetables well.
In a saucepan, poach the onion and the chopped leek.
Chop the yellow zucchini with their skin (do not peel them) and chop the white zucchini.
Put them in the pan with the peeled and chopped potato. Rest for a few minutes, add the vegetable broth and cover everything. Salt to taste.
Cook for 20 minutes until the potato is cooked.
Beat the mixture to make the cream.
Finally introduce a spoonful of cheese cream in each plate and mix.
9. Yellow zucchini carpaccio!
Thin slices of yellow zucchini are topped with delicious mango cubes, making it a perfect appetizer or side dish.
Ingredients :
1/2 yellow zucchini
Rolled goat cheese
Nut
A piece of mango
1/2 lemon
Salt
Olive oil
Preparation :
Wash and slice the courgettes using a mandolin or peeler.
Place the zucchini on a plate, grate some goat cheese on top to taste, grate the lemon zest, chopped walnuts and add a few dabs of cubed mango.
Season to taste with salt, extra virgin olive oil with lemon.
In 5 minutes we have our delicious zucchini carpaccio ready
10. Yellow courgettes and sautéed vegetables, for a healthy dish!
Stir-fried vegetables and yellow zucchini are a delicious and healthy combination! This recipe is simple to follow, and the end result is a nutritious meal that everyone will enjoy.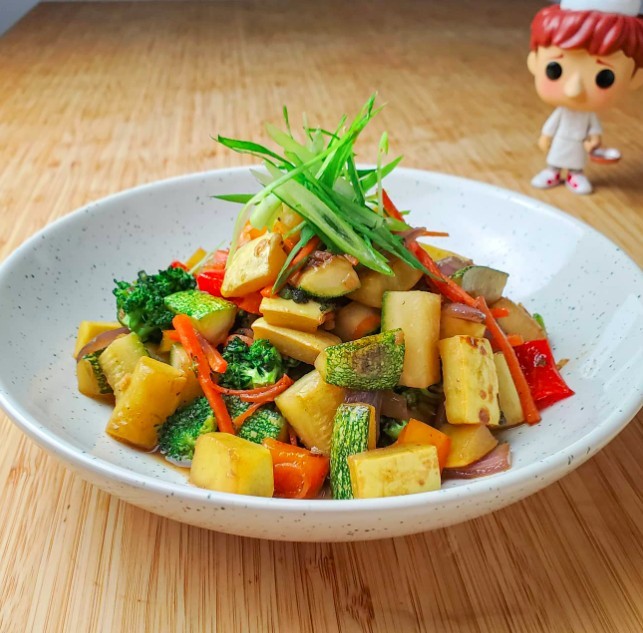 Ingredients :
Asian sauce
1 tablespoon olive oil
1½ tablespoons ginger
1½ tablespoons minced garlic
3 tablespoons cornstarch
3 tablespoons of sugar
¼ cup liquid amino acid
1 cup of water
Ingredients :
Second part
Olive oil
purple onion
Green zucchini
yellow zucchini
Red pepper
Green pepper
Broccoli
Carrots
Preparation :
For the sauce:
Cook the garlic and ginger in a saucepan over medium heat.
Add the rest of the ingredients and stir. Cook until the sauce thickens.
Use the sauce to add any type of meat, seafood or vegetables.
For the vegetables:
Heat a large skillet over medium-high heat.
Add olive oil and vegetables. Bake until golden brown.
Add as much sauce as you want.
These 10 original recipes will help you turn that zucchini into something delicious. So get to work and enjoy your delicious creations!