Are you looking for an original gift idea for your grandmother? And if possible, not too expensive…
Why not make an original gift for grandma yourself? In addition, the children will be super happy to participate!
A personalized gift, there is no better way to please your grandmother!
We have selected for you 10 easy gift ideas to make with children. Look :
This card is really easy to make with a child. Take a sheet of colored card stock and fold it in half. Ask your toddler to draw the outline of his hand on one side of the sheet. Keeping the sheet folded, cut out the shape of your child's hand. Open the sheet and inside, write a message, draw hearts…
2. We love you in all languages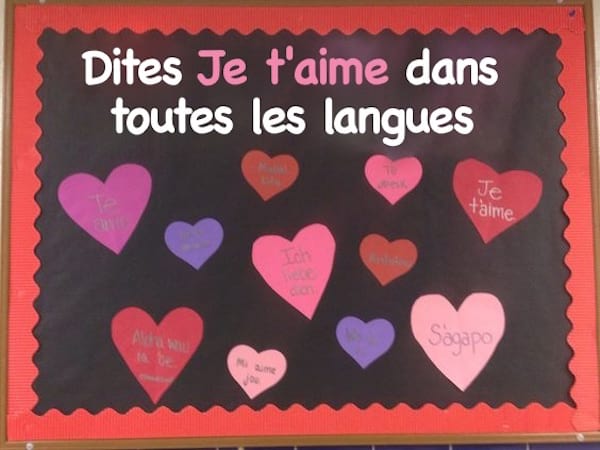 This little gift to say « I love you » to grandma in all languages ​​is adorable! Just take one cardboard sheet to do it and surround it with masking tape to make the frame. Cut out hearts of different sizes and colors and write « I love you » in all languages. Glue the hearts on your board. And here is a beautiful statement that will make your grandmother travel!
3. A tree whose leaves are hearts made with fingerprints

It's a very poetic gift and easy to make! On a sheet of white paperdraw a tree trunk with branches in the black paint. In pencil, draw a heart to symbolize the shape of the foliage. Then ask the children to fill it in by making fingerprints, thanks to tampons. Erase the pencil line to keep only this romantic tree.
4. A heart-shaped bookmark

Does your grandmother like to read? So here's the homemade gift he needs. An adorable heart-shaped bookmark origami. you can follow this tutorial to achieve it.
5. A bouquet of small hearts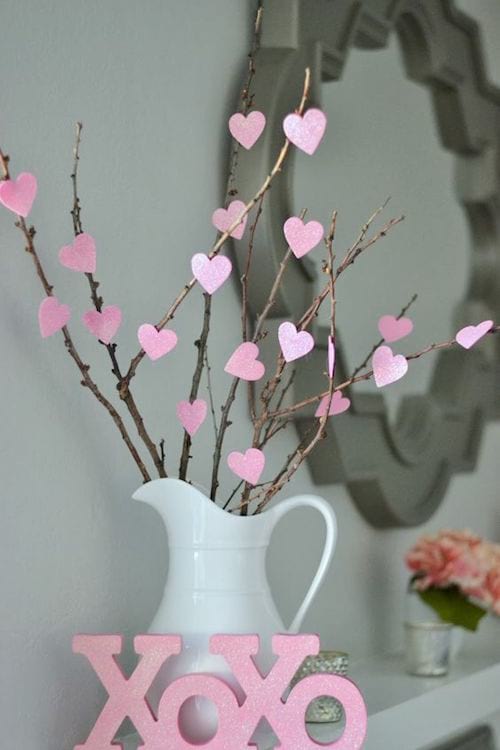 Here is the most adorable (and economical) gift for a grandmother: a magnificent bouquet made with tree branches and adorable little paper hearts.
6. A heart painted with fingerprints from the whole family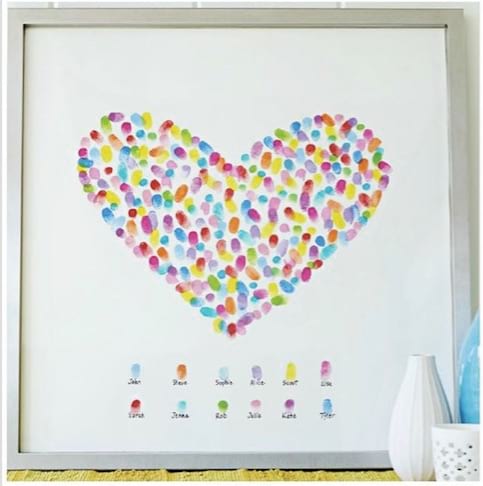 This piece of art is a fun way to get the whole family involved in a great gift for grandma. It only requires a little painta leaf and one nice frame. And the result is really successful, isn't it?
7. A heart-shaped picture frame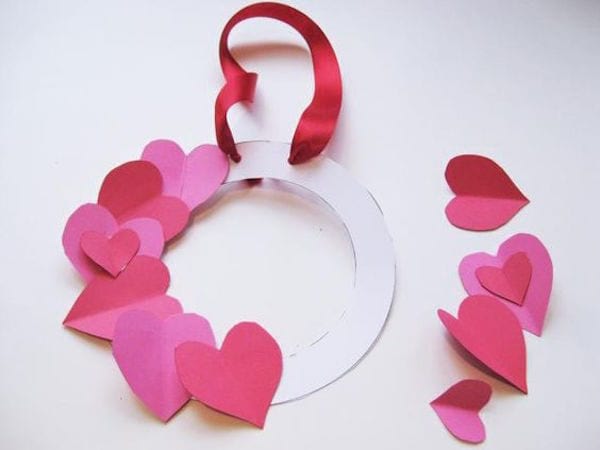 Souvenir photos are always fun! So here's how to make a pretty photo frame for your grandmother: cut out lots of little hearts. Also cut a ring out of cardboard. Then, make two small holes to pass a ribbon through. Now glue the small hearts on the circle and attach a photo (of you, your grandmother, the children…) in the middle. Cut the edges of the photo that protrude from the circle to have a beautiful photo frame.
8. A canvas with a heart of twigs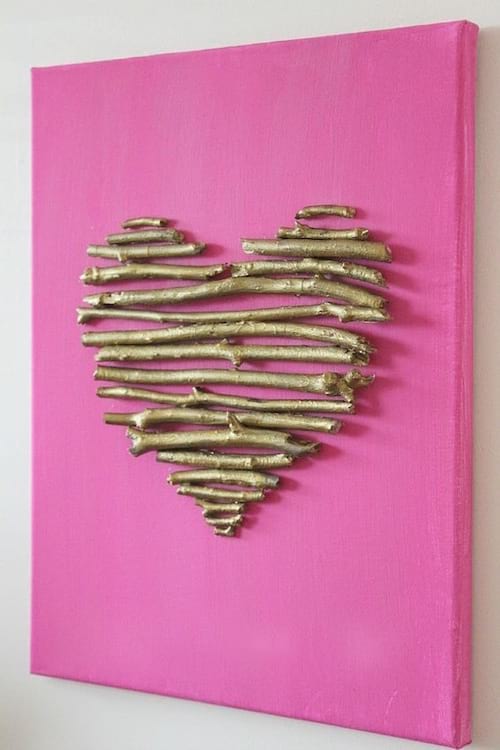 Get yourself a Web that you paint with pink paint. Collect twigs and paint them with gold paint. Cut to size to make a pretty heart. Glue them to the canvas. And here is a unique work of art for your grandmother!
9. A tree made of a handprint and small paper hearts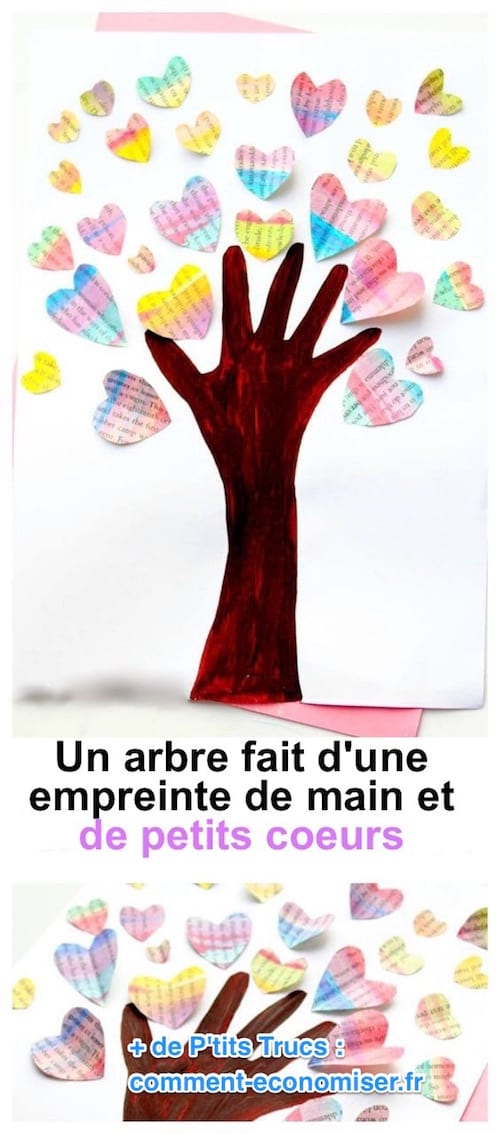 Here is another gift idea to make with the little ones of 2 or 3 years old. Make an imprint of your child's hand on a sheet. To do this, draw the outline of his hand and forearm. Make sure he spreads his fingers well to make the branches. Then ask your toddler to paint inside. Cut out little hearts and paint them. Now all you have to do is glue them around the handprint to make a pretty picture.
10. A heart made of cotton thread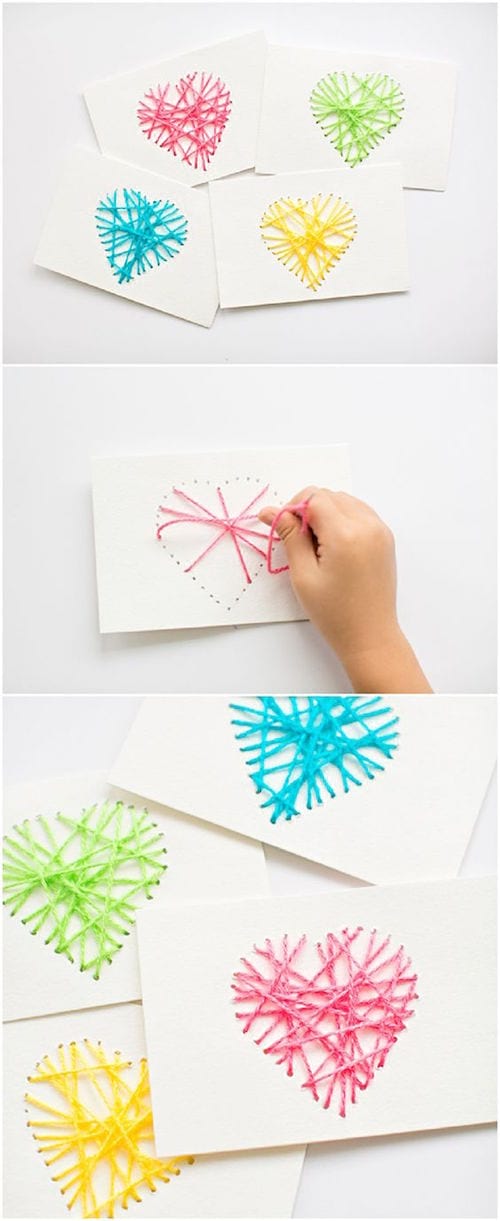 Take a cardboard sheet that you cut out in A6 format (10 × 14 cm). Using a needle, make holes in the shape of a heart. Then choose a cotton yarn of a beautiful color. Pass the thread through the needle, tie a knot at the end and pass the needle through the holes. You can ask your child to do it! You now have a very nice unique card to celebrate Grandmother's Day.
11. A garland of hearts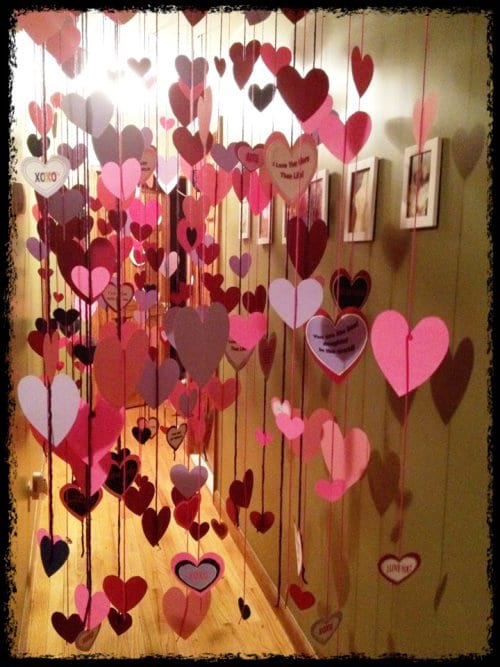 There are never enough hearts to tell your grandmother that you love her! This gift is easy to make with the children since all you have to do is cut out a multitude of hearts in colored paper and stick them on ribbons and strings.
12. A sweet heart

This little gift for your grandmother will make her crack. Cut red hearts out of thick colored paper. Cut them in half by making zigzags. Glue the top of the heart on the mobile part of the top of a small clothes pin and the bottom of the heart on the one below. Add two funny eyes and you have a heart ready to eat! Handy for hanging reminders 😉
Your turn…
Have you tried making one of these gifts for your grandmother? Tell us in comments which one you like the most. We can't wait to read you!
Do you like this trick ? Click here to save it to Pinterest or click here to share it with your friends on Facebook.
Also to discover:
Grandmother's Day: 4 Cheap Gift Ideas.
The Best Gift for your Grandmother's Day.