Everyone has a phone in their pocket these days.
But few people know that there are secret codes to access certain hidden functions.
To access it, just type certain keys on your iPhone or Android smartphone.
Here is 16 secret codes that will give you access to hidden functions of your phone. Look :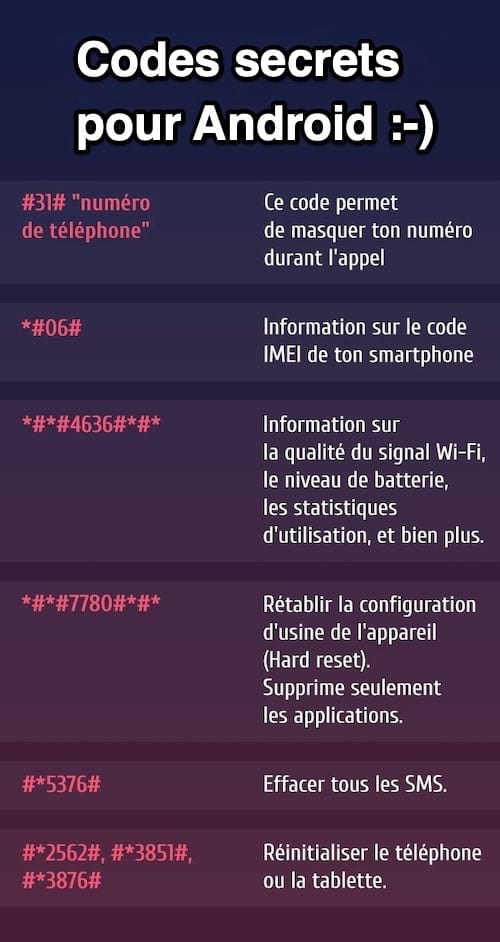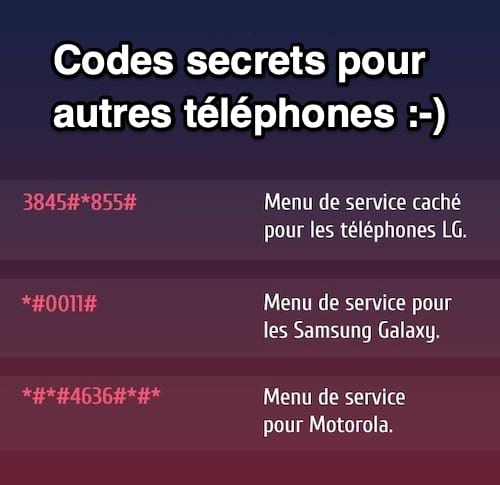 secret codes for iphone
#31# « phone number »
This code allows you to make a call to a hidden number on iPhone. You can also go to Settings > Phone > Show My Number to hide your number.
*#06#
Show the IMEI number (ID of your iPhone): this is the unique code of your telephone which may be required in certain countries.
*#30#
Enable or disable number recognition.
*33*#
Enable call blocker. Disable call blocking: #33*#
*3370#
Improves call quality, but reduces battery life. #3370#: to disable this option.
*#5005*7672#
Displays the number of the Message Service Center.
*3001#12345#*
Shows the network coverage you have at the moment (in decibels).
The bars do not always correctly reflect the signal quality, so sometimes it is better to use the digital mode.
To do this, enter Field mode by dialing this code: *3001#12345#* then keep the power button pressed until the power slider appears.
Then release the power button and press the home button. You can now see the signal quality in decibels.
To deactivate this option, dial the same code, then access your phone as usual, by pressing the home button.
secret codes for android
#31# « phone number3
This code allows you to hide your number during the call.
*#06#
Information about the IMEI code of your smartphone.
*#*#4636#*#*
Information on Wi-Fi signal quality, battery level, usage statistics, and more.
*#*#7780#*#*
Restore the factory configuration of the device (Hard reset). Only remove apps.
#*5376#
Delete all text messages.
#*2562#, #*3851#, #*3876#
Reset the phone or tablet.
Secret codes for other phones
3845#*855#
Hidden service menu for LG phones.
*#0011#
Service menu for Samsung Galaxy
*#*#4636#*#*
Service menu for Motorola.
Your turn…
Have you tested these secret codes to access these hidden functions? Let us know in the comments if it worked for you. We can't wait to read you!
Share this tip
Do you like this trick ? Click here to save it to Pinterest or click here to share it with your friends on Facebook.
Also to discover:
33 Essential iPhone Tricks Nobody Knows.
The Trick to Choose an iPhone Password that NO ONE Will Guess.