Everyone is running out of space in the bathroom.
This is normal, it is often the smallest room in a house …
Luckily, there are some great tips for saving space and better organizing your bathroom.
We have selected for you 20 great ideas from storages for your bathroom.
Don't worry, these storage units are easy to make and won't break the bank!
These tips will radically change the look and feel of your bathroom.
They'll also help you keep your bathroom tidy and organized. Look :
1. Arrange a storage space under the sink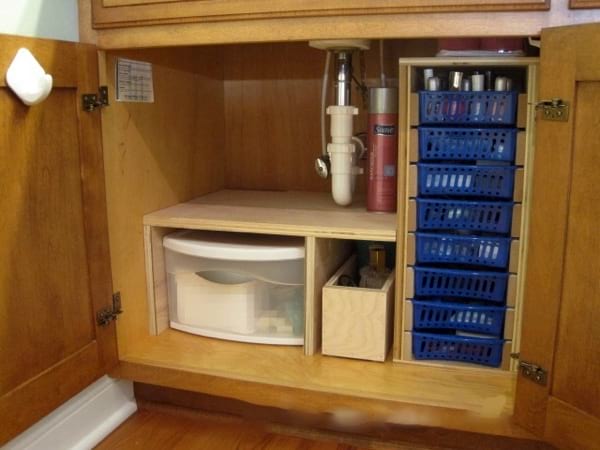 A few planks, nails, a plastic box, storage baskets …
And hop ! The bazaar disappears as if by magic. Everything is perfectly tidy.
2. Store the little things in jars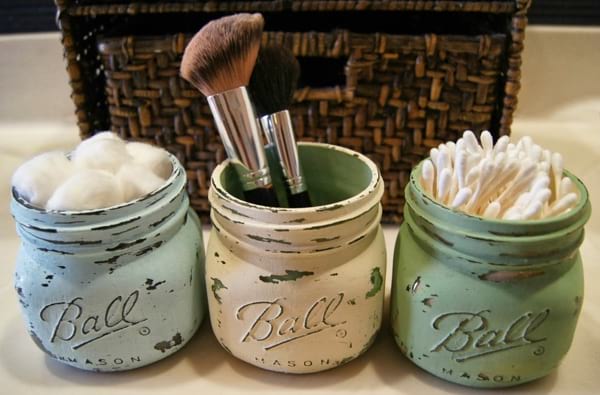 You have some jars who no longer serve? Here is a great way to recycle them.
Use some acrylic paint to give them a colorful touch.
And there you have adorable storage for cotton, makeup brushes or even Cotton Swabs.
3. Use hanging baskets to keep things tidy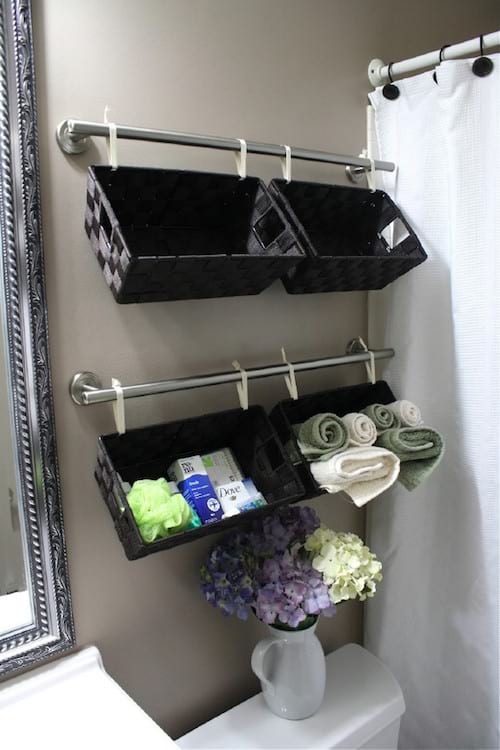 From towel rack and storage baskets in plastic…
This is all you need for tidy up the mess from the bathroom.
4. Use closet cabinet doors as storage space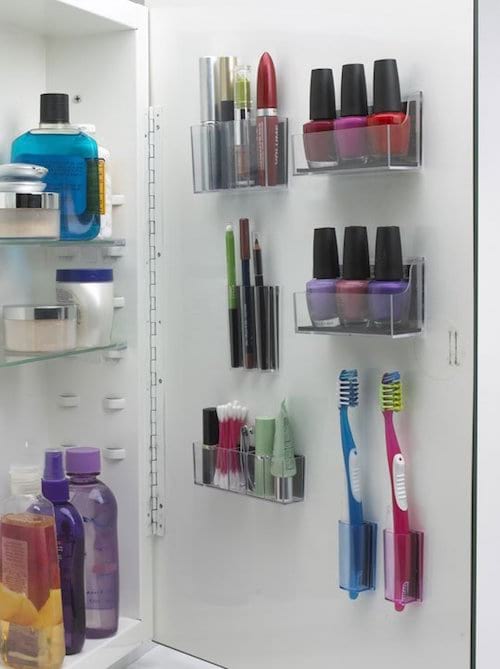 This kind of small adhesive storage (or like these) are very practical for put away makeup and toothbrushes.
They stick behind the door of a cupboard, neither seen nor known.
5. Use a flowerpot to store the hair dryer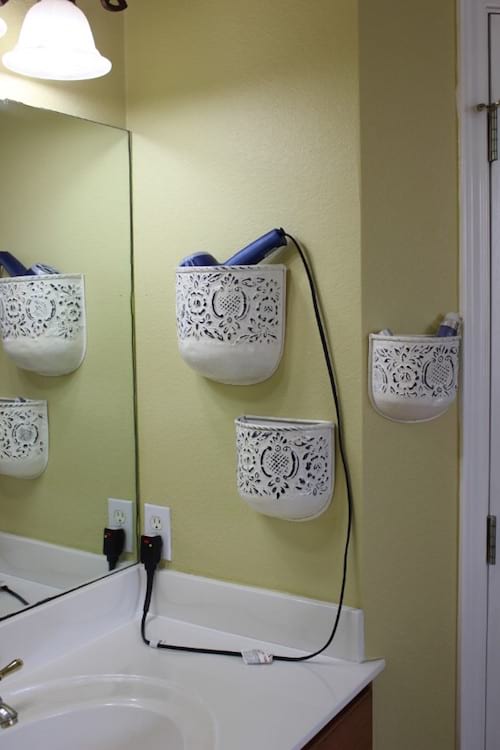 Divert the use of round hanging flower pots which you no longer use for store hairdressing accessories, such as the hair dryer.
Pretty isn't it?
6. Hang a shelf above the door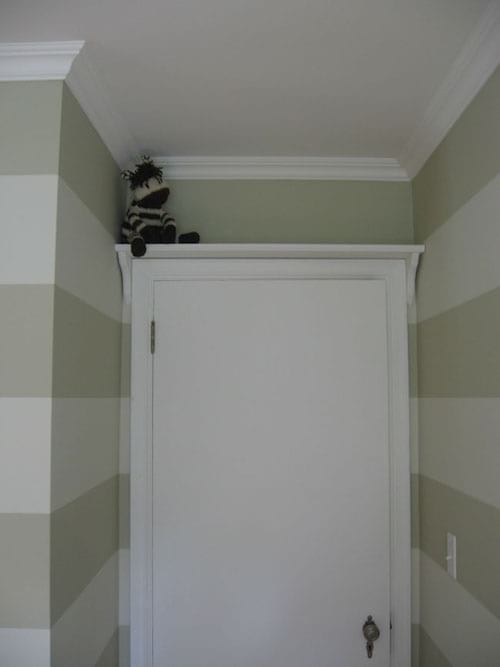 A pretty shelf placed above the door is both discreet and very practical for storing towels.
You can also store rolls of toilet paper or anything else cumbersome.
7. Use a plastic cutlery tray to store toothpaste and toothbrushes.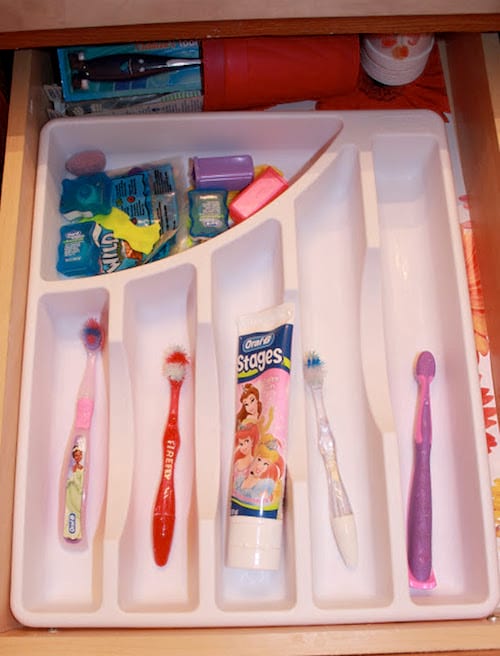 What could be better than a cutlery tray plastic for y put on toothbrushes and toothpaste.
Practical, hygienic and economical! And what's more, it's easy to clean.
8. Install magnetic strips on the inside of the medicine cabinet door.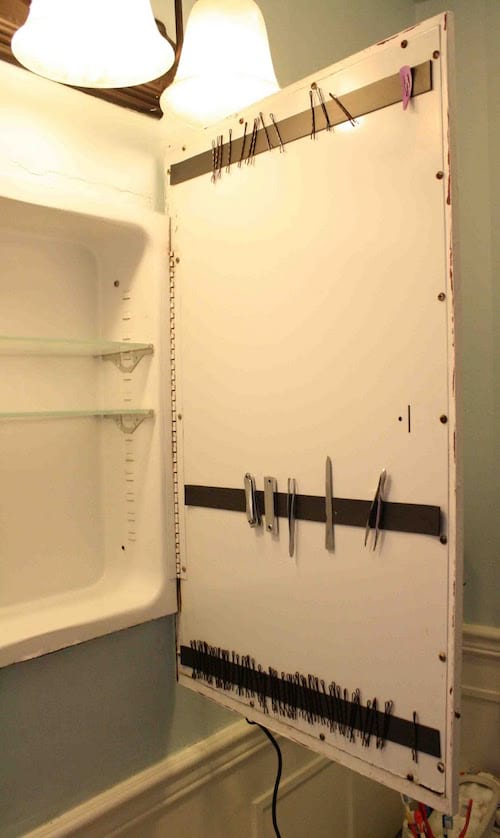 These magnetic tapes are very easy to install and they will be of great service to you.
You will no longer have to search for your barrettes or hairpins in the morning!
9. Store your makeup on this adorable magnetic board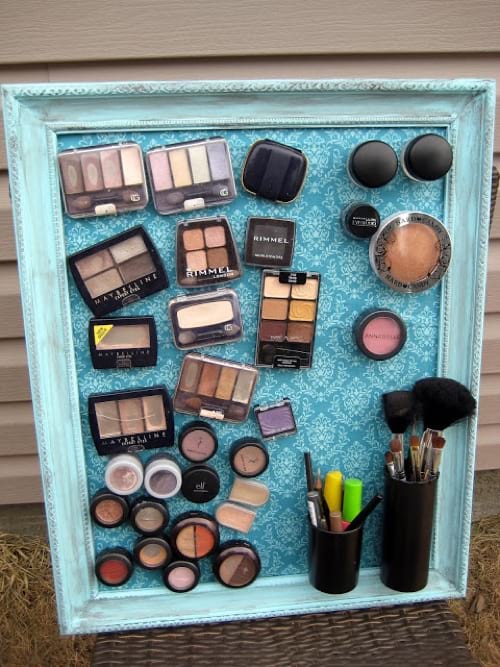 To make this beautiful magnetic board, you will need a frame, small magnets like these, placed on the back of your makeup boxes.
You will also need self-adhesive magnetic sheets to glue them under a decorative sheet.
10. Use spice racks to store cosmetics and makeup.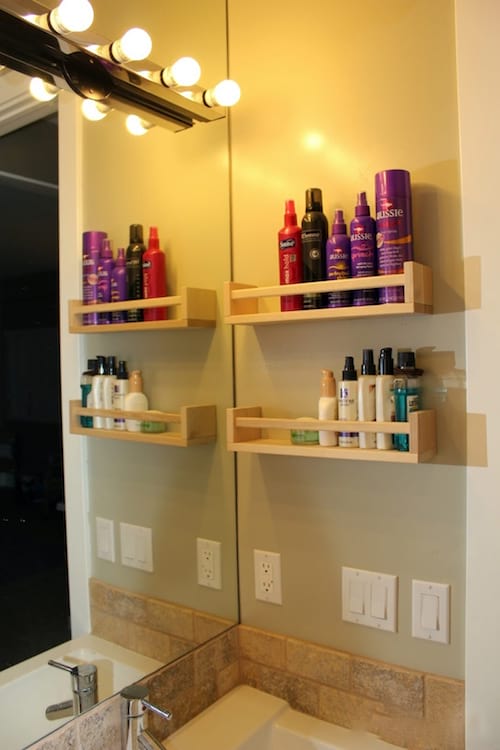 Who would believe these are spice racks?
For 13 euros, here you have the ideal storage for put away shampoo bottles and hair care.
11. Use wicker baskets to store towels and toilet paper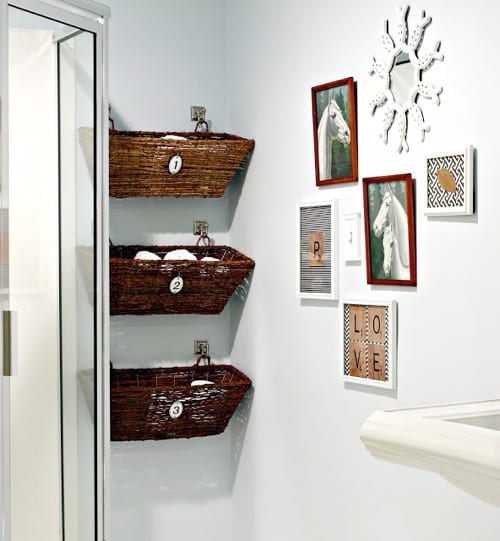 The little ones rush baskets or wicker are very practical for put away the small towels or toilet paper rolls. No more mess!
12. Install wooden floating shelves above the toilet.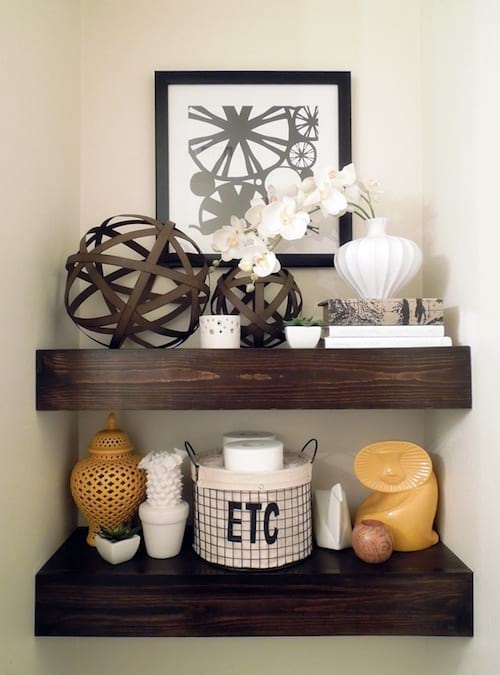 There are no small wasted spaces. Placed just above the toilet, those floating shelves allow to put away a lot of small things.
We can also put down some decorative items. Very useful !
13. Turn the bathroom mirror into a storage space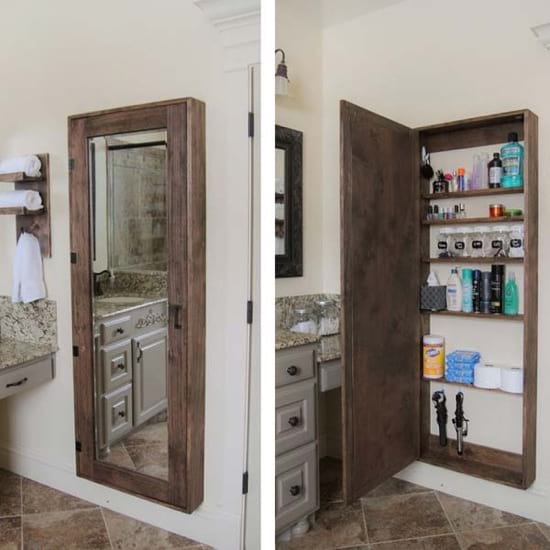 A mirror that hides a cupboard, like this one, allows save a lot of space.
Thanks to it, you store all the jewelry, bottles and other trinkets. In addition, it attaches very easily.
14. Add half a table above the toilet paper to save space.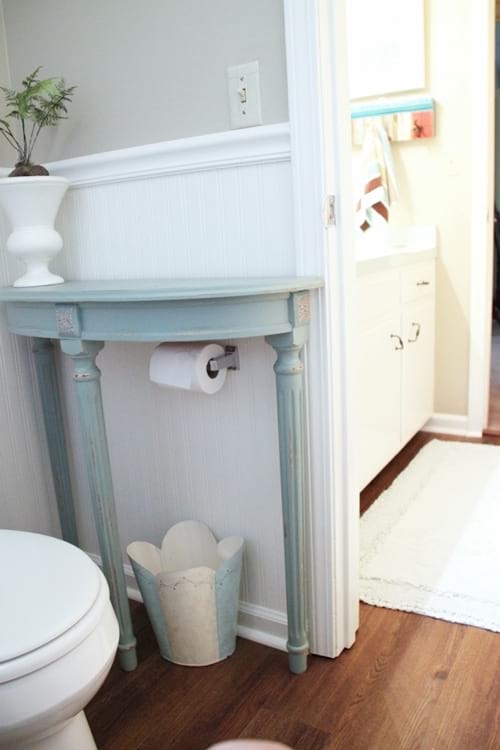 Half a table, like this one, placed above the toilet paper dispenser is the ideal piece of furniture for gain some ground.
Perfect in a small space like the toilet!
15. Create wall storage with old wooden crates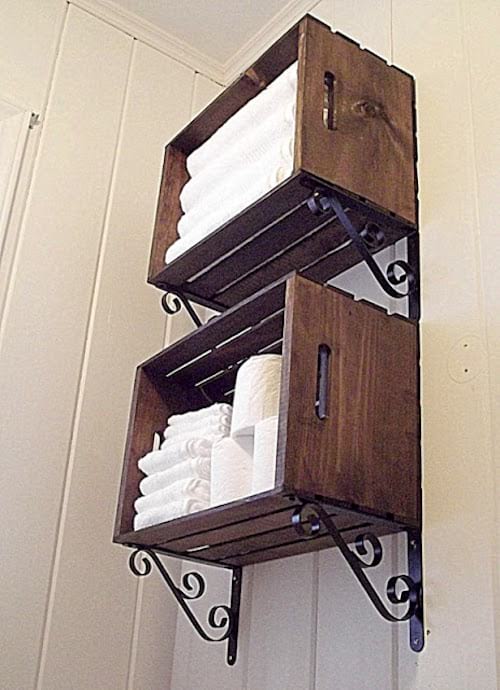 These wooden crates are easily found in markets or in wine cellars …
But you can also find it here.
All you have to do is fix them on pretty metal brackets to have a single storage.
16. Give your wall a rustic and stylish touch with this hanging shelf with a rope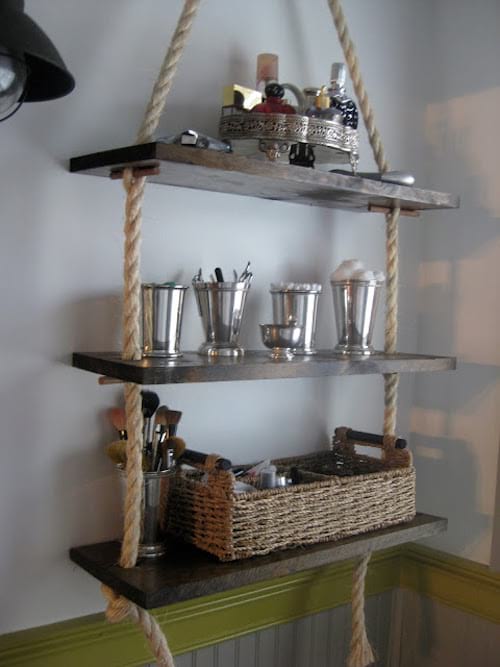 This DIY shelf is not very complicated to make. You just need a few planks and a thick rope.
Make holes in the shelf and pass the rope through.
Tie a knot under each plank to stabilize it or pass a small piece of wood through the rope, as in the photo.
But if you prefer, you can also get the same shelf already mounted here.
17. Install several towel racks behind the bathroom door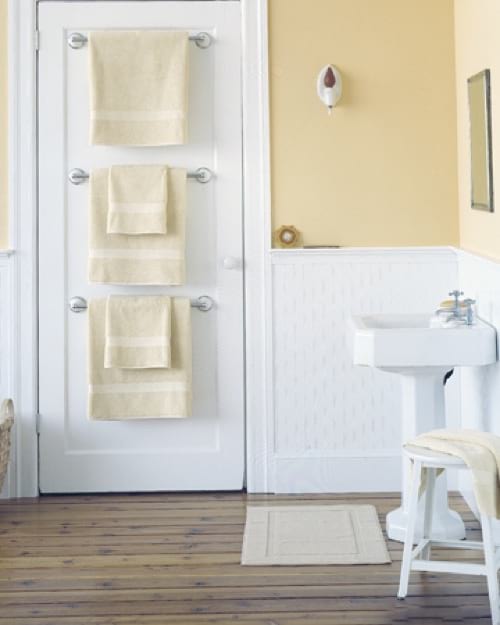 Practical and aesthetic, these napkin holders placed behind the door ! The back of doors is often a neglected space.
And that's a shame, because it saves a lot of space.
If you don't want to drill holes in the door, you can choose towel rails like these, which do not require drilling.
18. Recycle old copper pipes to store your towels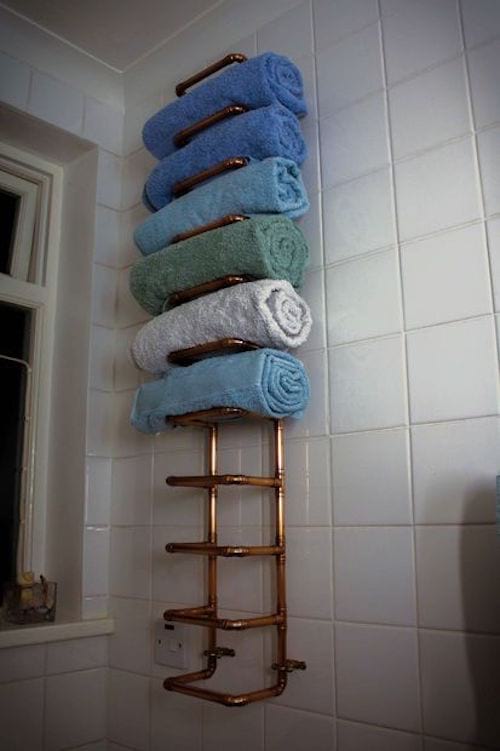 Well, we agree, you need some welding knowledge to do this original industrial type towel rack.
If you don't have one and like this style, you can fall back on a other vintage model.
19. Use small PVC pipes as homemade toothbrush holders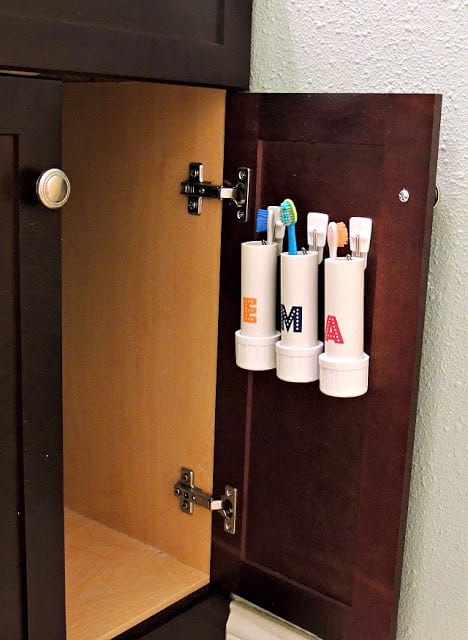 Do you have some PVC pipes left after plumbing work? Don't throw them away.
You just have to saw them and fix them on the inside face of the cupboard door to have great storage for toothbrushes. Each his own!
20. Create a storage basket in an old saucepan by wrapping string around it.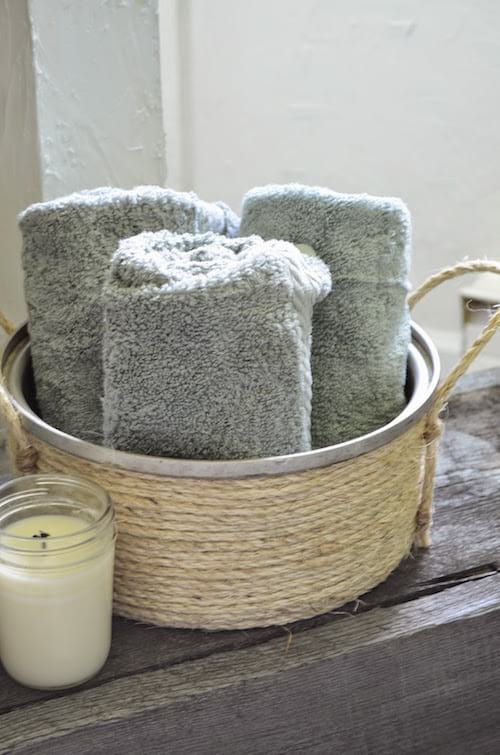 An old container, glue and the cord…
You have everything you need to do a unique towel basket. Like at the hotel!
Do you like this trick ? Click here to save it on Pinterest or click here to share it with your friends on Facebook.
Also to discover:
12 Great Storage Ideas To Better Organize Your Bathroom.
14 Clever Storage For Your Bathroom.