Bathrooms are one of the most important rooms in our homes. It's where we start and end our days, so it's important to keep them organized and functional. If your bathroom is cluttered and chaotic, check out these 25 ultimate bathroom organization ideas to optimize your space.
1. Under the sink stand
You don't have to buy a cabinet when you can use this solution instead.
2. Use a 3-tier basket
Convenience is key, and this cart delivers it in spades. Store all your toiletries in one place and you'll never have to search for them again.
3. The bathroom cabinet!
A fantastic way to store your toilet paper, detergents and hand towels.
4. Feminine Hygiene Organizer!
Keep your bathroom clean and tidy with this easy solution. Store all your feminine hygiene products in one place and never worry about them again.
5. Hanging shelves
This set of hanging shelves is perfect for those who need a little extra storage space.
6. Hair dryer organizer
A two-door cabinet can easily become a home hair salon with the right storage elements, take inspiration from this example.
7. Wall cabinet with hanger
Another fantastic idea for where to hang your towel is this wall cabinet with a hanger, so you don't have to worry about storage space.
8. Makeup Organizer
It's the best makeup storage you can find, you can store your usual cosmetics or skincare in it without having to search everywhere.
9. Storage for bathroom linen
Do you have a special closet in your bathroom? Follow this idea to organize it like this.
10. Shower basket
What if there was a shower caddy with shelves that didn't need to be drilled?
11. Hang the towel behind the door!
A simple trick to store your everyday towels!
12. Use those mini baskets!
This method of organization in your bathroom is super efficient. with these baskets you can store toilet paper, air fresheners and other items.
13. Drawer divider!
The drawer divider is very effective and saves you storage space, just find one that suits yours!
14. Paper holder with basket!
A two-in-one solution, perfect for fans of reading in the toilet.
15. Organize the cabinet under the sink
See how you can gain storage with simple objects.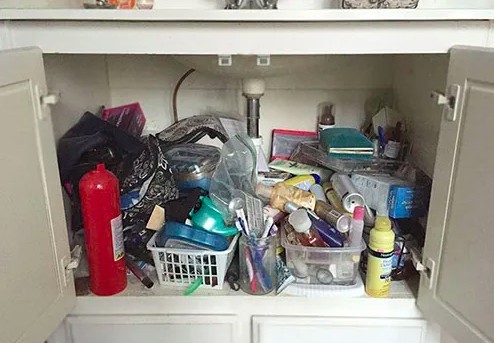 16. Stackable Drawer Divider
What if you have more space on your drawer? Use a stackable divider that will help you find what you want without having to search endlessly!
17. Use the rod to hang a basket
A great bathroom organization idea for a large family.
18. Standing basket drawer!
If you're at a loss for what to do with the space under your sink, consider purchasing these pedestal basket drawers.
19. Put away and name the dental care!
This is a great idea for a large family! No one has to fight for their toothpaste or mouthwash.
20. Pot of rubber bands and hairpins
Never lose your favorite favorites again, just store them in jars!
21. Use the extra space next to your toilet
Try putting on a small rack like this and that's it! You get extra storage space and give your toilet a nice look!
22. Large bamboo stand
Not only is it multifunctional, but it is also eco-friendly!
23. The Ikea cart!
There is no limit to the use of this trolley, use it to save space in your bathroom.
24. Use self-adhesive storage!
Perfect for organizing your medicine cabinet or you cosmetics.
25. Wall bin
Save space by hanging it on your bathroom wall.