The Christmas and New Year are approaching and what could be better than decorating your house or apartment for this warm period. In recent years, the prices of Christmas decorations have drastically increased, so these additional expenses are to be taken into consideration in addition to those devoted to essential gifts. That's why today we offer you many decoration ideas to make at home, which will come back to you much cheaper.
1. Furniture dressing
It is quite possible to buy ornaments which do not necessarily have anything to do with Christmas and to decorate them afterwards. These unique pieces will give a festive touch to your home and their price will remain very affordable. We have as an example below a stool dressed with vegetation. All combined with some bright decorations and you have an original decorative element.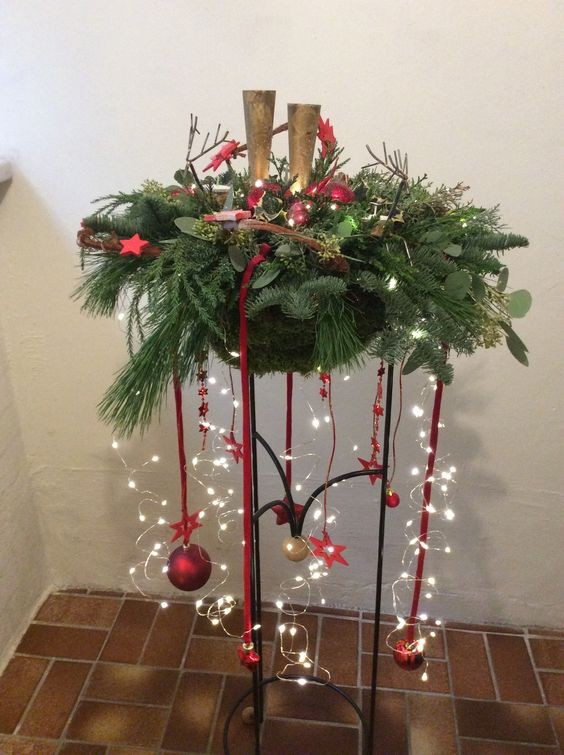 2. Decorate a glass vase
In these photos, you can see that glass jars in the shape of a long tube were filled with Christmas decorations and covered or surrounded by other decorations. Indeed, we see all kinds of light garlands, Christmas balls and other objects to hang, also, the end of the tubes is covered with synthetic or real fir branches.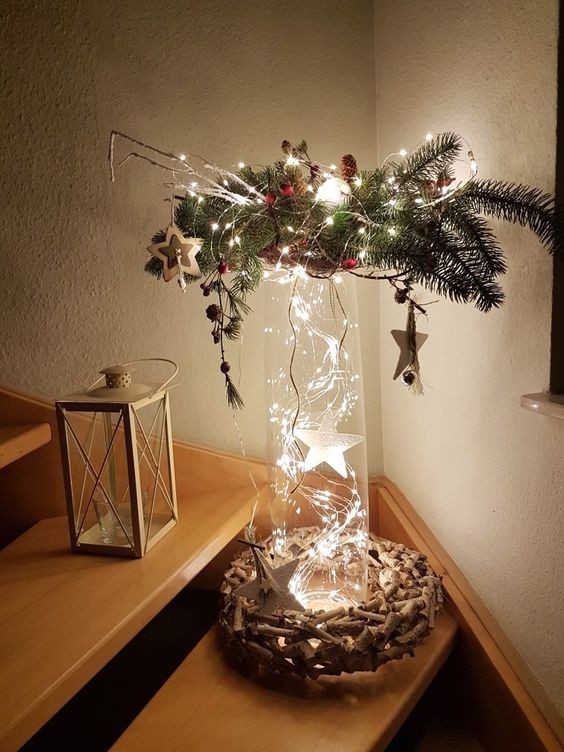 Some people have even filled a small part of the tube with white sand or cotton wool reminiscent of snow. Others have used moss, flowers, and pine cones demonstrating the beauty of nature.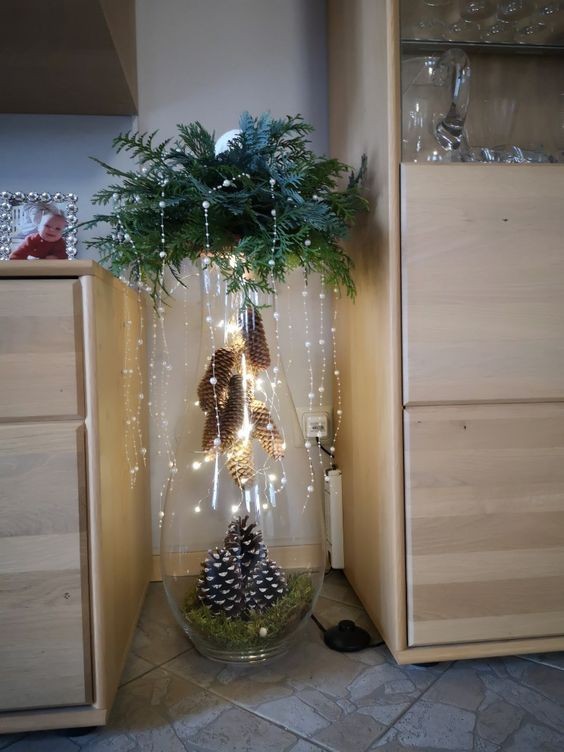 The Christmas balls can be hung on fir branches, or placed directly inside the glass jar as in this image. This decoration can be created with different sizes, offering the possibility of exposing it everywhere in its interior.
3. A revamped display
Another ornament proposed here, a small tablet or a flower display can also be revamped. Whether wood or metal, the effect is guaranteed! Just like jars, they can be adorned with garlandsilluminated or not, of Christmas balls and fir branches. The advantage of using a small table is that it is possible to place larger and heavier objects on it, as can be seen here with candles and for these two photos a small reindeer. This type of decoration can also adorn the Christmas meal table.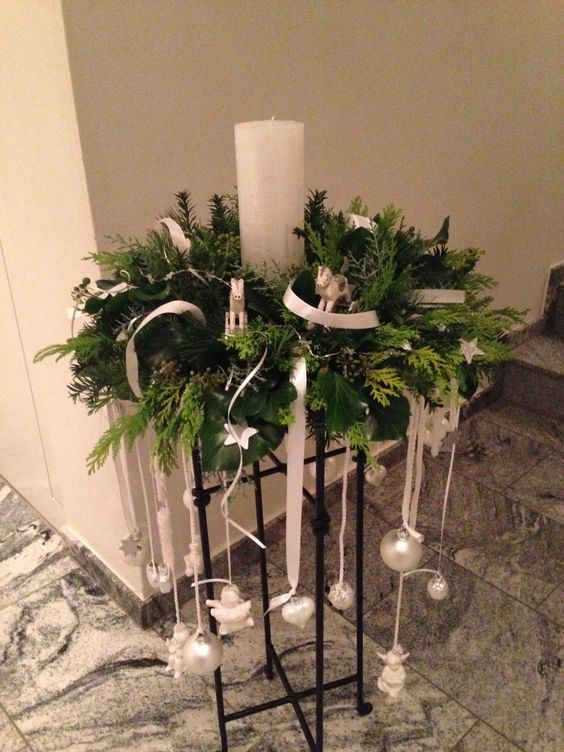 4. A wooden crate dressed for the occasion
Requiring more time and work, this photo shows a simple wooden crate without lid which has been painted and whose interior has been decorated with small objects. We see in particular an elf and a small glass jar filled with Christmas balls and a light garland placed on top.
Inside, the bottom has been lined with cotton and we can also see that a deer, a small fir tree and balls have been placed. Under the cotton must be present another light garland because it is lit and finally, the bottom of the box has been covered with many small Christmas balls suspended.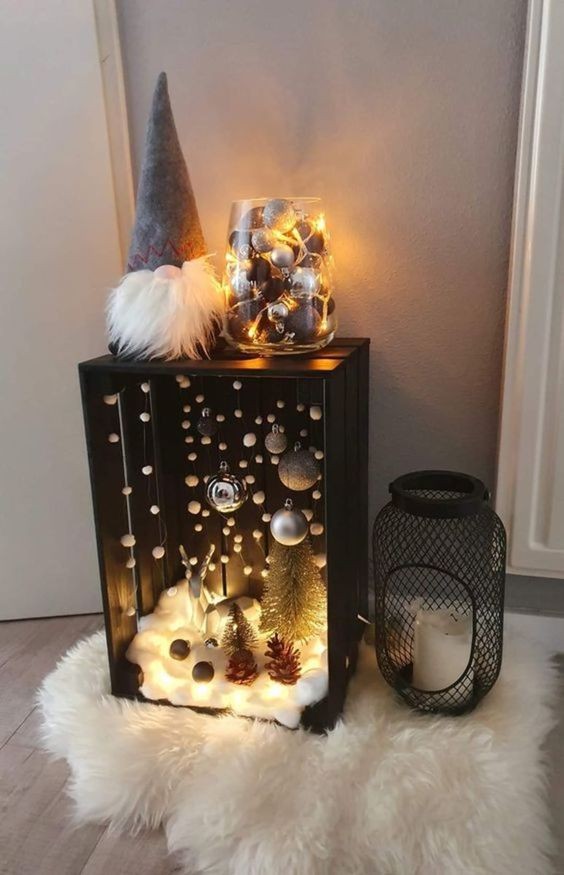 5. Unique confections
Another idea easier to achieve, you can take a plank of wood or a branch and decorate them with several objects. If the board is placed vertically on the ground, for example, you just have to add small shelves to place the objects on it. Alternatively, the branch can be hung horizontally on a wall and all you have to do is hang the desired decorations on it.
6. Let your creativity do the talking
Along the same lines, someone designed a unique decoration by taking a branch which she fixed to a circle of metal. She then added small fir trees, a caribou, cotton wool and several balls to the branch and then garnished the top of the circle with a light garland. This idea is creative and inspiring because it can be declined in many ways.
7. A touch of modern and ancient
Of the older objects can be optimized like these metal pots surmounted either by baubles and shiny bows, or by a faux bouquet in Christmas colors. The ending is perfectly fine.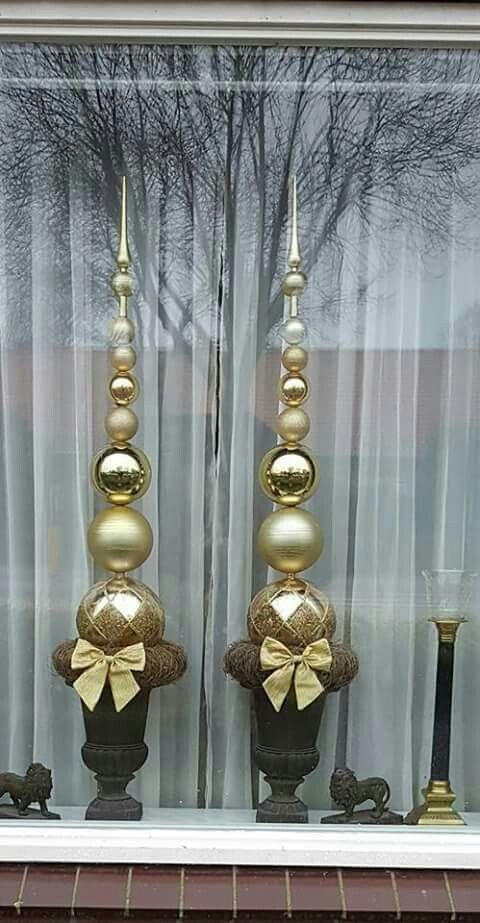 Here are some other ideas you might like