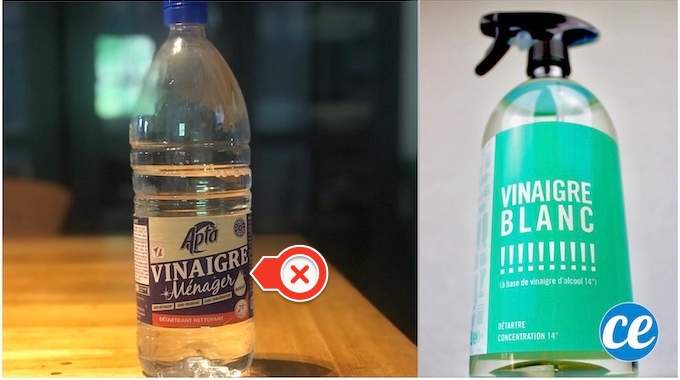 White vinegar has become my cleaning ally for the whole house.
Not only the White vinegar is natural and non-toxic, but in addition it is super economical.
Not to mention the fact that it is a versatile product! You can use it to clean almost all.
However, even if white vinegar is a miracle product, it cannot be used for everything and anything…
There are things you shouldn't clean with white vinegar. Here is 5 mistakes not to make with white household or food vinegar. Look :
1. Marble, granite and soapstone
Avoid contact between white vinegar and natural stones such as granite, marble and soapstone.
For what ? Because the acidity of white vinegar gradually attacks the stone and can cause marks.
As a result, over time, these natural stones can lose their shine.
Instead, use this trick.
2. Kitchen knives
If you want to keep your knives looking new and shiny, avoid contact with acidic things like white vinegar or lemon.
Indeed, the blade may tarnish, or even prick black if it is silver in particular.
Now you know why it's not polite to cut your salad with your knife: because you're exposing the blade to the dressing.
Instead, use dish soap and water.
3. Egg stain
The white vinegar causes the egg proteins to coagulate creating a sticky substance that is impossible to clean.
If you break an egg on the floor, avoid using white vinegar to clean it!
Instead, use a damp, soapy paper towel.
4. Iron
White vinegar can damage the internal workings of some irons.
It is therefore preferable to clean your iron with something else, especially with salt.
Instead, use this trick.
5. Wooden furniture and floors
It is not a good idea to clean wood with pure, undiluted white vinegar.
In addition to leaving traces of water, the acid in the white vinegar can gradually « nibble » the varnish and tarnish the wood.
The same is true for hardwood floors.
Instead, use this trick.
The good uses of white vinegar
As we just saw, there are a few surfaces that don't like white vinegar too much.
But rest assured, all other surfaces tolerate it perfectly!
I've been using it almost everywhere for years. I have listed my favorite uses below.
Click on the links to discover recipes and tips:
– Clean the dishwasher
– Clean the washing machine
– Wash the refrigerator
– Clean rugs and carpets
– Clean the toilet bowl
– Unclog clogged drains
– Wash windows and mirrors
– Descale the shower head
– Wash the garbage cans
– Descale the kettle
– Wash the tiles
– Wash vinyl floors
– Wash the microwave
Your turn…
Do you know any other mistakes not to make with white vinegar? Share them in the comments with our community. We can't wait to read you!
Share this tip
Do you like this trick ? Click here to save it to Pinterest or click here to share it with your friends on Facebook.
Also to discover:
8 Things You Should NEVER Clean With White Vinegar.
If You Use White Vinegar In The Garden, These 13 Miracles Will Happen.