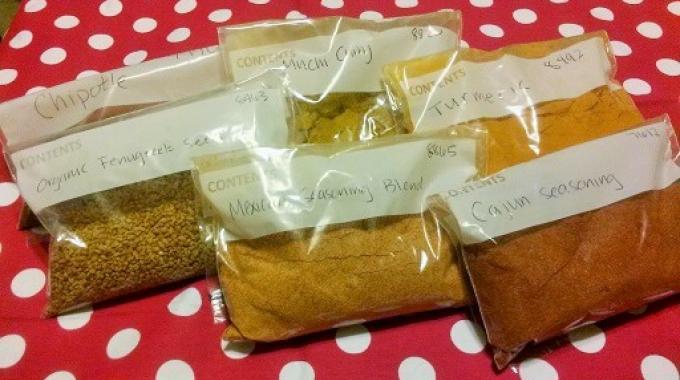 Rosemary, chervil, cinnamon, dill, thyme, paprika… not always easy to find!
Flavoring your dishes by adding sweet, spicy or even aniseed flavors is an undeniable plus to enhance your recipes.
But there you have it, you still have to combine them with the right aromatics. Not to mention the undeniable benefits of these on our health…
Let's see together how to flavor your dishes by carefully choosing your aromatic herbs and spices.
1. How to use aromatic herbs
Ideal for naturally flavoring my dishes, I put them in the spotlight without hesitation:
– dill : its subtle anise flavor goes wonderfully well with your grilled or smoked fish, such as salmon and herring. It will enhance the flavor of pork and veal.
– The Basilic : very present in midday cuisine, it delicately flavors your white meats, but also your soups, pasta, fish and dishes in sauce. It is also very popular for refreshing desserts!
– Chervil : it will be ideal for your salads, vinaigrettes, soups or even omelettes.
– Chives : in omelets, in salads, with fresh cheese, with fresh vegetables, it will bring a note of freshness to your dishes. It is also perfect for their decoration!
– parsley : flat-leaf parsley is one of the stars of this family: as a bouquet or parsley, it will adorn your omelettes, raw vegetables, meats and fish! As a branch, it will bring a final decorative touch to your plates.
– Rosemary : widely used for the preparation of sauces, stews and stews, it is also an excellent culinary partner for your meats and poultry, such as game and pork.
– Thyme : powerful in aroma, it deliciously flavors omelettes and scrambled eggs, but also your potatoes or pan-fried vegetables. Star of the bouquet garni, it is essential for the flavor of your meats in sauce.
2. How to use spices
I use them with subtlety for a delicate dosage:
– cinnamon : its sweet and warm aroma goes wonderfully with your pastries, compotes, donuts, but also your mulled wines!
– Coriander : whole or ground, it is essential for your couscous, tagines or terrines. It will be a precious ally for the preparation of your mushrooms, cabbage, but also marinades.
– cumin : its strong aroma requires a moderate dosage. If it flavors your bread and your cheese, it will also be excellent for the preparation of your mashed potatoes or your grilled fish.
– Paprika : its fruity and sweet aroma and its red colored powder make it a spice that will be very appreciated by your beef goulash, but also by your potato stews.
– saffron : it will enhance the taste of the food in your dish. Very fine in the mouth, it is essential for the preparation of your paellas, but also ideal for your white meats, such as chicken and turkey.
3. Flavor your health!
If these aromatic herbs and spices illuminate your dishes, know that they are also full of virtues for your health!
Some examples :
– The basil facilitates the sleep and digestion,
– The chervilrich in iron, is diuretic,
– The parsleyhe is rich in vitamin C and it is recommended for convalescent people,
– The thyme is antiseptic and antiviral,
– The cinnamon help to fight against tiredness,
– The paprika is decongestant and helps prevent colds,
– The saffron stimulates the digestion.
With so many flavors and benefits, it would be a shame to miss out!
Purchased in sachets, they are often less expensive than in small glass jars.
Your turn…
Ideas ? Any advice for us on this cascade of flavors? Let's talk about it in the comments!
Share this tip
Do you like this trick ? Click here to save it to Pinterest or click here to share it with your friends on Facebook.
Also to discover:
The Simple and Quick Recipe for Mulled Wine with Spices.
Are you missing a spice for a recipe? Here's what to replace it with.