And you wonder what to do this summer to survive the heat during long journeys?
Rest assured, you can perfectly cool your car without air conditioning.
That's what Fabien, my mechanic confirmed to me.
He taught me his tricks to prevent the temperature from rising in the passenger compartment.
In any case, since I use them, I no longer suffer from the heat in my old car.
And I even traveled 800 km without getting too hot to join my family in Charentes.
Here are 6 tips for cooling your car without air conditioning. Look :
1. Put ice packs in front of the vent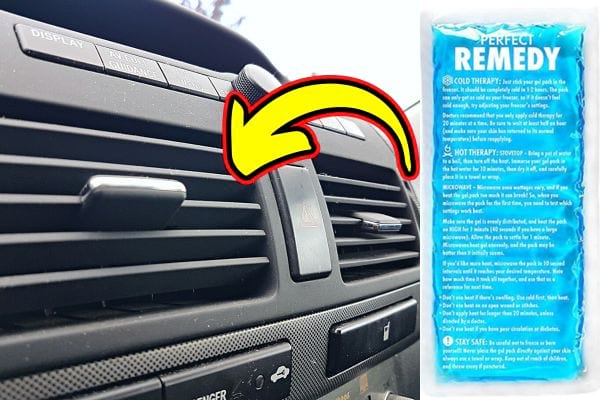 You don't have air conditioning?
Never mind ! We can make a house out of it.
The day before you leave, put on freezer gel packs.
You know, those pockets we put over sprains.
Then, on D-Day, place it in front of the air vents.
Thus, the blown air will be slightly cooler.
The sensation of heavy heat during a heat wave is avoided.
Fabien gave me another clever tip:
He prepares a few extra ice packs that he puts in the cooler.
That way, when the first ones are melted, he can change them.
Not bad is not it ?
2. Use sun visors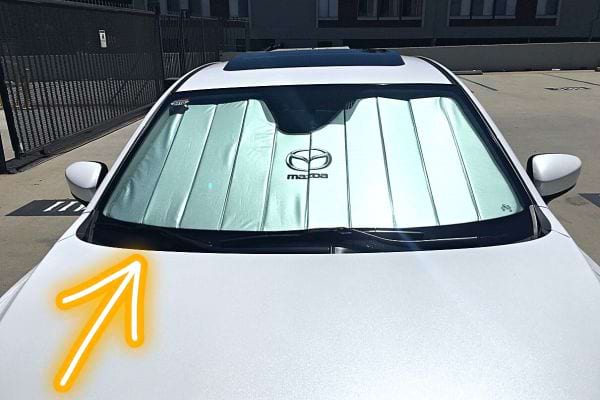 The first thing to do is to prevent the heat from rising in the passenger compartment.
For that, sun visors adapted to each window are essential.
The purpose is to prevent the sun's rays from entering the car and heating it up.
Fabien, my mechanic, insists on the fact that they must be well adapted to each window.
This is important so that the heat does not enter the edges.
I advise you to choose them with suction cups so that they stay in place.
And for the windshield, choose it reflective.
Do you have a panoramic glass roof? Also remember to protect it.
If you're stuck in a traffic jam that won't roll, you can put them on the side windows on the side where the sun is beating down.
Be careful, you will have to remove them as soon as you drive because it is forbidden to drive with obstructed windows.
3. Apply UV filters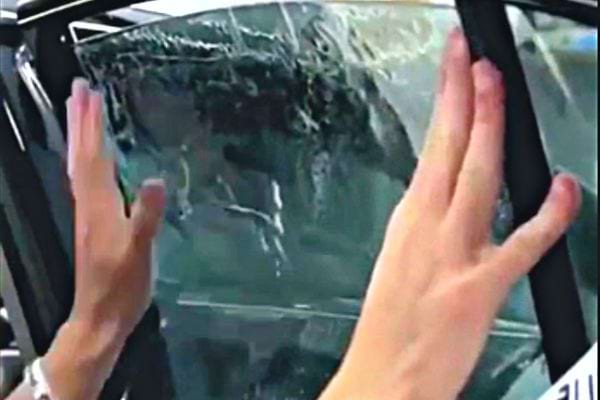 The anti-UV filter is a tinted adhesive membrane that is stuck on the glass.
It is treated so as not to allow UV rays to pass through.
This means that the heat cannot enter the cabin and cause the temperature to rise.
This filter is installed by a professional because there are standards to be respected.
But don't worry, it won't blacken the glass!
4. Install a booster fan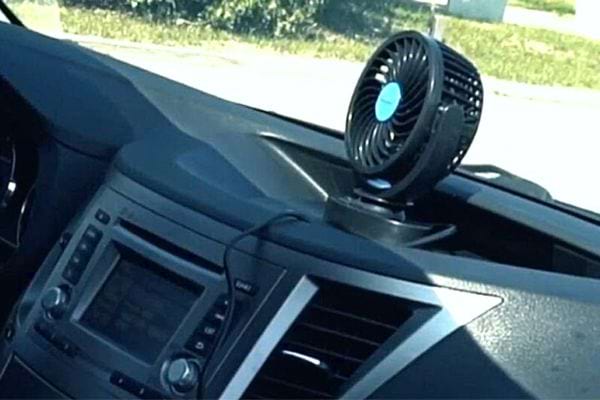 To cool off, there's nothing like a little wind on our skin.
And when you don't have air conditioning, well, you have to find a solution.
We can already put the ventilation on the feet.
Even though it blows air at room temperature, it feels good on the feet and ankles.
These are areas that regulate overall body temperature.
Another advantage: the air coming out downwards creates an upward air circulation and the open windows.
As for the fan, he blows on the arms and shoulders:
2 zones that also regulate body temperature.
It plugs into the cigarette lighter and consumes very little energy.
I recommend this one which works fine in my Fiat 500.
5. Use wet towels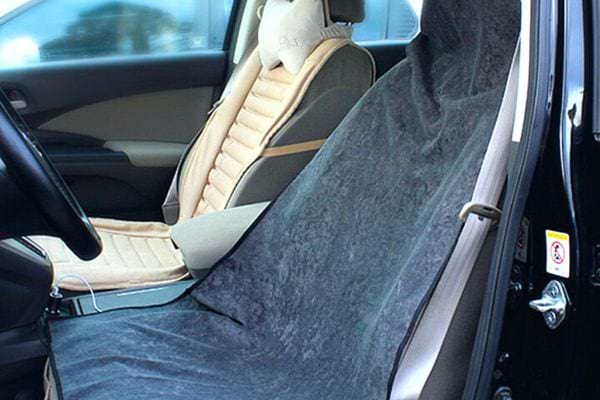 If you have children or a baby, you must prevent their body temperature from rising too much.
And for that, you can use wet terry towels.
They can be put directly on their legs or around their necks.
Or, place them on the windows.
Not only does it obstruct the sun's rays, but in addition it refreshes the atmosphere slightly.
A refillable fogger can also be a good trick!
6. Leave space in the cabin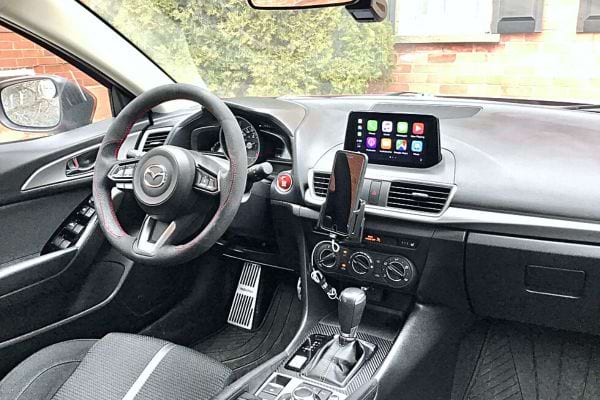 When we go on vacation, we tend to load the car well.
But, it is a mistake.
For what ?
Because the more « mess » that takes up space in the car, the less air can circulate.
So you're going to have to travel light…or turn yourself into a « Tétris » pro.
The idea is to have the cabin as open as possible to promote air circulation.
7 more tips
In summer, being by car is not super pleasant because of the heat.
So here are some tips:
– Park in the shade if possible.
– Leave the windows open in the garage so that the freshness comes in.
– Make drafts before getting in.
– Dress in loose clothing and natural materials.
– Travel during the cooler hours.
– Take breaks in shady places to lower the temperature.
– Bring several bottles of water.
Your turn…
Have you tried these tricks to stop being hot in a car without air conditioning? Comment in the comments to find out if it worked for you. We can't wait to read you!
Share this tip
Do you like this trick ? Click here to save it to Pinterest or click here to share it with your friends on Facebook.
Also to discover:
12 Things You Should Never Leave In The Car (When It's Hot).
When Should You Press the Air Recirculation Button in the Car? The mistake you shouldn't make.