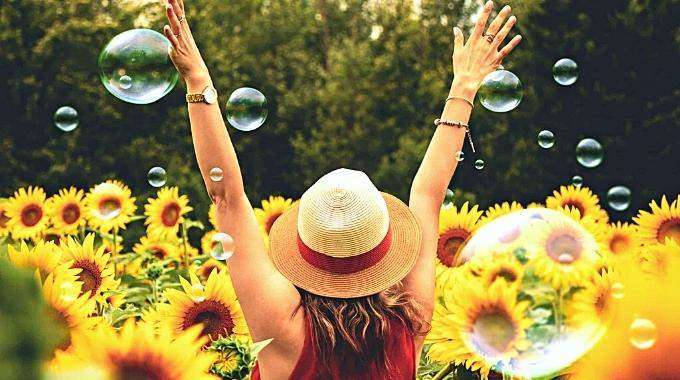 Often, the little simple things have the power to immediately put us in a good mood.
So, I decided to list all the little pleasures in life that automatically put a smile on my face.
Afterwards, I sprinkle these simple everyday pleasures throughout the day …
The idea here is that you too can write down the little things that bring you happiness.
And then, hop! It's up to you to set up a « Un Petit Plaisir Per Jour » ritual.
Here are 75 little pleasures in life that will change your daily life and all for free. Look :
Here are 75 little pleasures to make your days more enjoyable:
1. Eat red fruits … mmm so good!
2. Walk barefoot in the grass.
3. Listening to great music in the car.
4. Take a long, relaxing shower.
5. Drink a good cup of hot coffee.
6. Read a good novel.
7. Watching your favorite movie for the 10th time, while eating popcorn.
8. The smell of freshly mown grass.
9. Watch the sunrise.
10. Walk barefoot in the hot sand.
11. A little running session in the morning.
12. A yoga, stretching or meditation session.
13. Snuggle up under the sheets with your lover.
14. Watch a sunset.
15. Hug your child very tightly in your arms.
16. A good wine.
17. Dark chocolate.
18. Dance like crazy at home.
19. Tell jokes that make you laugh.
20. A long conversation with a close friend.
21. A cone with two scoops of ice cream.
22. Kissing in the rain.
23. Enjoy your Sunday by doing nothing about your day.
24. Waking up to a super clean house.
25. A perfectly tidy room.
26. A waffle with whipped cream.
27. Pillow Battles.
28. Good homemade fries.
29. Sing a song at the top of your lungs in the shower.
30. Dance in the rain and jump in puddles.
31. Watch your children play.
32. Freshly baked chocolate chip cookies.
33. Help a person in difficulty.
34. Make someone smile.
35. A homemade pie.
36. A hike in the middle of nature.
37. Lie down and watch the stars.
38. Make a sand castle.
39. Plank in the water.
40. Take an afternoon nap.
41. Serve your sweetheart a surprise breakfast in bed.
42. Watch your kids on Christmas morning.
43. Lie down and watch the clouds.
44. Watch the ocean.
45. Getting a massage.
46. A whole jar of salted butter caramel.
47. Homemade Nutella.
48. Drink a glass of iced tea in the summer.
49. Make the foot.
50. Pretend in public.
51. See your savings increase.
52. See your debt decrease.
53. Take a hot bath.
54. Make bubbles.
55. A light breeze
56. The feeling after a good workout.
57. Finish a task on your to-do list.
58. Cuddle under the sheets on a rainy day.
59. A good film by coen brothers.
60. Watch your kids play soccer.
61. Play a good game of football.
62. The smell of a brand new notebook.
63. Write on good paper with a good pen.
64. A tidy desk.
65. The smell of hot bread.
66. Fresh snow.
67. Swing on a swing.
68. A homemade chocolate cake.
69. Observe wild animals in the wild.
70. An empty mailbox.
71. Truancy.
72. A slow and sensual night with your lover.
73. Stay awake all night to talk.
74. Have a picnic.
75. Swimming at night.
Your turn…
Do you know other little pleasures to make you smile during the day? Tell us in the comments if it worked for you. We can't wait to hear from you!
Do you like this trick ? Click here to save it on Pinterest or click here to share it with your friends on Facebook.
Also to discover:
The 15 Things You Need To Stop Doing To Be Happy.
Take the Challenge: 30 Days To Be Happy!