This kind of error can seriously damage the engine… And then hello the repair bill!
Luckily, a mechanic friend gave me his trick for siphoning a tank without sucking through your mouth or using a pump.
The trick is use a hose and shake it to empty the fuel easily. Look :
1. Push one end of the hose into the tank.
2. Plug the other end of the pipe with your thumb.
3. Shake until the liquid comes back up the pipe.
4. Put the hose in the big bucket to let the fuel flow.
Note : the bucket should be lower than the tank.
There you go, you now know how to siphon the tank of a car without sucking through your mouth 🙂
Now you can drain the fuel from your tank without having to put your hand (or rather your mouth) into it.
In addition, it works to transfer any liquid from one container to another. Think about it next time!
Note that there are also manual pumps with a pear to siphon the gas tank of your car, like this one :
More tips
This thing works on cars of the type: Kangoo, 206, Scenic, C3, Astra, Zafira, Corsa, Xsara, Picasso, Xantia, Clio, Berlingo, Trafic… and even on motorcycles.
On the other hand, on newer cars, the tank port often has a valve which makes the task more difficult.
In this case, to siphon the tank, you must first insert a piece of rigid pipe into the hole to move the safety valve.
Then just slip your siphoning pipe onto the rigid pipe, and you're done!
And if you want to avoid having your fuel siphoned off, use these tricks here.
Why does it work?
This trick uses the principle of communicating vessels who does all the work for you.
In any case, be careful not to spill the gasoline from the bucket.
Otherwise, at the slightest spark, you risk starting a fire.
So to avoid this, use a sufficiently large container and a pipe at least 2 m long.
Finally, be aware that fuel errors can be covered by your car insurance, provided that you have taken out an assistance guarantee.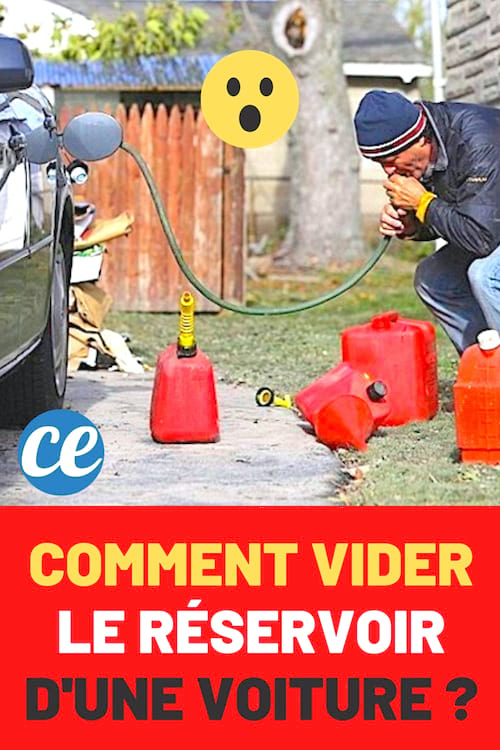 Your turn…
Have you tried this trick to empty your gas tank? Let us know in the comments if it worked for you. We can't wait to read you!
Share this tip
Do you like this trick ? Click here to save it to Pinterest or click here to share it with your friends on Facebook.
Also to discover:
17 Effective Tips To Use Less Gas.
How to Know Which Side of the Car Has the Gas Tank.