For what ? Because it scratches slightly without being too abrasive.
Very practical, for example, for removing old paint from wood.
What you need
– White vinegar
How to do
1. To remove old paint from wood, sprinkle lightly moistened baking soda over it.
2. Add white vinegar to it for more efficiency. Leave to act for 10 minutes.
3. Then rub vigorously with a brush to strip the paint.
Result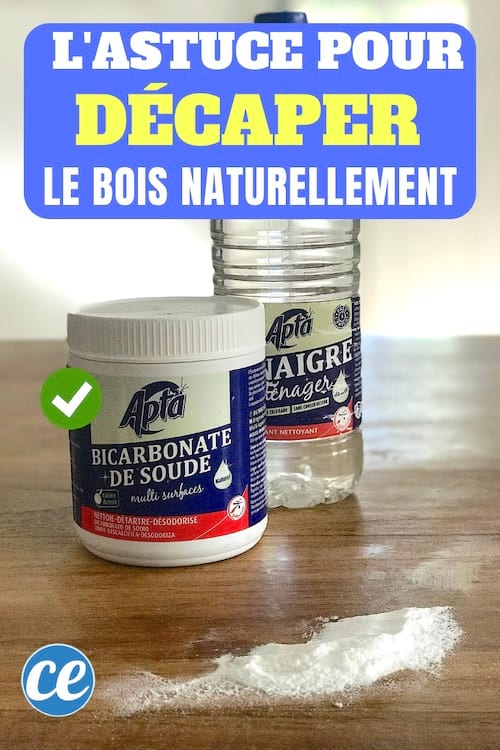 And there you go, the coat of paint on the wood is gone without using any chemicals 🙂
Easy to make your homemade stripper, right?
No need to thermal cleanerSaint Marc, glycero or White Spirit!
In addition, the surface is perfectly smooth and odorless.
Note that the wetter the baking soda is, the less abrasive it is.
This natural stripper is also recommended for all other fragile and scratch-sensitive surfaces.
It's a handy little trick for stripping wood naturally without sanding.
It works on any wooden surface like a door, stairs, beam or table.
With your homemade paint stripper, you can more easily remove lacquer, acrylic or spray paint, but also chipped paint and varnish.
Your paint stripper will also help you remove traces of paint from wood.
In addition, the abrasive and gentle action of baking soda will slightly lighten and whiten the wooden furniture.
Your turn…
Have you tried that grandma's trick for stripping wood? Let us know in the comments if it worked for you. We can't wait to read you!
Share this tip
Do you like this trick ? Click here to save it to Pinterest or click here to share it with your friends on Facebook.
Also to discover:
Coca-Cola: The Ultimate Stripper for Cleaning your Bumper.
The Magic Trick To Remove Rust From Tools.