Your glasses are in contact with your skin, dust, kitchen projections …
To keep your glasses clean and avoid scratches on the lenses, you need to clean them every day.
Fortunately, there is a simple and effective method to have glasses of eyeglasses always impeccable.
It was an optician friend who revealed his secret to cleaning glasses to me.
And I share it with you today. And no need for any special eyewear cleaning product or spray!
In addition, this method also works well for cleaning your glasses, sunglasses or sports. Look, it's very simple:
What you need
– 2 drops of Dishwashing liquid
– lukewarm tap water
– clean, soft, lint-free cotton fabric
– optional: microfiber finishing cloth
1. Wash and dry your hands thoroughly.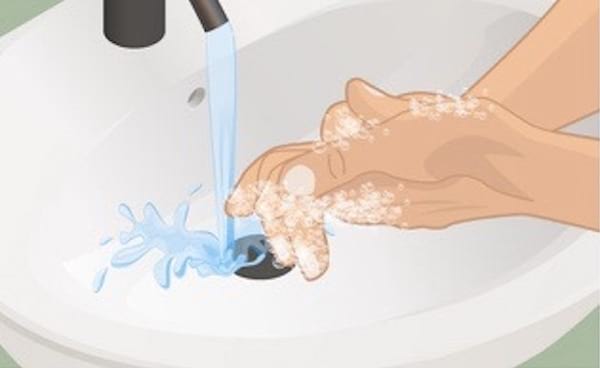 Before cleaning your glasses, it is important that your hands are perfectly clean.
They should be free from dirt, moisturizer or any other material that could stain the glasses.
So, avoid soaps with perfumes and moisturizers.
And instead use neutral soap or washing up liquid.
To dry your hands, use a clean, lint-free towel.
2. Put your glasses under lukewarm tap water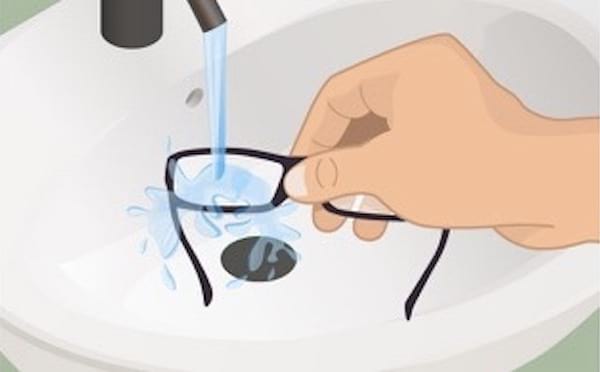 Water removes dust and all impurities from the surface of your glasses.
Thanks to this rinse, you avoid making micro-scratches when cleaning glasses.
The water should not be too hot or too cold, as you will fog up when you put them back on your face.
Be aware that the heat can take off the treatments on your glasses.
3. Apply a small drop of dishwashing liquid to each glass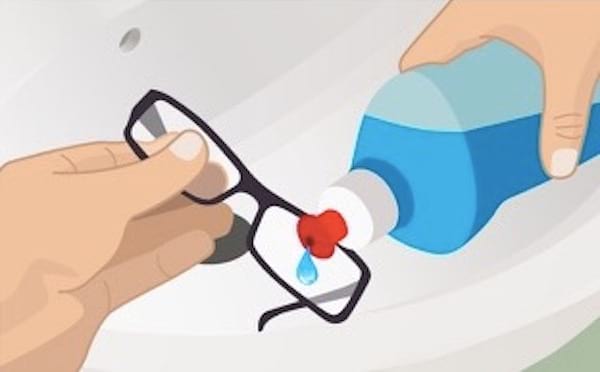 Most dishwashing liquids are very concentrated, so use only a tiny amount.
You can also put 1 or 2 drops directly on the tip of your finger.
Use neutral dishwashing liquid like this one.
Otherwise, moisturizers may leave marks and deposits on your glasses.
4. Gently rub the glasses on both sides with your fingers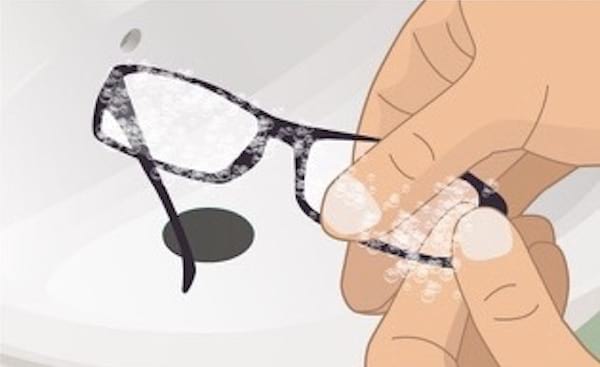 Once you've done that for a few seconds, you can clean the frame of the glasses.
To do this, rub carefully the entire frame.
Do not forget the pads (at the level of the nose) and the end of the branches which are in contact with the back of your ears.
Pay particular attention to the contours of the glasses.
This is where dust and sebum tend to become encrusted and leave deposits.
5. Pass your glasses again under running water.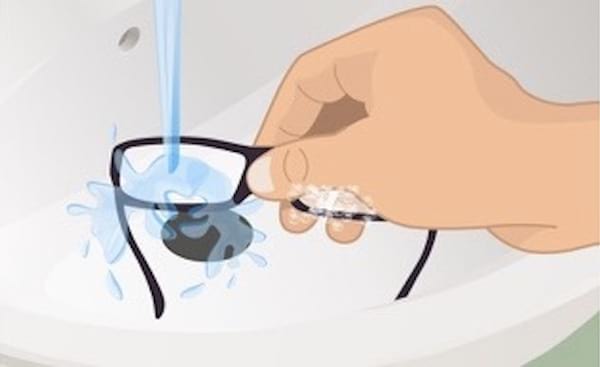 Rinse thoroughly both sides of the glasses and the entire frame.
Take care to remove all the washing-up liquid …
Otherwise it may leave marks on your glasses once they have dried.
You see, no need for VU eyeglass cleaner!
6. Lightly shake your glasses to remove the water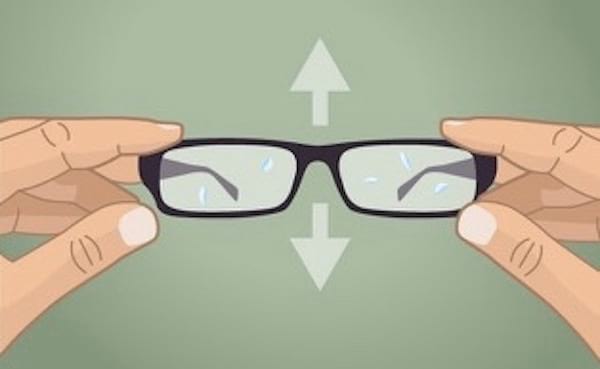 Shaking gently your glasses, this will remove most of the water drops still hanging on them.
Next, carefully inspect the glasses to make sure they are neat and clean.
7. Dry the lenses and frame with a clean, lint-free cloth.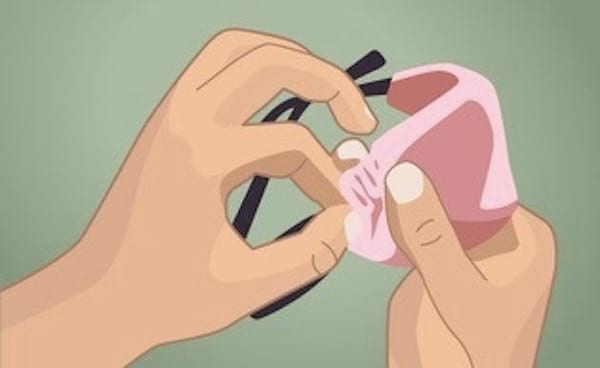 Use only fabric that has been washed WITHOUT fabric softener and dried WITHOUT fabric softener.
Because these 2 products leave marks on the glasses.
You can use any cotton fabric, a terrycloth towel, or a simple tea towel.
But make sure the fabric is perfectly own.
Indeed, dirt and other debris easily become encrusted in the fibers of the tea towels.
And they can thus leave micro-scratches on the lenses.
Likewise, cooking spray, sebum and moisturizer easily permeate the towels.
And they can also leave deposits.
8. Make a final inspection of the glasses.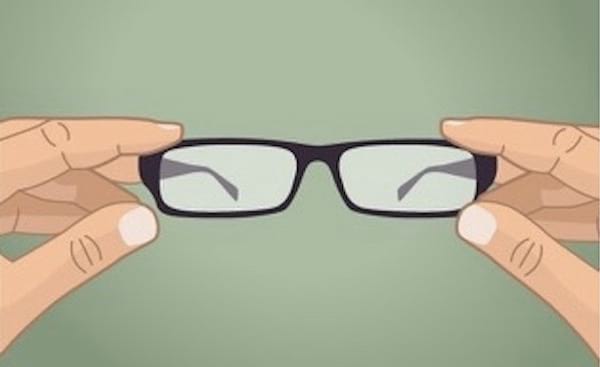 If any stubborn marks or stains remain, remove them with a microfiber finishing cloth.
Need to do a little extra cleaning when you don't have all the necessary equipment?
You can use pre-moistened and individually wrapped disposable wipes, like these.
Indeed, these wipes are specially designed to be used on spectacle lenses.
Things to never do
– Absolutely avoid cleaning your glasses with your shirt or another tissue. Especially when the glasses are not wet, because you risk scratching them.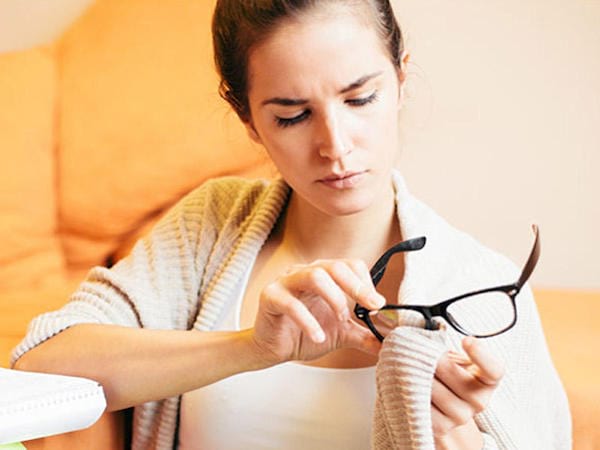 – Do not use NEVER your saliva to moisten spectacle lenses. There, you don't even have to explain why… It's just yuck!
– To clean your glasses, do not use ESPECIALLY NOT a glass cleaner or a multi-use pschitt.
These cleaners contain aggressive products.
They can take off expensive treatments on your glasses, such as anti-reflective treatment.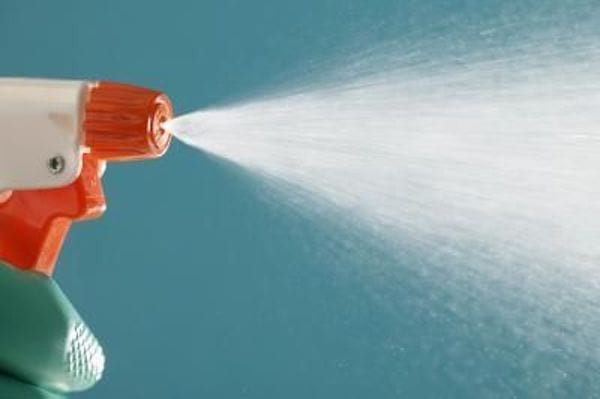 – Do not use NEVER paper to clean your glasses.
This means no paper towel, no tissue, no paper towel and no toilet paper!
The paper can micro-scratch and leave lint on the surface of your eyeglass lenses.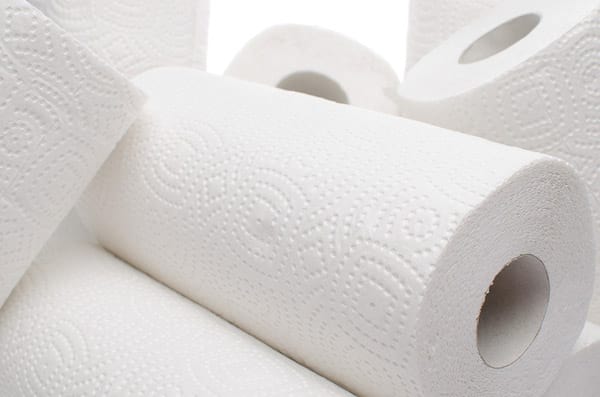 – Do not try to « polish » or polish a scratch. It will just make the situation worse.
How to properly use cleaning sprays and microfiber cloths?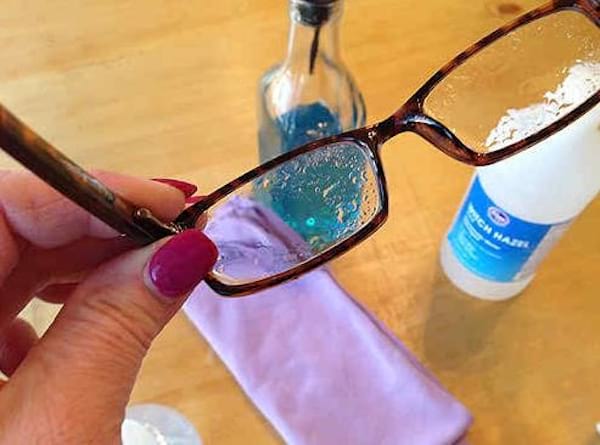 – Cleaning sprays for glasses are available from opticians, pharmacies or even supermarkets.
– Their advantage? These sprays can be easily taken everywhere! It is very useful when you are traveling.
They're also handy if you don't have tap water and dish soap on hand to clean your glasses.
– You don't have access to a tap to rinse your glasses well before cleaning them? So use your cleansing spray in plenty.
The goal is to remove all dust and other impurities from the glasses before wiping them off.
– If your glasses have an anti-reflective treatment, make sure that the cleaner you have chosen is suitable for glasses with this type of treatment.
– When using pre-moistened disposable wipes and individually wrapped, first inspect the surface of your glasses.
Look carefully for dust or dirt. Remove these impurities by blowing on them to avoid scratching your glasses.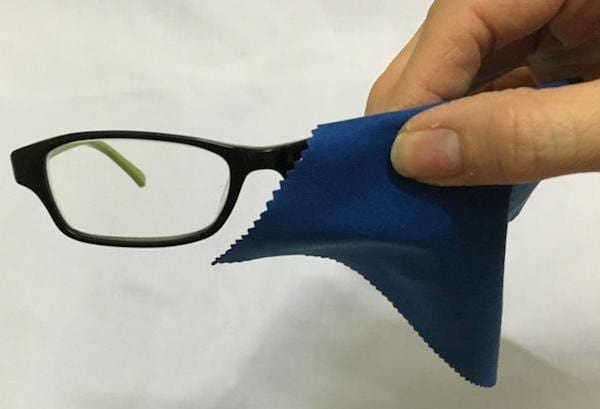 – The microfiber cloths are a great choice for cleaning your glasses. Nothing is more effective than microfiber for drying glasses and eliminating all the grease that can leave traces.
– Microfiber cloths are so effective at absorbing impurities that they need to be washed frequently.
But no need to machine wash them: they are cleaned by hand, with a little liquid detergent (without moisturizers) and clean water.
Allow the microfiber cloths to air dry.
How to remove scratches from glasses?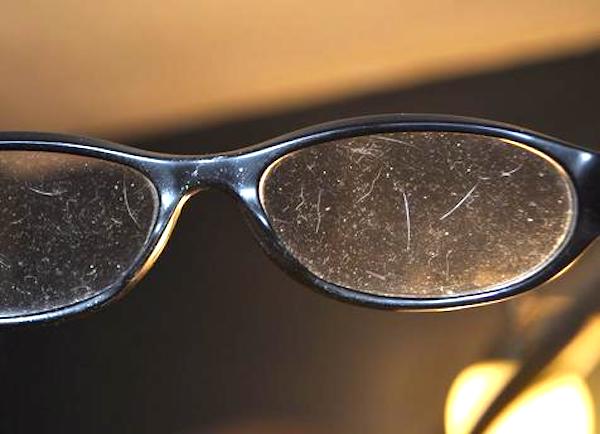 Sorry but there is no miracle cure to remove scratches on eyeglass lenses!
Once a glass is scratched it is unfortunately forever ! Granted, there are specialty products that are supposed to make scratches less noticeable.
But the results are mixed depending on the location and depth of the scratches. Indeed, these products are wax-based and they wear out easily.
In addition, they tend to leave marks on glasses which have an anti-reflective coating.
As you may have noticed, the scratches on the lenses reflect light and disrupt your field of vision.
But be aware that scratches can also make eyeglass lenses less impact resistant.
So, for optimal vision and safety, it is advisable to buy new lenses if they have significant scratches.
When buying new glasses, choose glasses with an anti-scratch treatment that will extend their lifespan.
And ask your optician if your glasses are sold with an anti-scratch guarantee (especially if you often have problems with scratches on the lenses of your glasses).
When to have your glasses cleaned by a professional?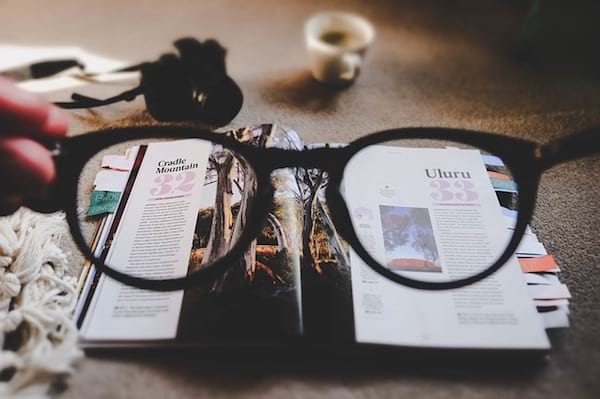 Your lenses are still in good condition, but the pads or other parts of the frame have become impossible to clean.
Then, consult your optician.
Sometimes the glasses can be cleaned more thoroughly with an ultrasonic cleaner.
Likewise, pads that have yellowed over time can be replaced with new pads.
Better to consult your optician before trying to make these small repairs at home.
Always store your glasses in a case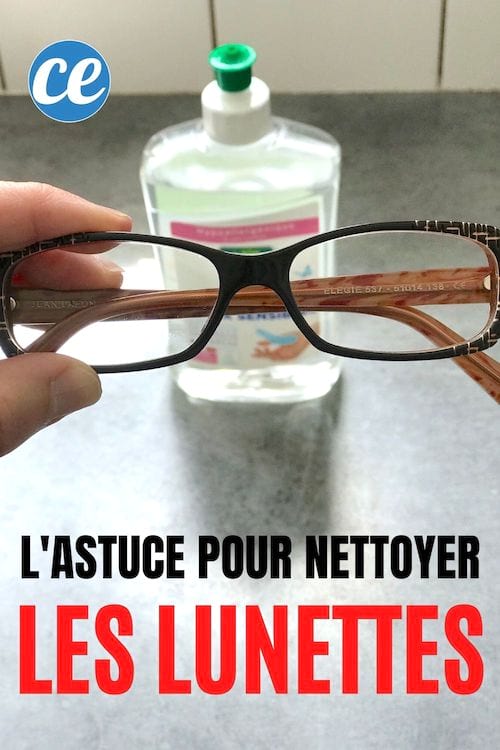 An accident quickly occurred.
And the spectacle lenses get scratched easily if you do not store them in a safe place. Yes, including when you take them off before bed!
So, always remember to store your glasses in a clean glasses case. And NEVER put your glasses on the lenses.
Don't have your glasses case handy?
So at least be sure to ask them with the glasses up and the branches open.
And also in a safe place, where there is no risk of falling off a table or counter.
Your turn…
You have tested this method for clean your glasses well ? Tell us in comment if that has worked for you. We can't wait to hear from you!
Do you like this trick ? Click here to save it on Pinterest or click here to share it with your friends on Facebook.
Also to discover:
Eyeglass Lenses: Unequaled Cleanliness Thanks to White Vinegar.
How To Choose The Right Pair Of Sunglasses Without NEVER Making a mistake.