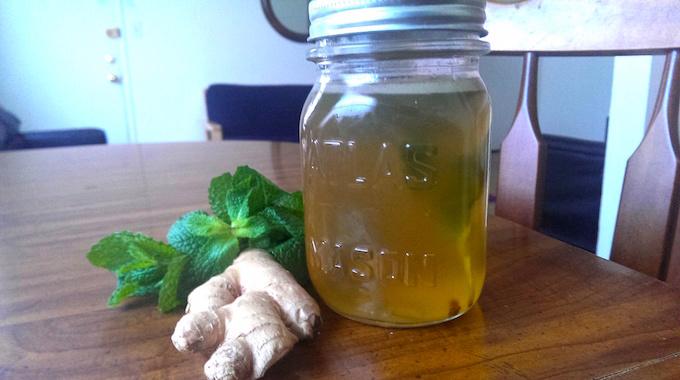 You are quite right ! These mouthwashes are full of chemicals that are best avoided.
Fortunately, there is a very simple recipe for making a 100% natural antiseptic mouthwash and just as effective.
All you need is a little ginger, peppermint and cinnamon to make your homemade mouthwash. Look :
Ingredients
– 1 piece of ginger (2-3 cm), peeled and finely chopped
– 10 g peppermint, finely chopped
– 250ml of water
How to do
1. In a saucepan, bring the water to a boil.
2. Add the ginger, cinnamon powder and peppermint to the pan.
3. Reduce the heat and simmer for about 15 minutes.
4. With a strainer, strain the liquid and bottle it.
Use
take care of shake the mixture well before each use. After each tooth brushing, use your mouthwash for 1 min and spit out.
Results
There you go, now you know how to make your 100% natural and antiseptic mouthwash 🙂
No more bad breath in the morning! And no more worries about toxic products used in commercial mouthwashes.
You can keep your bottle of homemade mouthwash in the refrigerator during 10 days.
why it works
This mouthwash is just as effective as commercial products. Indeed, peppermint instantly refreshes the mouth.
Ginger and cinnamon have powerful cleansing properties that will leave your mouth feeling refreshed. long-lasting freshness and cleanliness.
Alternative with essential oils
Note that you can also replace all the solid ingredients with essential oils from the equivalent product.
Just add 8 drops of each ingredient to 250ml of boiling water: 8 drops ginger essential oil8 drops cinnamon essential oil8 drops peppermint essential oil.
The advantage of this alternative is that the feeling of freshness will last even longer.
Your turn…
Have you tried this recipe? Or maybe you know another? Please leave a comment below and share your thoughts with our community 🙂
Do you like this trick ? Click here to save it to Pinterest or click here to share it with your friends on Facebook.
Also to discover:
The 5 Benefits of Peppermint You Need to Know.
The 10 Benefits Of Ginger You Absolutely Need To Know.