Did you know that children who grow up with cats and dogs have emotional intelligence more important?
It would seem that having animals teaches children to have a greater sense of responsibility.
As a parent, you can easily imagine that the very idea of ​​adding the care and feeding of an animal to your daily tasks can put you off.
But have you ever considered that adopting a dog, a cat, a hamster or any other animal in the family also has real advantages?
Studies have shown that children who had an animal at home perform better, especially in the area of ​​emotional intelligence.
And what you need to know is that this intelligence is linked to early academic success, even more than is the traditional IQ, the intelligence quotient.
Want good news? Unlike IQ, which experts say can't be improved (you can't actually change your IQ by studying), emotional intelligence can improve over time with practice.
And our animal friends can help children progress by developing the skills that promote better emotional intelligence. In addition, they do it with pleasure, naturally.
Here are the 5 skills that are developed by children who have a pet at home:
1. Compassion
When there are pets in the home, parents and children often share animal care, which means younger children learn how to care for an animal early on.
Even very young children can participate: for example, a 3-year-old child can put the cat's food bowl on the floor. At the same age, a child can also learn to stroke the animal gently, with the back of the hand for example, so as not to hurt it.
By supervising children during their first interactions with an animal, you are providing them with important learning moments. Later, after acquiring the basics, each time they come into contact with an animal, they will remember this learning and know how to behave with them.
The older ones can be empowered by walking the dog, playing with him in the yard, cleaning the cat's litter box or giving little bits of vegetables to his rabbit or hamster.
A study of children aged 3 to 6 showed that children who have pets show more empathy towards other animals and human beings. Another study proved that simply having an animal in a first grade class made students more compassionate.
2. Self-esteem
Caring for an animal also boosts self-esteem. Just having chores to do (like filling the dog's water bowl) gives the child a sense of accomplishment and helps them feel independent and competent.
Pets bring a lot to children who have low self-esteem.
Scientists found that self-esteem increased significantly over a 9-month period when children cared for an animal in the classroom, especially if those children had low baseline self-esteem themselves.
3. Cognitive development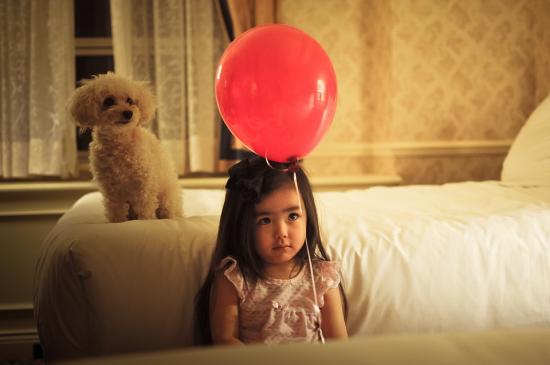 Children who have pets play with them, talk to them, and even read them stories (this happens more often than you might think!).
And scientific data shows that this type of communication which does not stress the child promotes verbal development in the youngest.
Owning an animal can indeed facilitate the acquisition of language in children.
The animal is both the patient receiver of children's babbling and also functions as a verbal stimulus, eliciting compliments, commands, encouragement and punishment.
4. Stress reduction
Having a pet helps reduce stress. When children are asked who they would confide in in case of problems, children regularly mention pets.
This indicates that for many of them, animals provide emotional support. It is an additional way to discharge negative emotions when they are feeling stressed.
The « social » support provided by animals has advantages over that provided by humans. Animals don't judge. People feel accepted unconditionally, whereas human beings will judge and can criticize.
Animals listen attentively without judgment. If a child has failed his test or if he is angry with his parents, the animal will always provide loving support.
5. Understanding the cycle of life
Talking about birth and death with children can be difficult for parents. Approaching this subject through animal life can be an easier way for parents and children to learn the basics of life.
Although the death of a pet can be a difficult and painful time, it can also be an important learning experience.
How parents and loved ones deal with the situation will influence how children deal with death in general throughout their lives.
It is important for parents to discuss their feelings of sadness openly and to share the associated feelings with the child. Parents need to show that it is okay to have such feelings.
Learning to cope with feelings of sadness, such as when an animal dies or is euthanized, is important and parents need to help their children deal with this feeling.
Of course, all of the above positive benefits depend on the family structure, the number of siblings or other non-relative adults around, and of course the child's own genetic tendencies.
But we regularly observe that children who have few brothers and sisters (or the one who is the youngest of the siblings) are more often attracted to animals.
If any of the concepts discussed above sound familiar, it's because some of the benefits described are also relevant for adults, including social support and stress reduction.
Your turn…
Do you have an animal at home? Do you also think that it helps to develop the emotional capacities of your children? Tell us in comments. We can't wait to read you 🙂
Do you like this trick ? Click here to save it to Pinterest or click here to share it with your friends on Facebook.
Also to discover:
The Trick to Remove Pet Hair from your Carpet, Rug and Sofa.
How Can Your Children Help You at Home?