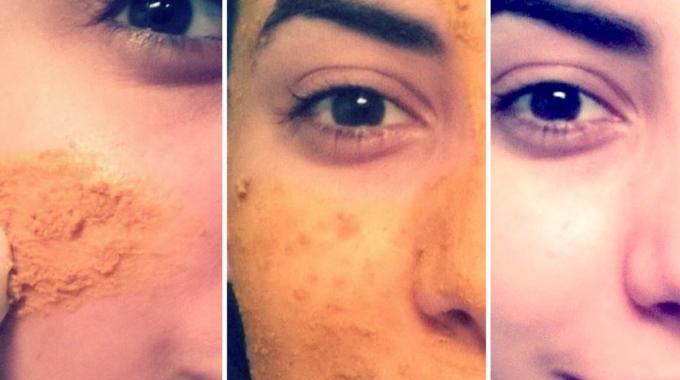 Did you know that on the Oxygenated Radical Absorption Capacity (ORAC) scale, turmeric is the 4th plant species richest in antioxidants out of 159,277?
Its active principle, curcumin, has the property of preventing and curing various diseases.
It is its ability to penetrate cells and fight against free radical damage deep in the body.
Turmeric is an incredible antimicrobial, astringent, antioxidant, moisturizer.
Besides, it can also help people with oily skin to rregulate the function of the sebaceous glands.
But above all, it has anti-aging properties.
Combined with other ingredients, it can reduce wrinkles of the face in the long term, in a very economical way. Interesting, isn't it?
Ultimately, turmeric can nourish, rejuvenate the skin and brighten the complexion.
Do you dream of having the recipe for the turmeric mask that fights against wrinkles? There she is :
Ingredients
– 1 teaspoon of turmeric powder
– 1 teaspoon of organic yogurt
– 1 teaspoon of pure honey
How to do
1. Mix together the turmeric powder, yogurt and honey.
2. Apply the mask to your face.
3. Leave on for 20 to 30 minutes.
4. Rinse.
Results
And there you have it, your face is radiant, hydrated and rejuvenated 🙂
Simple, practical and efficient!
No need to spend a fortune on anti-wrinkle masks!
In addition to their exorbitant price, their efficiency leaves much to be desired. And they are far from natural.
But with this homemade anti-wrinkle mask, your skin's appearance improves naturally.
And it costs next to nothing.
For an optimal effect, you can use this mask 3 to 4 times a week.
Your turn…
You tried this recipe for anti aging mask ? Let us know in the comments if it worked for you. We can't wait to hear from you!
Do you like this trick ? Click here to save it on Pinterest or click here to share it with your friends on Facebook.
Also to discover:
Face Irritated by the Cold? Test my New Homemade Recipe.
9 Legendary Uses of Coffee Grind for Flirtatious Girls.