Fog, makeup, fingerprints: are your eyeglass lenses permanently dirty?
It does exist on the market wipes/ cleaning sprays, but these are not cheap and leave a deposit on the glasses …
Fortunately, there is a simple trick to keep your glasses looking pristine 3 times longer.
How to do
1. Wet your spectacle lenses under the tap.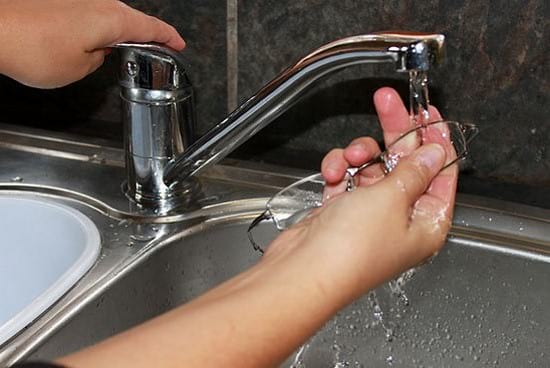 2. Put a drop of washing up liquid on your thumb and forefinger.
3. Spread the washing up liquid on both sides of the glasses with your fingers.
4. Rub gently.
5. Rinse thoroughly with clean water.
6. Take a bottle or a small spray bottle.
7. Mix equal parts water and white vinegar.
8. Spray with vinegar water for a final rinse.
9. Wipe with absorbent paper or a clean microfiber cloth.
Results
And There you go ! Your glasses are now stay spotless 3 times longer 🙂
With this trick, you will get an even better result than the products sold in the store.
Indeed, white vinegar gives incomparable shine and transparency compared to any other product.
Thanks to the vinegar water, your glasses will take 2 to 3 times longer to get dirty than before. Convenient, isn't it?
As for the smell, rest assured, it evaporates after a few minutes.
Did you know ?
Most spectacle lenses today are « organic », meaning that they are plastic treated with quartz to prevent scratches. The « real glass » in glass is hardly sold any more for glasses.
Your turn…
Have you tried this grandma trick to clean your glasses? Let us know in the comments if it worked for you. We can't wait to hear from you!
Do you like this trick ? Click here to save it on Pinterest or click here to share it with your friends on Facebook.
Also to discover:
The Brilliant Tip For Adjusting Falling Glasses.
The trick to removing fog from swimming goggles.