This is a question I often ask myself.
Normal since I use white vinegar daily to clean the house.
And very often it is advisable to heat it up before using it.
So, I did my research to find out why you have to heat white vinegar.
And if above all it was a good or (very) bad idea. Explanations:
1. Why heat white vinegar?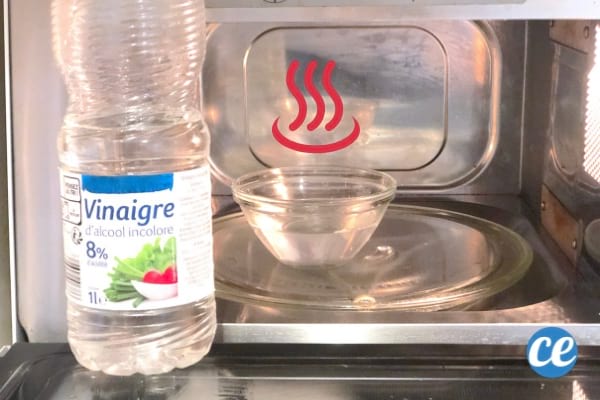 Thanks to the particularly high acidity of white vinegar, its properties are truly incredible.
It is antibacterial, anti-lime, antiseptic, stain remover, deodorant, weedkiller … And so on and the best!
So under these conditions, why heat the white vinegar you will ask me?
Quite simply, because it is still heated more powerful and more efficient !
Heating it up further increases its qualities.
It is therefore useful to heat the white vinegar to eliminate the recalcitrant limescale, to remove the encrusted stains.
And it's the same if you boil it whether it is 14 ° or 8 ° white vinegar.
It is even more efficient for acting against dirt, for deep descaling and removing stubborn stains.
2. Is it dangerous to heat white vinegar?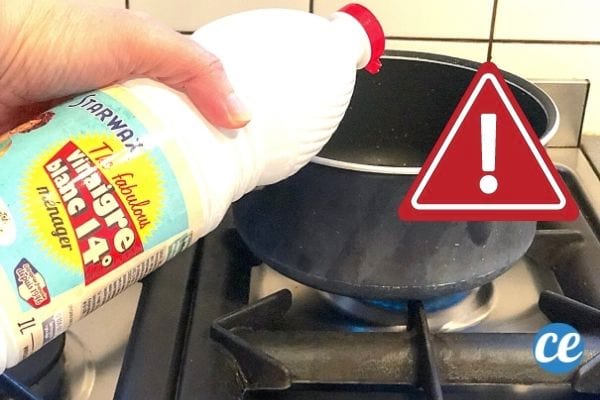 Rest assured right away.
Heating your white vinegar is not dangerous.
You can even boil it with no problem! It is not toxic.
On the other hand, I advise you not to put yourself just above the vapors of white vinegar.
Because they smell particularly strong and the smell is very unpleasant.
Breathing the fumes can make you cough and sting your eyes.
But it is enough to move away for these inconveniences to stop immediately.
3. How to heat white vinegar?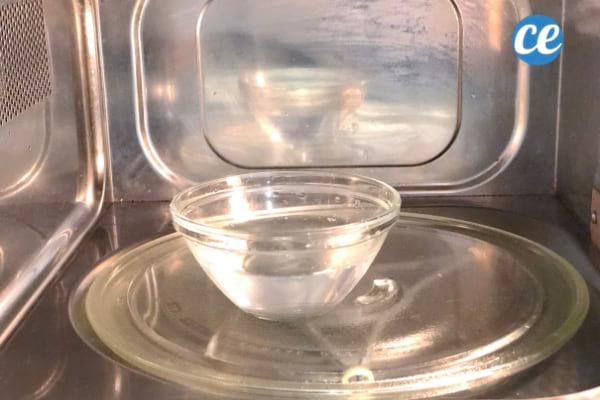 Heating up white vinegar is very easy.
There are several methods:
– You can put it in a bowl and put it in the oven at microwave for about 4 min.
– You can pour it pure in a pan and heat it up.
– Another solution: you can mix it with water before heating it.
In this case, pour 1/3 of white vinegar in a bowl and 1/3 of water. Put the bowl in the microwave and heat for 4 minutes.
4. How to use hot white vinegar?
Like cold-used white vinegar, heated white vinegar is a natural, multi-purpose cleaning product.
The only difference is that its efficiency is increased tenfold !
So you can use it all over the house to clean and disinfect.
– Remove tartar in the toilet
– Drive away flies naturally
– Unclog a sink effortlessly
– Pickle a burnt pan without rubbing
– Remove limescale on any surface
– Clean the very dirty microwave
– Get a very dry brush
– Make the stainless steel taps shine
– Thoroughly clean the bathtub
– Eliminate persistent bad odors
– Clean the windshield of the car, especially the stickers
– Polish grandmother's copper saucepans
– Easily peel off labels
– Do a good descaling of the kettle
– Degrease the gas stove burners
Your turn…
Have you tried heating white vinegar? Tell us in the comments if it was more effective for you. We can't wait to hear from you!
Do you like this trick ? Click here to save it on Pinterest or click here to share it with your friends on Facebook.
Also to discover:
Is White Vinegar Dangerous For Health? The Answer Will Surprise You.
20 Secret Uses of White Vinegar For a NICKEL HOME.