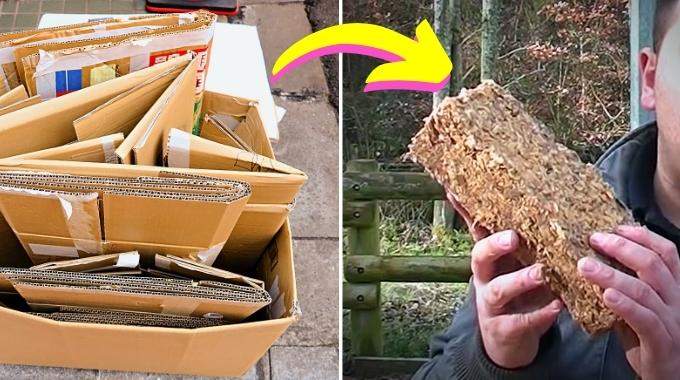 Today I show you how to make 100% free firewood all by yourself at home.
Yes, you read correctly.
Know that it is super simple to make your own firewood bricks!
The basic materials are very easily available and above all totally free.
And then make wood briquettes, it allows you to cut fewer trees in nature.
So if you want to save money and do something for the environment, follow the guide.
Discover how to quickly make your own firewood briquettes. Look :
What you need
– Bags of sawdust
– Cardboard
– Newsprint
– An old saucepan
– A paperweight/briquette press
Where to get sawdust and cardboard for free?
So I know what you're going to tell me:
How to get sawdust and cardboard for free?
Well I'll tell you, there's nothing complicated.
No need to order it.
For sawdust, look on the yellow pages to find the carpentry closest to you.
Generally, these factories want to get rid of waste wood chips and give you some without problem.
For the cardboard, there too it is quite simple.
See you in the morning at your usual supermarket.
It is at the opening of the store that all the goods are taken out of the boxes to be put on the shelves.
As there are a lot of boxes, they are purely and simply thrown into a compactor.
Ask them to collect some!
That's how I find it.
How to make firewood
The idea is to make a mixture of 70% sawdust and 30% cardboard.
1. Pour 7 pans filled with sawdust into the trash.
2. Tear cardboard into small pieces to fill 3 pans.
Note : it represents on average half of a box.
3. Put the pieces of cardboard in the trash.
4. Mix the sawdust and the strips of cardboard with your hand.
5. Tear up 2 sheets of newspaper and cover the sawdust and cardboard with it.
Note : the newspaper is used to make the link to weld all the elements.
6. Add water to completely cover the sawdust, pieces of cardboard and newspaper.
7. Mix with your hands until you get a consistent paste and let stand overnight.
8. The next day, mix very vigorously. It is best to use a mixer if you have one.
9. Take your old pan and fill it with the batter.
10. Now is the time to use the clipboard.
Remove the accessory that serves as a press and pour the contents of the pan into the paperweight.
The clipboard must be filled to the brim.
11. Then put the filled paperweight in a place where water can flow.
12. Put the press back in place and bend your arms sharply to compress the dough.
Water will come out of your mixture; evacuate it elsewhere. You then get a log.
13. Remove the center press again and put some mixture back into the paperweight with your pan.
Put the press back on and press the arms again.
The small additional dose makes it possible to obtain a very voluminous and very compact log.
14. Once all this is done, we just have to unmold the log from the paperweight.
Remove the middle press, turn the accessory over and unmold the log.
15. All you have to do is leave it to dry in the open air for 24 hours, turning them regularly.
Store briquettes in a dry place until use to avoid moisture.
Result
And There you go ; you have just created your own firewood for free.
Easy, fast and effective, right?
No need to buy super expensive cubic meters of firewood.
Me for example, I consumed between 6 and 7 cubic meters which cost me between 400 and 500€ per year.
Well now, just by investing in a clipboard, it costs me nothing!
From now on, I only heat myself with briquettes that I make myself.
By using these tricks in addition, I save a lot of money when winter comes.
Why does it work?
Wondering if DIY bricks are as effective as firewood?
Well I can tell you yes.
In fact the mixture of wood shavings and cardboard has as much calorific value as a log of wood!
We put 3 or 4 in the fireplace or the stove and I am quiet all night.
I'm so glad I found this trick that I think I'm going to take it to the next level.
I will probably invest in a machine that makes log briquettes on its own!
So the initial investment in this kind of equipment is a bit expensive, because it goes between 500 and 2000€.
Except that with this machine, you no longer tire of making bricks.
And above all, she can do so much that we can sell part of the production!
I've seen this on videos and on forums.
That way, it makes the purchase of the machine profitable.
Your turn…
Have you tried our trick to make firewood for free? Comment in the comments to find out if it worked for you. We can't wait to read you!
Share this tip
Do you like this trick ? Click here to save it to Pinterest or click here to share it with your friends on Facebook.
Also to discover:
6 Tips To Save Firewood (And Divide Its Consumption By 3).
How to Survive in Winter WITHOUT Heating? 21 Tips Tested and Shared by Our Readers.