It is true that more and more stores and websites offer this payment facility.
Paying in installments without any fees may seem like a good deal at first glance.
Especially since you don't have to fill out any paperwork and the split payment is granted without conditions, apart from having a bank card.
The answer is no ! Here's why it's a scam. Explanations:
Why is it a scam?
The 3X free of charge may seem very practical when you see the offers in stores…
The problem is that this type of payment makes you feel like you have more money than you actually have!
Why ? Because in fact you buy a product, but you only pay 1/3 of the total price.
If you don't have the full prize money in your account, you'll be overdrawn before you know it.
And since you will continue to have some of the money in your bank account…
…you will be tempted to keep spending that money, when in fact you don't have it anymore!
Paying in 3X free of charge is to be avoided
Even if the 3X without fees is not considered by law as a credit, because the duration of the loan is less than 3 months…
…the fact remains that it's exactly the same operation.
The only difference is that the 3X free of charge is on a shorter time.
I can even tell you that these formulas are the worst!
Why ? Because they give you the feeling, as long as the direct debits are not passed, to remain the owner of the sum that you have been lent…
You are therefore unconsciously or consciously tempted to spend this money, which makes you more easily overdrawn.
Last point, this type of payment also psychologically accustoms you to taking credits.
And if you start taking consumer credit like revolving credit, your financial difficulties will only get worse…
Conclusion
There you go, you now know why paying 3 times without fees is a scam to avoid 🙂
Another trick from large groups to make us spend more and more!
The best if you really want to buy a product is to postpone this purchase until you have the full amount in your account.
And when you go to checkout, always try to favor cash payment!
At least you actually see your money coming out of your pocket, which gives you a better idea of ​​the amount.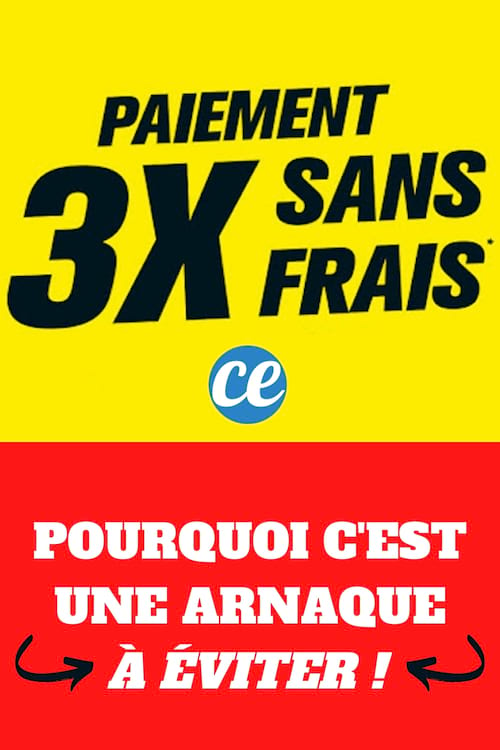 How does the 3X free of charge work?
For those who don't know how a free 3 or 4 installment payment works, here's how it works.
To take advantage of payment in 3 or 4 installments free of charge, the expiry date of your bank card must be greater than 4 months.
Know that there is no file to open or supporting documents to provide, everything is done automatically during payment.
1. At checkout, you swipe your credit card as usual to buy the product you want.
2. The price of your purchase is then cut in 3 or 4 times.
3. Each month from the date of purchase, an automatic refund is made to your credit card.
For example, if you buy a TV for €300 at Fnac, you will have to pay the following amounts:
– €100 on the day of your purchase.
– €100 in 30 days.
– €100 in 60 days.
This ease of payment is widespread both in physical stores and online.
It is notably available in the following stores: Fnac, Darty, IKEA, Leroy Merlin, Boulanger, Carrefour, Printemps, Castorama, Conforama, Cdiscount, Auchan, AmazonAsos, Apple, Zalando, But, Rue du commerce, La Redoute, Leclerc, Opodo, etc.
Your turn…
And you, what do you think of payment in 3 or 4 installments free of charge? Tell us in the comments if you think it's a scam or if on the contrary if you use it often. We can't wait to read you!
Share this tip
Do you like this trick ? Click here to save it to Pinterest or click here to share it with your friends on Facebook.
Also to discover:
Money Tip: Wait 2 Days Before Making a Purchase.
How to Save Money? 3 Tips for an Immediate Result.