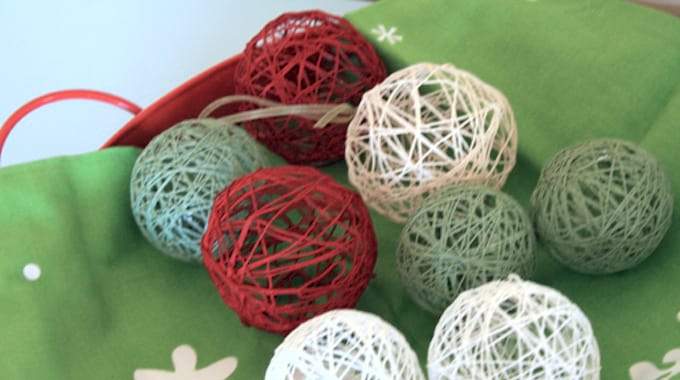 The Christmas balls on sale in supermarkets are all really very pretty, but too expensive for a small budget.
Because Christmas is the price of the tree, decorations, electric garlands and especially gifts, not to mention the Christmas Eve meal…
So I found a trick to easily make beautiful economical christmas balls at home: spider web effect Christmas balls!
I show you how I make great Christmas balls in 10 min.
To give you an idea of ​​the result, imagine an empty ball of white thread inside, therefore transparent.
The threads form a ball and give the impression of a cobweb. It's successful, isn't it?
Here's how:
What you need
– from wool yarn in the color of your choice
– glue
– ribbons or thread (to hang the balls on the tree)
How to do
1. Inflate a balloon the size of a Christmas bauble.
2. Take the yarn.
3. Cut 40 to 50 cm.
4. Dip it in the glue.
5. Wrap the yarn around the balloon in all directionsso as to form a ball of yarn.
6. Once the glue has dried, pierce the balloon.
7. Remove the plastic pieces from the balloon.
8. Attach a ribbon to the ball.
Results
And there you have it, you have made a beautiful Christmas bauble easily and in a few minutes 🙂
Easy, fast and economical!
bonus tip
If you decide to add an object to it, the best is still to drag it inside the ball of balloon.
It will remain trapped in its wire web once the balloon has burst.
You can also to add Glitter on the wire for a more magical effect.
To do this, pour glitter directly into the glue in which you soak the yarn before wrapping it around the balloon.
A playful Christmas sewn with white thread
Once the glue has dried and the balloon has been pierced, the result is great: it reveals a ball of transparent yarn.
These yarn Christmas balls are simply very chicwith pretty ribbons to hang them on the tree.
The transparency effect makes it look light and almost as refined just lace.
And your little ones will be delighted to discover themselves artists at heart with such creations! Merry Christmas to everyone !
Savings achieved
Let's say that if I want to pretty Christmas ballsII must at least count €1 per scoop, and much more if sold individually. And the price can quickly increase.
A pretty painted or glitter ball can cost up to 8 €, I don't know what you think, but me, it sends shivers down my spine!
Plus the electric garlands, the wreath to hang on the front door, the garlands to hang on the tree… what a ruin!
By making my own Christmas balls, I offer a fun activity for children and I keep my money to give them nice gifts.
And that's the main thing, right?
Your turn…
A cheap and original Christmas with my yarn Christmas balls, « cobweb » effect, what do you say? Do you have any other ideas to share? Comments are here!
Share this tip
Do you like this trick ? Click here to save it to Pinterest or click here to share it with your friends on Facebook.
Also to discover:
35 Christmas Decoration Ideas That Will Bring Joy to Your Home.
Recycle your Plastic Bottles to Create Christmas Decorations.