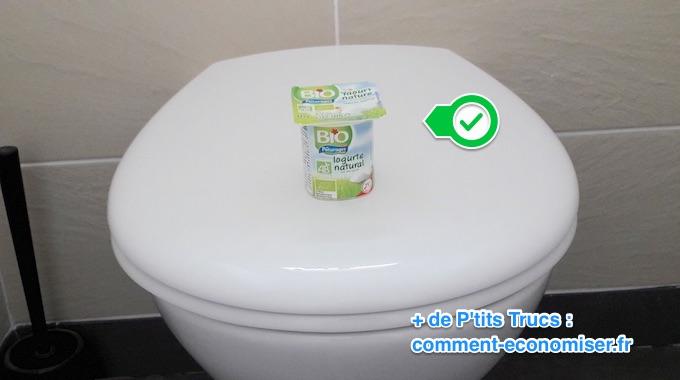 A septic tank gets damaged quickly. It needs to be cleaned effectively quite often.
There is a simple and natural trick to cleaning your septic tank.
I'm going to surprise you, but all you have to do is reactivate it… with a natural yoghurt! It is a very effective activator. Look :
How to do
1. Flush the contents of a yogurt down your toilet.
2. Flush.
Results
There you go, the toilets and the pit are cleaned. They regain a little youthful look for a few weeks thanks to your biological activator 🙂
Now you know how to activate a septic tank.
The bacteria contained in the yogurt will do the work on their own: guaranteed results! It is the best product for your septic tank.
bonus tip
A natural yogurta few days after the expiry date, it can still be eaten.
But often they are sold in large packages, and sometimes we go over the date by two weeks.
An advice : do not throw away your plain yogurts expired! Flush one down your toilet once in a while.
Biological activators are expensive while a single plain yogurt costs around €0.60.
Nothing prevents you from using once in a while a sachet of Eparcylbut sincerely, when I have an expired natural yogurt, I won't hesitate!
Your turn…
Have you tried this solution to clean your septic tank? Tell me what you think in the comments, or give me your own tips. We can't wait to read you!
Share this tip
Do you like this trick ? Click here to save it to Pinterest or click here to share it with your friends on Facebook.
Also to discover:
The Incredibly Simple Homemade Yogurt Recipe.
Here's How to Unclog Drains Easily with White Vinegar.