So, you have surely noticed that ink cartridges are more and more expensive!
Are you curious about how printer manufacturers justify this constant rise in prices?
In this article, learn the explanation behind the sky-high ink cartridge prices.
And as a bonus: discover the 7 tips to achieve considerable savings on your cartridges 🙂
More and more consumers have noticed that inkjet printer cartridges empty too quickly, even extremely quickly.
So far, it's not really a news flash. It was already well documented: drop for drop, the ink in cartridges is more expensive than vintage champagne. Just that !
Less and less ink in the cartridges
But did you know that the amount of ink in the cartridges has reduced dramatically?
Cartridges sold today contain only a fraction of the ink found in equivalent cartridges sold 10 years ago. Nowadays it is possible to buy cartridges with tiny amounts of ink.
Concrete example: An Epson T032 color cartridge (released in 2002) is exactly the same size as an Epson T089 color cartridge (released in 2008). But with an important difference: the T032 model contains 16 ml of ink, while the T089 does not. contains only 3.5 ml!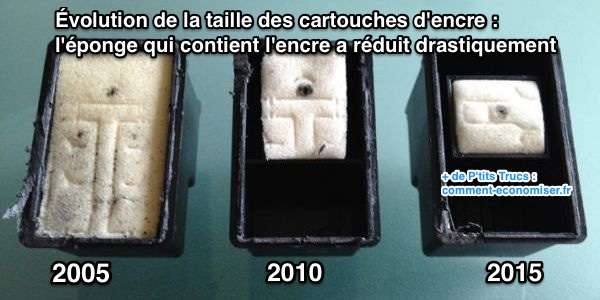 If you are using HP ink cartridges, it is the same phenomenon. 10 years ago, the best-selling HP cartridges contained 42ml of ink – and they cost around $ 25. In 2015, they only contain 5 ml, but they still sell for 17 €!
To grasp the scale of the scam, just open an HP cartridge. The ink for these cartridges is contained in a sponge. Over the years, it is observed that the size of these sponges has gradually decreased.
Previously, the sponge occupied most of the cartridge. And today, the rest of the cartridge is almost empty!
Color ink cartridges
Of all the cartridges, know that the « cheapest » are the color cartridges. All the major ink manufacturers (Canon, HP, Epson) offer 3-color cartridges (cyan, magenta, and yellow). And of course, most of the time there is less than 2 ml by color.
Here is why this type of cartridge should be avoided: when only 1 of the 3 colors runs out, the cartridge simply stops working! Even if the other 2 colors are not yet empty!
So, choose printers that require a different cartridge per color.
« XL » cartridges
But that's not all: the manufacturers have dared to go even further.
The gradual decrease in the quantity of ink has enabled them to offer "XL" (extra large) cartridges. Except that these "new" cartridges are exactly the same size as the normal cartridges!
For example, HP markets the HP300 model, which contains 5 ml of black ink and sells for € 17. HP also offers the HP300XL, which contains more ink – roughly 16ml – and sells for between € 27 and € 34.
But: these two products are almost the same size! In addition, some « XL » formats from major manufacturers contain less ink than equivalent products sold a few years ago.
The « XL » format cartridges are a downright insult to the consumer.
Basically, companies like HP sell us cartridges that are only half full. Then, they fill it completely and stick an "XL" label on the SAME cartridge: and voila, they can sell it to us even more expensive!
It's a scandal, especially when you consider that the difference in terms of production cost is counted in cents. This is a real scam!
Their strategy is to gradually push the consumer to buy ink cartridges on a frequent basis. The big printer manufacturers are smart:
– they reduced the amount of ink in the cartridges,
– they encrypted the electronic chips of the cartridges,
– and they use aggressive marketing techniques to discourage us from resorting to cartridge reloading (at Cartridge World, for example).
Defending printer manufacturers
How can manufacturers justify these aberrant strategies?
Well, the big printer manufacturers dispute that they are putting pressure on consumers to increase their profits.
Here is an official press release from HP: "Analyzing criteria such as point of sale, up-front costs of cartridges and printers, or mls of ink in a cartridge is not an accurate way to measure the true cost of an impression. HP maintains that consumers should refer to cost per page printed. When it comes to Officejet Pro models, the manufacturer maintains that the cost per page has not changed since 2009.
Epson's argument is that cartridge nozzles are more efficient than they were 10 years ago – thanks to advances in printer technology. « The cartridges are capable of producing more pages with the same amount of ink, » Epson said in a statement.
Of the 3 major manufacturers, Canon has been the least aggressive in its ink reduction policy. But that does not mean that the quantities have not decreased. A recently released cartridge, the PGI-525BK, contains 19 ml of ink.
That's little when compared to a similar cartridge from 2005, the BCI-3BK, which contained 26ml of ink. In addition, the brand has also started to produce cartridges in « XL » format.
Less and less expensive printers
In recent years, there has been a real war between printer manufacturers and ink refillers. These companies refill the ink cartridges at a reasonable price. They have managed to nibble a significant share of the cartridge market.
What has been the response from the major manufacturers? Produce low cost printers. Then, recoup the waste on printers by selling cartridges with ever smaller amounts of ink – which consumers have to replace more often.
Result: 15 years ago, a printer cost up to 200 €, whereas today you can get one for only 40 €.
These printers are often sold with « starter cartridges » which contain tiny amounts of ink. As a result, consumers have to go and buy a refill almost immediately after purchasing a printer!
Some manufacturers have taken the vice even further. They have included technologies in the printers that make low cost cartridges incompatible with the device. The logic is simple: if you buy an HP printer, you have to buy HP cartridges – no matter how expensive they are.
Our conclusion: it's a scam!
Critics agree that there have been advances in the field of printers – particularly with the nozzles, which are more efficient. But in any case these advances can not justify a reduction by 5 of the quantity of ink of the cartridges!
The cost of manufacturing an ink cartridge is at its lowest since its inception. Most cartridges happen for less than $ 1. The benefits are enormous, even odious!
Bottom line: the consumer pays a much higher price for a cartridge and for small amounts of ink.
Our solutions: how to save money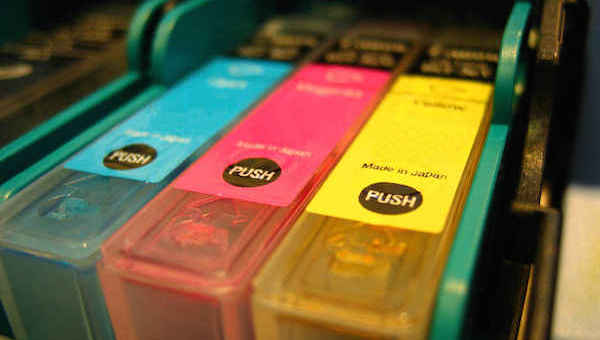 Do not totally despair! 🙂
Fortunately, there are little tips to get around these excessive prices. Here are 7 tips you can try right now:
1. Reload your cartridges at a specialist
Is your cartridge empty? Instead of throwing it away, you can take it to a specialist who can charge it for a reasonable price.
Since the increases in the price of cartridges, we see more and more of these stores specializing in refill.
The market leader is Cartridge World. But, take the time to educate yourself. In most cities there are small stores that offer this service.
Want to learn more about refilling ink cartridges? Click here to find out the trick.
2. Use ink cartridges to the end
Your printer tells you that the cartridge is empty. It's time to replace it …
Maybe not ! Did you know that in most cases you can continue to use the cartridge?
Click here to find out the trick.
3. Use the printers' draft mode
Another way to save on ink is to choose "draft" mode when printing. The difference in quality for daily use is insignificant, but you save a lot of ink.
Discover our tips for printing in "draft" mode by clicking here.
4. Print on both sides
When you want to print multiple pages, a great tip is to print on both sides.
It's hardly more complicated. In addition, we wrote an article to help you!
You can find out by clicking here.
5. Give in only to necessity
Another rule of thumb is to print only when really necessary, such as an electronic ticket, for example.
Don't print unfinished documents (wait until they're completely finished), and don't print things that you might be without.
6. Change the layout
Pay close attention to the layout: it can allow you to reduce the size of your text, to make it fit on fewer pages for example.
Also, for those who print on the Internet often, check the layout beforehand, so as not to print unnecessary advertising.
So you'll print only what you need – and save on ink.
To easily print without the frills, you can use an extension like Printfriendly (available on FireFox here Where Chrome here).
7. Use the « black and white » mode
Another technique is to choose a slightly lighter writing color in your word processor.
Choose dark gray over black.
So you will use less ink.
Finally, try to avoid printing color documents. Choose « black and white » by default, it will save you a lot of money.
There you go, you know more about the exorbitant prices of cartridges – and how to get around them 🙂
Your turn…
Did you already know these tips? Or maybe you know others? So, share them with us in the comments 🙂
Do you like this trick ? Click here to save it on Pinterest or click here to share it with your friends on Facebook.
Also to discover:
How to Save Ink when Printing?
Buy cheap laser ink cartridges with Recyclage Solidaire.