Today we will see how clean your burnt pressure cooker.
Because I'm sure you've had to remove burnt food from a casserole dish before!
A pressure cooker that has attached happens to everyone.
But between us, it's a bit … a hassle isn't it?
Fortunately, my grandmother gave me her magic trick to recover the bottom of a pressure cooker effortlessly.
The simple and effective trick is to clean it with white vinegar and baking soda. Look :
How to clean your pressure cooker
1. Let the pressure cooker cool.
2. Put a little water in the bottom.
3. Remove as much dirt as possible by scraping with a wooden spatula.
4. Empty the water and loose dirt.
5. Pour in white vinegar so as to cover the bottom well.
6. Add a tablespoon of baking soda.
7. Gently heat the mixture for 5 min.
8. Remove it from the heat.
9. Let the mixture cool.
10. Use a sponge and rinse with water.
Result: an impeccable pressure cooker!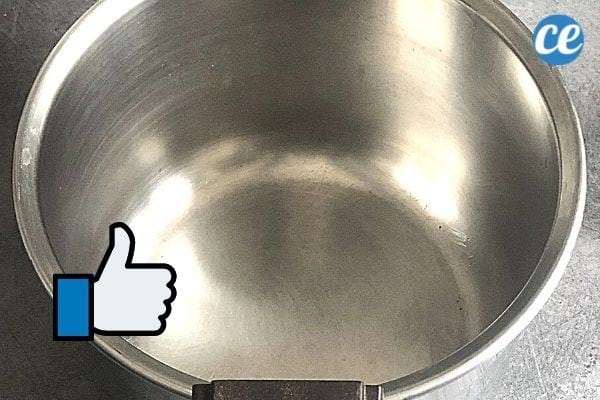 And there you have it, you have recovered your burnt pressure cooker effortlessly 🙂
Easy, fast and efficient, isn't it?
She is too brilliant that if it were new!
She is perfectly own : all stains and traces of burning are gone.
In addition, it is 100% natural and 100% economical.
No need to buy an additional household product …
Forgetting your casserole dish on the fire is no longer a disaster.
Because now you know how to clean it easily … without making any effort.
Finally, cleaning the inside of your pressure cooker is finally no longer a chore.
Best of all, you don't have to scrub like crazy.
Suddenly, you do not scratch the bottom of your casserole dish.
Additional advice
Are there any traces of burning? Do not worry !
It suffices to repeat this operation once or twice, leaving simmer white vinegar a little bit longer.
If, like me, you've ever thought about throwing away your old, completely burnt-out pressure cooker …
This grandma's thing is going to save your life (and the life of your pressure cooker!).
You will again be able to make lots of new easy and delicious recipes.
For example: a chili con carne, a pork stir-fry, steamed potatoes, vegetables or even yogurt!
Did you know that your pressure cooker is your best friend to calm a coughing fit? Surprising, isn't it?
Why does this cleaning work?
The duo white vinegar + baking soda is very effective in loosening encrusted dirt.
Thanks to the effervescence produced by these two products, the burnt is softened and comes off more easily.
But above all, heating the white vinegar increases its efficiency.
It is even more potent than when used cold.
Worth a try, don't you think?
Especially since it works for all small or large pressure cookers, in stainless steel, cast iron or aluminum, whatever the brand (Seb Clipso, Tefal, Moulinex …).
Note that you can also clean the aluminum basket or the cover this way, but not the valve.
For this, a trickle of water is enough. If it is clogged, a needle is used to remove the dirt.
Your turn…
Have you tried this grandma's trick for scrubbing a blackened pressure cooker? Tell us in the comments if it worked for you. We can't wait to hear from you!
Do you like this trick ? Click here to save it on Pinterest or click here to share it with your friends on Facebook.
Also to discover:
How to Clean a Pressure Cooker With Potato Peelings.
Delicious and Easy to Make: The Slow Cooker Chicken Stroganoff Recipe.