Today I explain to you how to clean your particulate filter yourself, says FAP.
You know what it is ? It is an engine part that traps harmful fine particles.
The problem is that DPF failures are very common on diesel vehicles.
And when you need to fix it, hello the bill.
But don't worry; I know how you can avoid that and make it like new.
Discover the trick to properly cleaning your DPF without going through the garage. Look :
1. What is the FAP used for?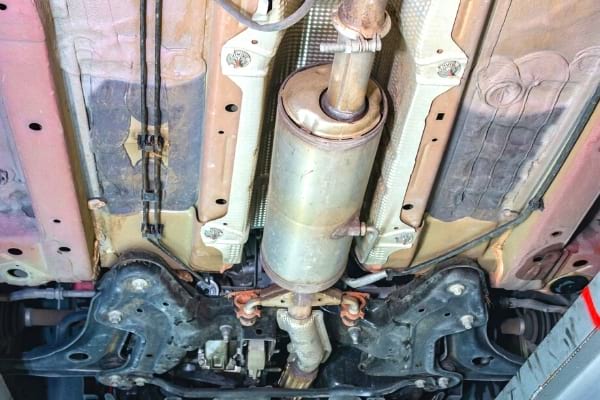 Since 2011, the European standard E5 obliges car brands to equip each vehicle with DPF.
This measure was decided to reduce particulate emissions from diesel engines by 80%.
The DPF blocks soot particles in the engine before they are released into the air through the exhaust.
You know, these are the famous fine particles very harmful to health!
This system therefore reduces pollution, but is sometimes not without consequences for your vehicle.
Indeed, the DPF tend to no longer play their role as soon as they are clogged …
I explain why below.
2. Why clean your DPF?
The explanation is as simple as it is important.
Maintaining your DPF avoids replacing it and therefore paying a very expensive repair at the garage.
Moreover, by doing this, the lifespan of your car increases.
And above all, the exhaust gases pass through the filter more quickly.
You see what I mean ? Thanks to that, fuel consumption is reduced.
At the price of the liter, it is not neutral!
Finally, it is also a technical control that goes without pain.
3. How do you know if your DPF needs cleaning?
You often notice this when your car grazes, loses power or when consumption increases abnormally.
It's not a big deal, but you have to act quickly!
Because the situation can become worrying when the DPF warning light comes on or your vehicle goes into safety mode.
Sometimes cleaning is no longer sufficient and replacement of the DPF may be necessary!
Cleaning the DPF is all the more important if you make short trips in town.
You know why ?
Because the FAP does not arrive to reach a temperature necessary to operate efficiently.
It is indeed thanks to the heat of the engine that it self-cleans in a way.
And the small paths do not allow the DPF to have the heat necessary to remove the particles.
Layers of particles then form and remain stuck to the walls.
The engine becomes dirty, becomes less powerful or even stalls on its own!
Let's see what to do if this happens to you.
4. How do you even clean your DPF?
To clean your particulate filter, you can use a liquid DPF cleaner.
Simply pour the product into your fuel tank, respecting the amounts indicated by the manufacturer.
Do this when you are refueling.
This product lowers the temperature limit where soot particles crumble.
This eliminates the need for your engine to reach a certain temperature to eliminate the molecules.
This liquid cleans your engine from the inside out.
It removes the existing soot in your DPF and gives it a real makeover.
5. Clean your DPF while driving
And yes, it is quite possible to clean your DPF while driving.
To do this scrubbing, the engine speed must be increased up to 3000 revolutions / minute over approximately 10 km.
Preferably choose a national or motorway, so as not to interrupt the cleaning by braking or slowing down.
By increasing the engine speed, the temperature increases which makes it possible to calcine the soot and thus to clean your DPF.
This is called the principle of passive regeneration!
Be careful, if your DPF light is on, this technique is no longer recommended.
Consult a professional.
There is also an active regeneration technique, but this must be done by a mechanic.
Ah I forgot for the smart ones. Removing the DPF from your vehicle is illegal.
the DeFapage is liable to a heavy fine, or even impounding your vehicle.
Results
There you go, you now know how to clean your DPF yourself without going through the garage.
Easy, fast and efficient isn't it?
In addition, it works for all makes and models of vehicle.
Tiguan, Picasso, Astra, Golf, Qashquai, Audi, Mercedes, Opel …
I'm not going to list them all, but the method works for all vehicles.
No need to go to norauto anymore!
Your turn…
Have you tested our methods for cleaning your DPF without going through the garage? Tell us in the comments if it worked for you. We can't wait to hear from you!
Do you like this trick ? Click here to save it on Pinterest or click here to share it with your friends on Facebook.
Also to discover:
How To Easily Pour Oil In Your Engine WITHOUT a Funnel.
What do the dashboard lights mean? The Indispensable Guide!