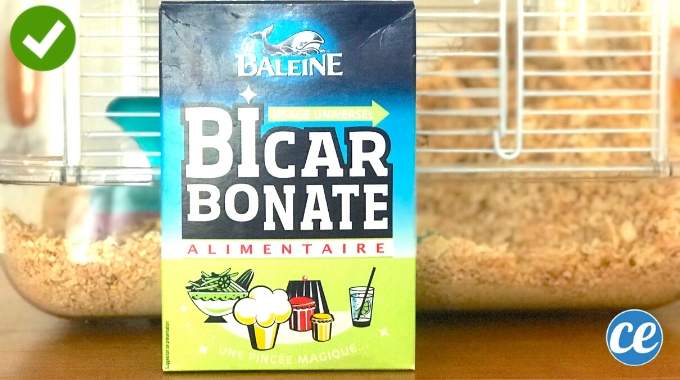 Fortunately, my vet gave me his simple and effective trick to easily clean a rodent's cage.
The natural trick to having a super clean cage is clean it with baking soda. Look :
How to do
1. Pour a liter of hot water into a container.
2. Put 100 g of baking soda.
3. Also add a few drops of dish soap.
4. Empty the litter box and all accessories.
5. Clean the cage with a sponge soaked in your mixture.
6. Rinse thoroughly with hot water.
7. Dry everything with a soft cloth.
Results
There you go, your rodent's cage is now perfectly clean 🙂
Easy, fast and effective, right?
Not to mention it's super economical!
But the most important thing is that bicarbonate is a 100% natural and completely harmless product.
Your pet risks absolutely nothing: it is completely safe for him.
It is the ideal product for the hygiene of your little hairballs.
Of course, it works to thoroughly clean the cage of all rodents: dwarf rabbits, hamsters, guinea pigs, chinchillas, mice, gerbils, rats and degus.
Why does it work?
Bicarbonate is made up of limestone and salt.
The combination of these two elements makes it a powerful cleaner that slows down the development of bacteria.
With its grainy texture, baking soda effectively removes dirt and deeply sanitizes surfaces.
No risk of parasites becoming encrusted or fungi developing!
In addition, thanks to its deodorizing properties, baking soda will deodorize the cage.
Your turn…
Have you tried this grandma's trick to clean the animal cage? Let us know in the comments if it worked for you. We can't wait to read you!
Do you like this trick ? Click here to save it to Pinterest or click here to share it with your friends on Facebook.
Also to discover:
The Best Natural Cleaner for a Bird or Rodent Cage.
How to Disinfect Your Pet's Cage WITHOUT Harmful Products.