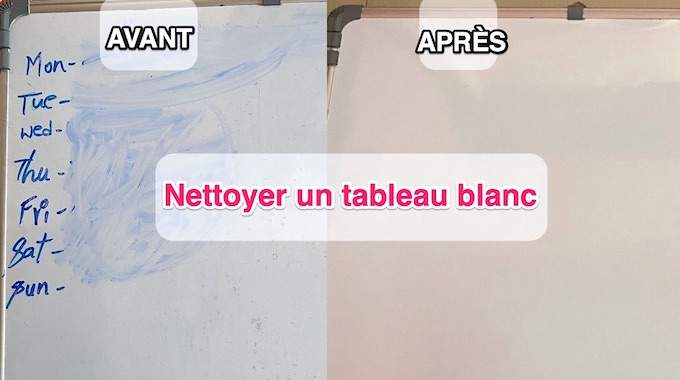 No wonder when you use it every day.
I show you here how to clean a whiteboard without damaging it.
Because, it must be said, colored pens end up leaving a dull veil on the board.
Fortunately, my big sister Sarah, a school teacher, gave me her tip for washing the whiteboard properly.
It's natural and it costs next to nothing. And it's super effective at removing streaks.
Here is 3 tips for cleaning a whiteboard without leaving streaks. Look :
1. White vinegar cleans yellowed whiteboards
By dint of writing on the board daily, it ends up getting dirty.
And even if erased with the appropriate brushes, some pens leave traces.
They form an opaque veil which makes the painting less shiny.
To clean it all up, here is a super simple mix that will change your life.
You need 1 part white vinegar, 9 parts water, an empty spray bottle and a clean cloth.
Mix the water and vinegar in the bottle. Spray the vinegar water on the board and wipe with the cloth.
And hop ! In a few seconds, the painting is like new!
2. 90° alcohol erases old traces
The whiteboard is not the thing that we clean thoroughly every day.
Consequence: there are very old traces of dirt.
Especially since some dry erase markers leave a kind of black residue that ends up clinging to the white surface.
Fortunately, these traces are easy to remove.
Spray a little 90° alcohol on a clean cloth and clean the whole board with it.
No need to put a lot for it to be effective: the old marks disappear illico.
3. The window cleaner degreases the painting
Dry erase markers leave an opaque film after several uses.
It forms a kind of greasy veil that tarnishes the painting.
A spray of glass product and a clean cloth can remove this greasy film.
The best part is that once the board is cleaned, the markers write much better.
How to remove a mark of indelible marker?
It happens to everyone !
We make a mistake and we write on the erasable board with an indelible marker.
Result: there is a mark that cannot be erased.
Of course, there are chemicals to remove these traces. But they are expensive and not at all natural.
But I have a trick that works!
Take a Velleda-type erasable marker and hatch the indelible black mark.
Then, erase everything with a specific brush for whiteboards.
Finished the ugly trace that does not go away.
Products to avoid
The first thing is to avoid greasy products such as Marseille soap, black soap or wax-based products.
They leave a greasy film on which pens no longer write.
Also avoid baking soda which will scratch the white surface.
Your turn…
Have you tried these tips for cleaning erasable whiteboards? Let us know in the comments if it worked for you. We can't wait to read you!
Share this tip
Do you like this trick ? Click here to save it to Pinterest or click here to share it with your friends on Facebook.
Also to discover:
23 Magical Uses of White Vinegar Everyone Needs to Know.
The Trick To Removing A Permanent Marker Stain From Almost Anything.