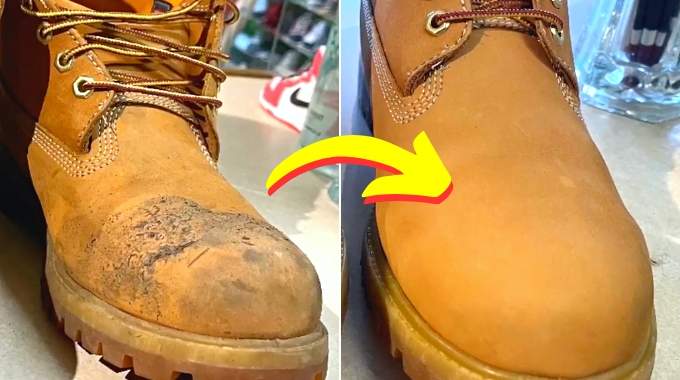 Are your nubuck shoes all dirty?
Are you looking for a tip to clean them easily?
You know, this super soft material, but also super fragile.
It is a material that stains easily in contact with humidity.
So much so that I have often chosen to avoid buying one because of the difficulty in maintenance.
But luckily, I asked Paul, a salesman at Timberland, how to properly care for nubuck shoes.
And he gave me his simple and natural tips for always having impeccable shoes.
Here is the best method to clean your nubuck shoes. Look :
But by the way, what is nubuck?
Nubuck is a way of processing cowhide.
It is in fact a full-grain leather that is generally very dense.
That is to say the upper part of the skin. The one where there is normal hair.
It is cleared of it to obtain a smooth surface.
To obtain nubuck, a treatment is applied to it using sandpaper.
This is what gives it this final appearance: soft, a little « fat » and very resistant.
Be careful not to confuse it with suede, which is turned leather (the underside of the skin).
The suede is much finer and more flexible. This is what gives it that velvety look that we love.
Nubuck is less fragile than suede, but its maintenance is just as delicate.
This is what I am explaining to you now:
What you need
– soapy water (Marseille's soap)
– clean sponge
– dry and clean towel
– newspaper
How to do
1. Dust off
The first step is to dust off the shoes.
To do this, pass the brush vigorously in both directions of the leather and in all corners.
2. Erase
Use the leather eraser with light back and forth movements to remove small dry stains.
Just « erase » the stain as you would to remove a pencil line on a sheet.
3. Wash
Pour a few drops of Marseille soap into 1 liter of water.
Soak the sponge in this soapy water and run it over the entire shoe without « flooding » it. It is a question of moistening and not of washing with plenty of water.
Don't worry, the leather will turn darker, but it will return to its normal color when it dries. Water does not stain it or produce halos.
If necessary, use the same water to clean the soleplate with a toothbrush.
4. Dry
Take the terry towel to dry the leather, removing excess moisture.
Then leave to dry in the open air, avoiding direct sunlight or near a radiator.
Stuff the shoe with newspaper while drying to avoid deformations.
5. Waterproof
Once the shoes are completely dry, a waterproofing spray or natural waterproofing can be applied.
This prevents rainwater from staining the leather too much.
Result
And There you go ! Your nubuck shoes or ankle boots are perfectly clean 🙂
Easy, fast and effective, right?
And best of all, no need for expensive cleaning chemicals.
In two stages, three movements, everything is perfect.
I use this technique for my Timberland in tawny nubuck.
And since I do this regularly, they are impeccable.
The important thing is regularity.
For my part, I maintain them approximately every 15 days.
Or as soon as I exposed them to too dirty conditions: mud, snow, grease…
I use this cleaning kit especially when I go on a trip.
How to remove a grease stain from a nubuck ankle boot?
Fat is nubuck's worst enemy because it stains it.
So we have to act fast.
If the stain is still fresh, sprinkle it with Land of Sommières.
It absorbs fat without the need to add water.
Leave to act overnight and brush to remove the Sommières earth.
If the stain is old and encrusted, white vinegar can help you get rid of it.
Dab the grease with a cloth soaked in white vinegar so as to erase the halo.
To be honest, I couldn't remove all the old traces of grease with this method. So I used stain remover milk.
How to remove rain or snow stains
With rain or snow, Timberlands can get stained.
Rather, they are halos of different colors.
It's even worse if there's been salt on the road.
So, to overcome these halos, white vinegar is ideal.
Dilute a little white vinegar in water (half/half).
Immerse a soft brush in this solution and brush the stained area with insistence.
Then, run the brush all over the shoe.
Rinse and dry with a clean, dry cloth.
Removing mud stains from nubuck
Getting rid of mud stains is quite easy.
Let the soil dry, then brush the area to remove dust.
Then run a sponge dipped in soapy water all over the shoe, rinse and dry.
Removing a pen or felt-tip mark on nubuck
Well, obviously, it would be better to avoid writing on the shoes.
But if your kids have decided to make a work of art out of it, here is the solution.
Erase the area with ink using a special eraser.
Then, if a trace remains, dab it with a little alcohol at 70°.
Rinse with clear water and dry.
Removing a wax stain from nubuck
To get rid of a trace of candle on your shoes, it's quite simple.
Scrape off the excess wax gently so as not to damage the leather.
Then, dab the area with ammonia diluted in water.
Rinse and dry with a clean towel.
Removing a blood stain from nubuck
If your shoes have been stained with blood, pee or vomit, don't panic.
Put a few drops of ammonia in 500 ml of water. Soak a sponge with this solution and pass it on the stains of droppings.
Insist on the most stained areas as needed.
Rinse well to avoid halos and dry.
Your turn…
Have you tried this tip for maintaining nubuck shoes? Comment in the comments to find out if it worked for you. We can't wait to read you!
Share this tip
Do you like this trick ? Click here to save it to Pinterest or click here to share it with your friends on Facebook.
Also to discover:
How to Clean Suede Shoes in 6 Easy Steps.
How to Easily Clean Rain Stains on Suede Shoes?