You are wearing it for the first time…
And there, whoops, it happened hooked to the first thing that sticks out.
And here you are with a thread sticking out.
Do not panic ! You don't need to be a sewing pro to fix it.
A snag is nothing more than a loose stitch…
You just have to put it back on the right track.
No need to learn how to sew to fix it.
All you need is a needle, a pin or a paper clip. Look :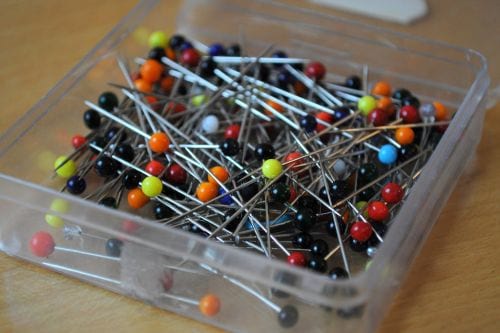 How to do
1. So take a pin, a needle, or even a paper clip that you unfold.
2. Use this tool to put the snagged wire back inside of your sweater, with the other stitches.
3. Simply push back inside to make the snag disappear.
Result
There you go, no more hitch! Your sweater is in perfect condition again. 🙂
Hidden in this way, the recalcitrant thread will no longer come out of its nose.
And your sweater is like new. No need to throw it away! It's as if the hitch had never existed.
Easy, practical and economical!
You see, repairing a garment is not that difficult!
You just need to know the right seamstress tricks.
And everything becomes easy!
bonus tips
– Did you know that we can also customize the clothes? There are easy DIYs to bring your old clothes back into fashion.
– Did you mess up a leather jacket? Do not panic. You can fix it easily. Just use iron-on strips. Find out how here.
– Are your old clothes really worn out? End the waste. Discover here 54 tricks to recycle your old jeans.
– Are you also facing the mystery of orphan socks? Here are 62 tips for reusing old socks.
– And if you have old towels… You can give them a second life easily. Here is the tutorial.
Savings achieved
Instead of letting the tear grow without knowing what to do, we simply fix it.
It allows me to prevent the tear from getting bigger. And we don't have to buy a sweater.
THE clothing budget would be huge if we don't fix the little snags every time.
By improvising as a seamstress for 5 short minutes, you make considerable savings. And that makes all the difference.
And then what a shame to drop your favorite little sweater for that, don't you think?
I have already saved a few like that and I am delighted.
But if you prefer to get rid of it, do not hesitate to resell it in a deposit sale.
Your turn…
And you, what do you do to fix a hitch? Have you tried this grandma's trick to fix a tear? Tell us in comments if it worked for you. We can't wait to read you!
Share this tip
Do you like this trick ? Click here to save it to Pinterest or click here to share it with your friends on Facebook.
Also to discover:
24 Sewing Tricks That Will Simplify Your Life. Don't miss #21!
The Magic Trick To Thread a Needle in 3 Seconds TIMED.