Cleaning your dryer regularly is important for it to work well…
And especially so that it works safely.
I asked a Darty salesman to explain to me how to maintain my condenser dryer.
Here's how to clean your dryer step by step. Look :
1. Disconnect the electrical plug from the device.
2. Vacuum the interior of the dryer on low power.
3. Fill a small basin with lukewarm water.
4. Add a squirt of dishwashing liquid.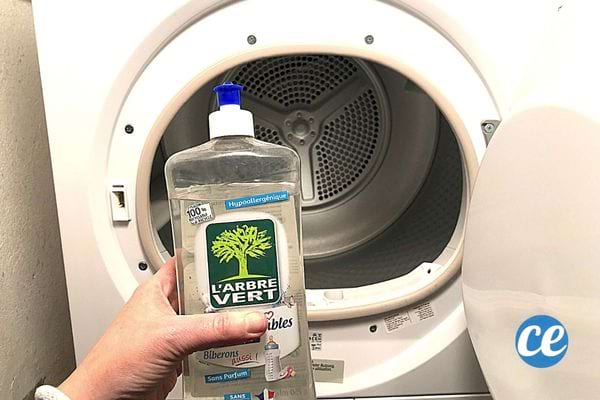 5. Dip the sponge in it and squeeze it to wring it out.
6. Run the sponge through the drum.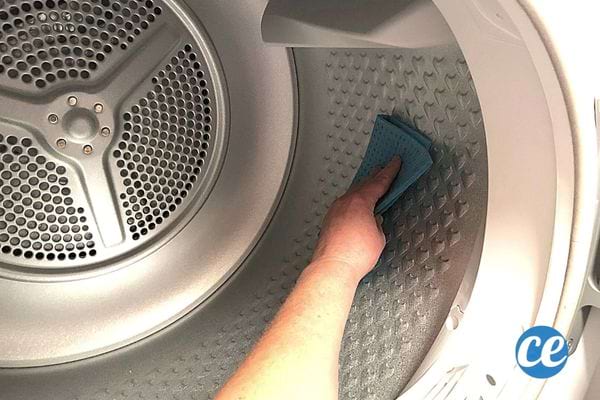 7. Pass it also on the joints.
8. Dampen a cloth.
9. Pass it on the drum and the seals to rinse them.
10. Empty the water tray (condensate tray).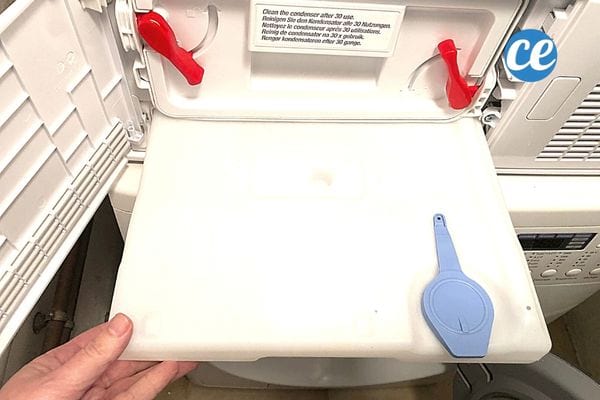 11. Rinse it with clean water.
12. Replace it.
13. Remove the fluff filter.
14. Vacuum the cavity.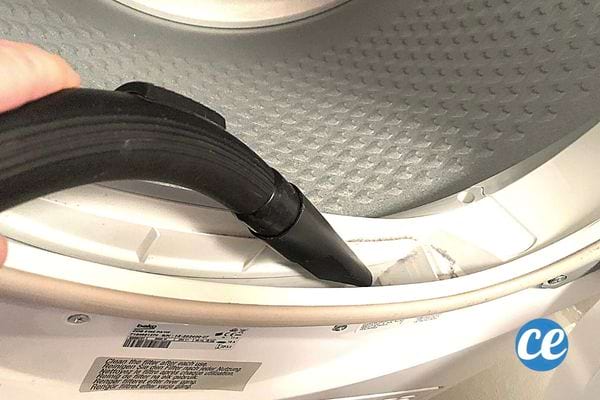 15. Remove most of the dirt on the filter by hand.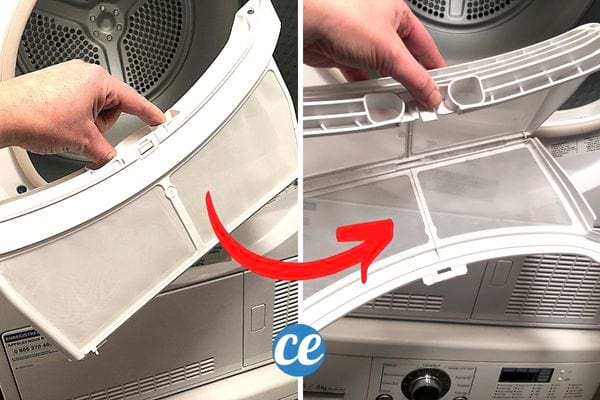 16. If necessary, vacuum the residue with the vacuum cleaner with the crevice tool at low power.
17. Remove the condenser.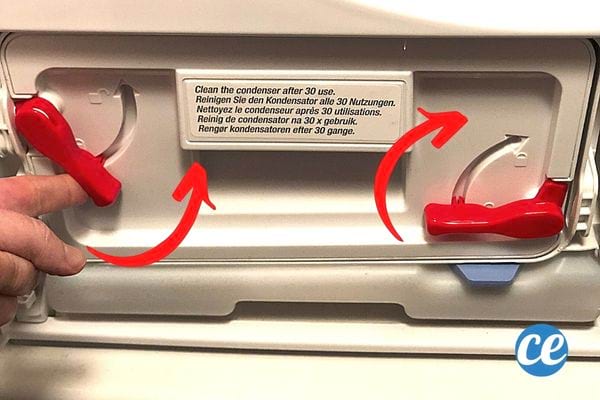 18. Run it under water.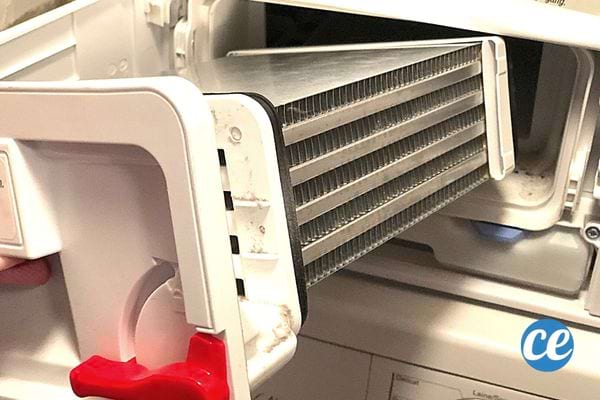 19. Let it drain and dry.
20. Once dry, put it back in the appliance.
21. Clean the exterior with a clean cloth soaked in white vinegar.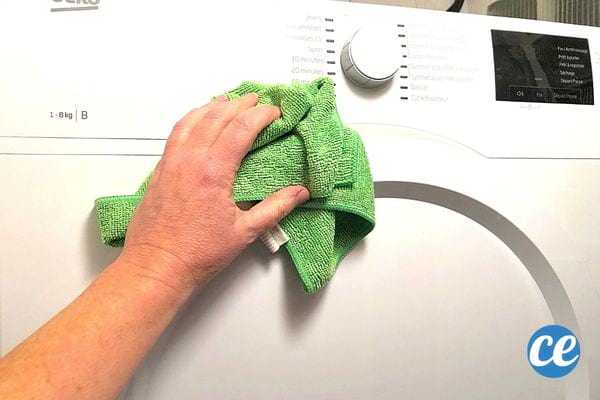 22. Plug the machine back in.
Result: a dryer like new!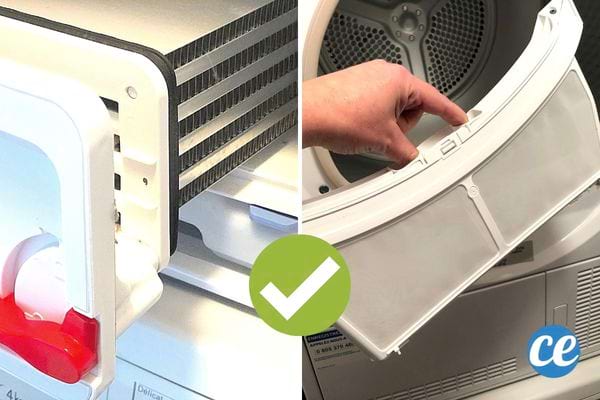 There you go, your dryer is now perfectly clean 🙂
Easy, fast and effective, right?
You have it for 15 minutes max.
And thanks to this deep cleaning, your dryer works better to dry your laundry and smooth it out.
It is more effective and in addition, there are no bad odors.
It also consumes less electricity.
But above all it does not break down and it lasts longer.
Worth spending some time there, right?
Why does it work?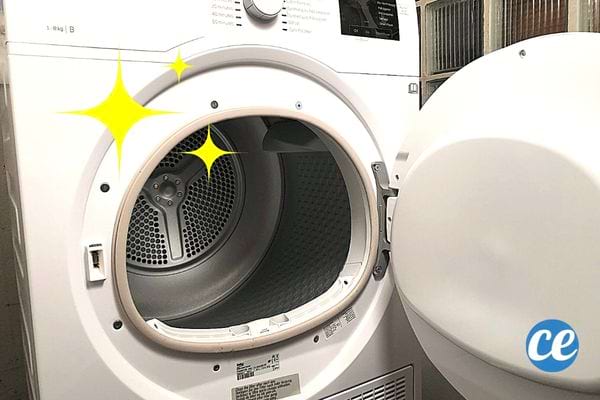 The vacuum removes all the lint from the clothes that remain in the appliance during drying.
Dishwashing liquid is a degreasing cleaner very effective.
It removes all dirt embedded in the machine, even if it is very dirty.
You can also use black soap.
On the other hand, it is recommended not to use an abrasive product or one containing alcohol.
That being said, if you notice that limescale has become encrusted on certain parts of the appliance, you must intervene.
Pour white wine on a cloth.
And pass it on the limestone. Leave on for 5 minutes and wipe off.
This also has the advantage of disinfecting it.
Vent or condenser dryer?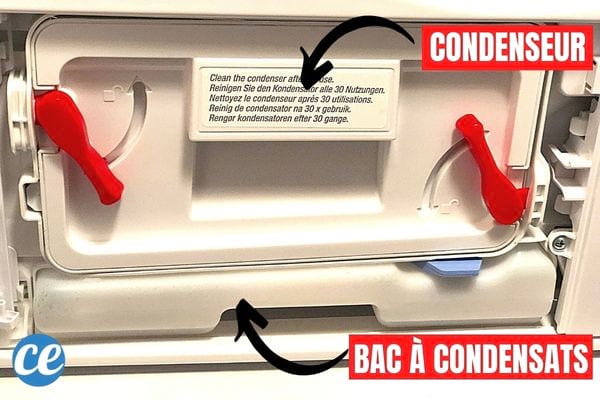 We have just seen how to clean a condenser dryer.
If you have a dryer with evacuationmaintenance is even easier and faster.
– The drain dryer allows the water resulting from the drying of clothes to be evacuated through a flexible pipe (a sheath).
The humidity is therefore directed outside or into a well-ventilated room.
This device cannot therefore be installed everywhere.
If you have this type of machine, the flexible hose should be cleaned once a year with water.
This helps eliminate lint in the hose.
On the other hand, there is no condenser or condensate tray.
– With a condenser dryerthe moisture in the laundry is transformed into water vapour.
This then turns into a liquid: water. It is then collected in a condensate pan.
Note that the water collected in this tank is demineralised.
It can therefore be used in the iron provided it has been filtered to remove fiber residues.
How often should you clean your dryer?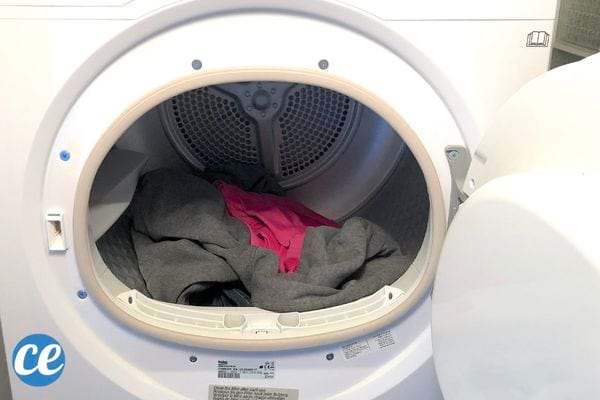 This is a question we often ask ourselves:
When should you clean your dryer?
Actually, it depends on the different parts of the dryer.
– You absolutely must clean the fluff filter, every time you use it.
This is very important for your safety.
Because that's where lint, hair, dust accumulate…
And all this dirt can ignite easily when using the dryer.
the fire hazard is real.
It is one of the common causes of household fires.
In addition, this allows the hot air to circulate better in the device which will be all the more efficient.
– It is also recommended to empty the water tank after each use.
– For the rest, cleaning 1 time per month enough.
And this is valid for all washing machines, whatever their brand:
Bosch, Indesit, Hotpoint, Whirlpool, Miele, Samsung, Aya, Laden, Siemens, Faure, Candy, Ariston, Bellavita, LG, Thomson, AEG, Beko, Electrolux, Vedette…
How to avoid bad smells in the dryer?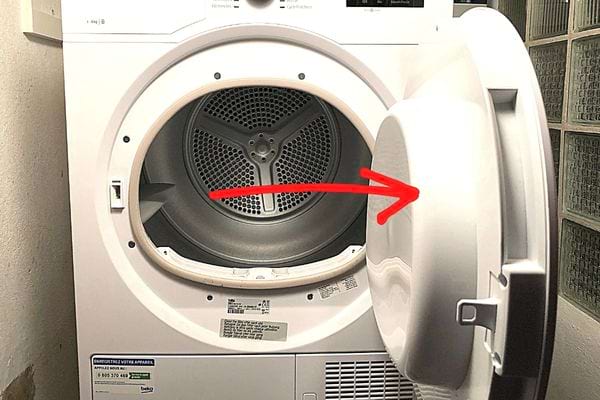 A tumble dryer that smells bad, it's not terrible.
Your clean clothes may pick up unpleasant odors when you dry them.
It is therefore important toavoid bad odors due to humidity in the dryer.
For this, there is a very simple trick to adopt.
Just leave your appliance door open.
This allows it to be easily ventilated.
But be careful!
A cat or dog must not slip inside.
Or worse… Let the children have fun hiding there!
Your turn…
Have you tested this technique for washing a dryer? Let us know in the comments if it worked for you. We can't wait to read you!
Share this tip
Do you like this trick ? Click here to save it to Pinterest or click here to share it with your friends on Facebook.
Also to discover:
Tumble Dryer: Here's How Much Each Tumble Dry Costs You!
Probably THE Best Way to Maintain a Clothes Dryer.