Or worse… has it turned yellow?
And of course, you want it to regain its whiteness without damaging it.
Because we must admit that a white bra that has turned gray or yellowed is not very pretty…
And this is true for all types of underwear: bra, panties and briefs.
Luckily, Anna who works at my favorite lingerie store gave me her top tips for whitening a yellowed bra.
Here is 8 effective tips to turn a yellowed bra back to white. Look :
As you know, hydrogen peroxide is an effective whitening agent.
You can very well use hydrogen peroxide (or hydrogen peroxide) to remove the gray that dulls your bra.
How to do
1. Wash your bra as usual with a suitable delicate detergent.
2. Add a glass of hydrogen peroxide to the rinse water.
3. Dip the bra in it.
4. Leave for an hour.
5. Rinse well.
It's a simple solution to restore the whiteness of bras that have become gray or yellow over time.
And if ever straps of your bra have turned gray, this is also a good alternative.
2. Lemon juice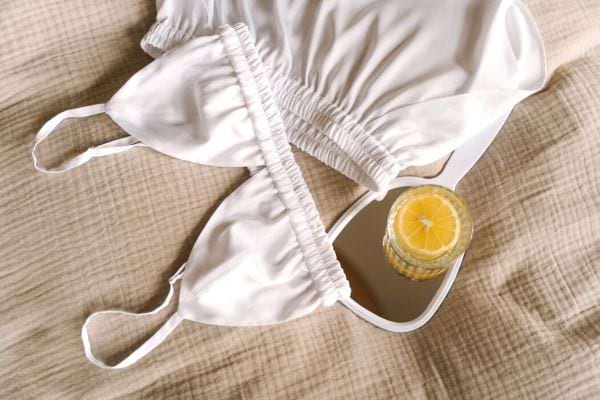 Lemon is a great natural whitening agent.
Lemon juice is an old grandmother's remedy for have linen that is dazzlingly white.
And your bra is no exception.
How to do
1. Pour boiling water into a basin.
2. Add 1 lemon juice to the water.
3. Put your bra on.
4. Leave on for an hour.
5. Wash the bra as usual.
There you go, your bra is naturally all white again.
You can also use this trick to whiten panties that have turned gray.
But beware, it is not suitable for silk underwear.
3. Baking soda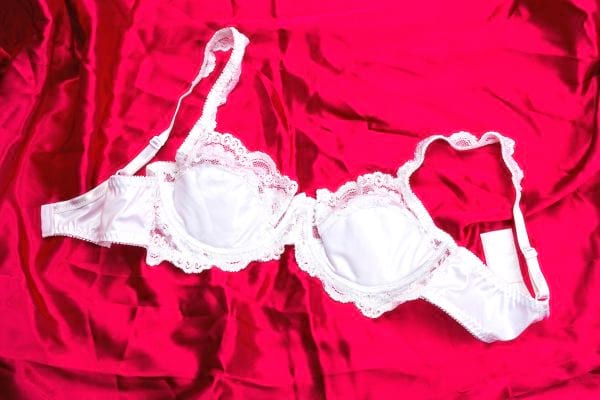 Obviously, baking soda is there to effectively whiten a yellowed or gray bra.
It is a natural and effective alternative since bicarbonate has cleansing, deodorizing and whitening properties.
This miraculous little powder will dissolve the dirt residues that form the dullness on the laundry.
And it also eliminates unsightly yellow spots.
How to do
1. Fill a basin with hot water and add a dose of detergent for delicates.
2. Pour in 1/2 cup of baking soda.
3. Soak the yellowed bra in this mixture and leave for 4 to 5 hours.
4. Rinse thoroughly.
There you go, baking soda naturally revives the whiteness of your underwear.
4. Salt and baking soda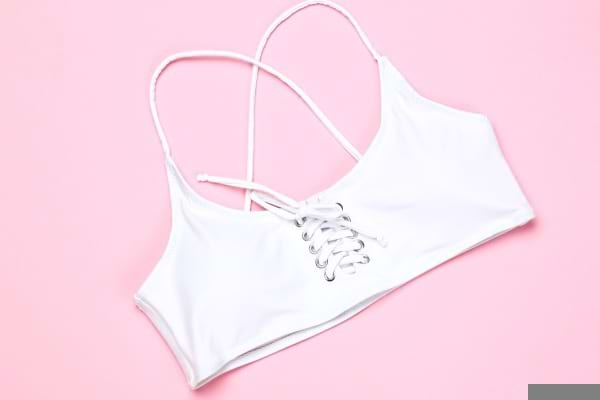 Some yellow traces are due to perspiration.
So, to reinforce the action of bicarbonate, you can absolutely use salt.
Its natural properties make it a good stain remover for removing perspiration and sweat stains.
And rest assured.
If this shock duo is merciless with stains, it is very gentle with your delicate bra.
How to do
1. Pour a liter of cold water into a basin.
2. Add two tablespoons of salt.
3. Add two tablespoons of baking soda.
4. Mix to dissolve the two powders.
5. Immerse the bra in the solution.
6. Leave on for two hours.
7. Rinse with cold water and wash as usual.
It then regains all its whiteness!
5. Ammonia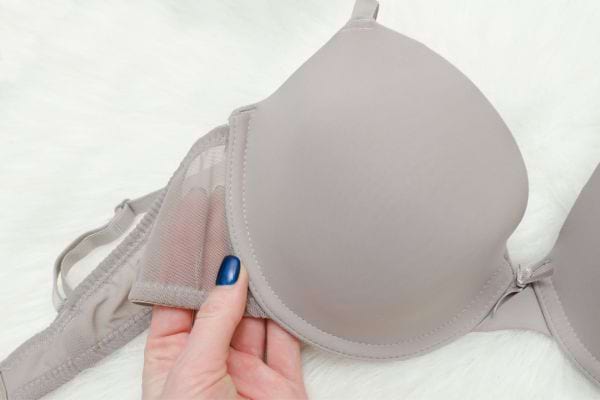 We don't often think about it…
But ammonia is a particularly effective product for revive the whiteness of a bra.
The advantage is that it is powerful.
But it may damage the delicate lace of your underwear or the silk.
Reserve its use for more robust materials, such as a cotton bra.
How to do
1. Pour a liter of cold water into a basin.
2. Add 2 tablespoons of ammonia.
3. Dip the yellowed bra in it.
4. Leave on overnight.
5. The next day, wash it by hand with a detergent for delicates.
Thus, your bra comes out like new and the strong smell of ammonia is gone.
6. White vinegar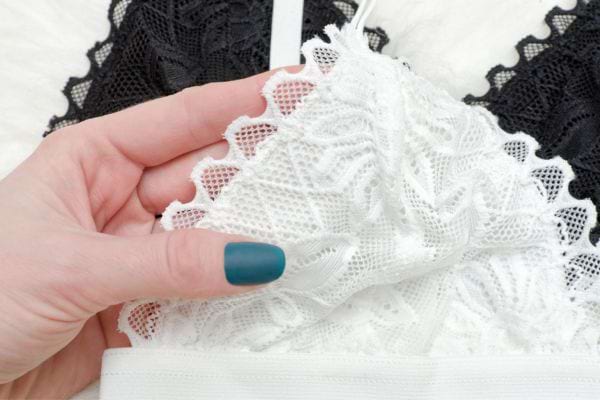 As always, white vinegar is also a safe bet.
It is the star natural product for cleaning, staining, whitening clothes…
Including fine lingerie!
How to do
1. Fill a basin with hot water.
2. Add a portion of detergent for delicates.
3. And pour 1/2 cup of white vinegar.
4. Put your underwear in the mix.
5. Leave on for 4 to 5 hours before rinsing thoroughly.
White vinegar fights against the grayness that invades underwear.
They find all their whiteness and brilliance.
Thanks to its acidity, white vinegar eliminates residues of detergent, dirt and limescale that tarnish the laundry.
In addition, white vinegar is also a great natural fabric softener.
As a bonus, your bra and panties will be very soft!
7. Percarbonate of soda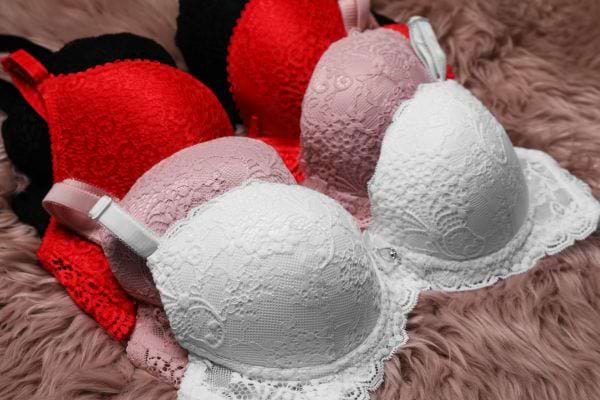 THE sodium percarbonate is a natural product reputed to restore whiteness to laundry.
It is made up of sodium carbonate and hydrogen peroxide.
And let me tell you that it is effective in restoring whiteness to a synthetic bra (nylon…).
How to do
1. Wash the bra as usual.
2. Pour five liters of hot water into a basin.
3. Add a tablespoon of percarbonate.
4. Soak the bra for 2 hours.
5. Rinse it thoroughly.
You will immediately see the difference.
8. What about bleach?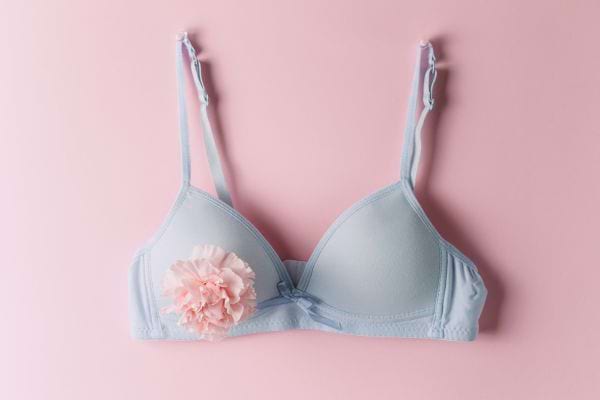 Bleach is well known for whitening laundry.
If you have cotton underwear, you can use this product to whiten it and remove yellow marks.
But beware. Bleach is also a very toxic product, harmful to your health and the environment.
In addition, its regular use may lead to the opposite result to that desired.
That is to say, he risks yellow the fabric of your bra and permanently damage it…
Especially if it is lace or silk!
For its use, refer to the instructions that you will find on the bottle.
And follow them to the letter.
Why has my bra turned yellow?
Different causes explain the yellowing of a white bra.
And unfortunately, often there is not much we can do about it…
There sweat and perspiration are one of the most common reasons for a yellowing bra.
It is also possible that a deodorant ends up leaving yellow marks under the armpits. Take care of the quality of your deodorant. And choose a 100% natural deodorant.
It is recommended not to wear black or dark clothes with a white bra. If you sweat, they can rub off on your bra.
A bra that is not washed regularly enough can also turn grey. It is generally recommended to wear a bra 2 days in a row or even 3 days maximum, before washing it.
But even by washing it regularly, we are not immune to a washing accident.
Indeed, a garment can very well rub off in the machine and make it gray… or pink!
How to wash white lingerie?
To avoid this kind of incident, you can take a few simple precautions when washing white lingerie.
The best solution is to wash your white or flesh-colored bra by hand.
How often should you wash your bra?
As we have seen, washing it every 2 days, 3 days maximum, is a good option to avoid bad smells.
On the other hand, the frequency of washing panties, thongs, boxers, thongs and briefs… It's every day!
Eh yes, the delicate fine lingerie is washed by hand to keep it in good condition for a long time.
To do this, pour lukewarm water (1 litre) into a basin and add 50 g of Marseille soap flakes.
You can add a few drops of essential oil (pink, lavender…) to flavor it.
Leave to soak for 1 hour then rinse. To do this, empty the basin and add clear water to it.
It's time to pour a cup of white vinegar to remove the last residues of soap embedded in the fibers of the fabric.
Then, rinse with cold water.
This technique is perfect for washing lingerie with lace, rayon, modal or viscose.
Note, for silk lingerie, you have to put cold water and do not soak it for a long time. A few minutes are enough.
Cotton underwear, as well as lycra, tactel, polyamide, elastane, dacron or polyester lingerie can be machine washed.
Put them in a washing net and choose a mild program.
The recommended washing temperature is 30°.
Do not wash your white lingerie with black clothes or colored laundry that rubs off!
Your turn…
Have you tried these tips for whitening underwear? Comment in the comments to find out if it worked for you. We can't wait to read you!
Share this tip
Do you like this trick ? Click here to save it to Pinterest or click here to share it with your friends on Facebook.
Also to discover:
17 Bra Tricks Every Woman Should Know.
Bra, Panties… How to Fold Your Underwear Properly (According to Marie Kondo).