Why ? Because it's a great way to enjoy the virtues.
You just need to know the right recipe for making a rosemary infusion.
You will see it is super easy to do.
And it is very beneficial for health and well-being.
Here is 3 good reasons for rosemary infusion. Look :
1. Naturally deodorizes the house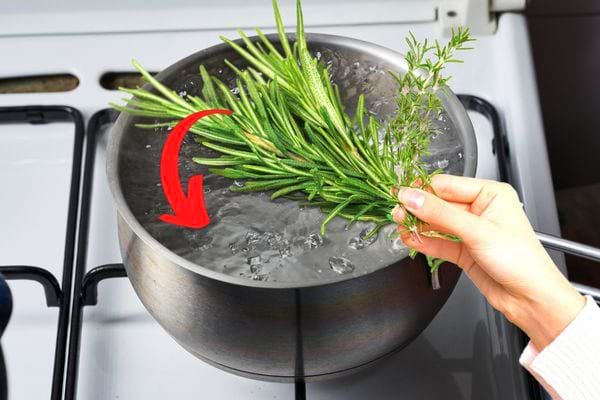 Put 3 or 4 sprigs of fresh rosemary or dry in a pot of cold water.
Then, heat it so that the water simmers.
Leave to simmer for 30 minutes so that the rosemary essences are gradually diffused throughout the house.
You'll see, it's super nice.
A natural and inexpensive deodorant!
Perfect for removing cooking odors, for example.
Want another great tip?
Add lemon peel for a fresh, uplifting scent around the house.
Be creative to vary the pleasures:
Lavender, grapefruit, orange, clove, thyme, basil, mint…
2. Stimulates hair growth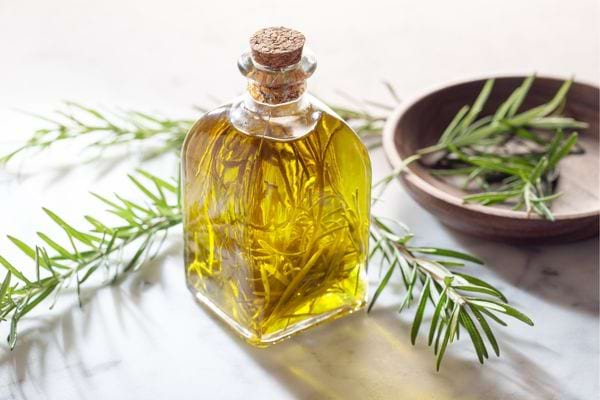 A rosemary lotion is easy to make and is full of virtues.
Just put 3 or 4 branches in boiling water and leave to infuse with a lid for at least 5 minutes.
Once the infusion has cooled, strain it to remove the leaves and pour the liquid into a spray bottle.
You can now put some of this natural hair lotion on your head.
Massage with fingertips.
The advantage? It stimulates blood circulation.
This is the best way to accelerate hair growth or regrowth.
I advise you to apply this lotion 1 to 2 hours before washing your hair.
The great thing is that it keeps for several days in the fridge without losing its properties.
3. Sanitizes facial skin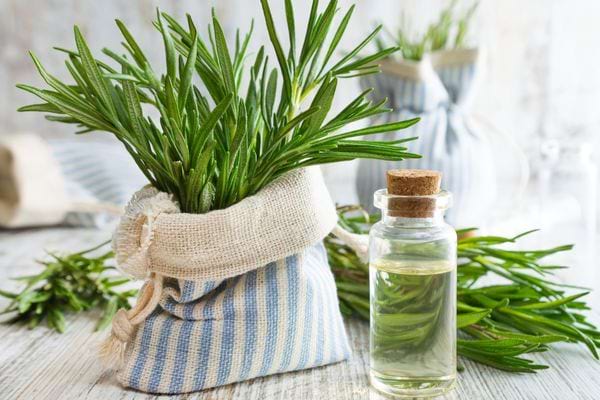 Once the rosemary lotion is ready, you can also use it for the face.
Pour a little on a cotton ball and cleanse your face with it.
For what benefits?
First of all, rosemary is sanitizing.
It is therefore ideal for purifying problem skin and reducing sebum production..
I advise you to put it on morning and evening.
Plus, it's an antioxidant.
This means that it acts against the appearance of fine lines and wrinkles.
No need to spend huge sums on very chemical anti-wrinkle creams.
How to store your rosemary infusion?
When I boil my fresh rosemary, I make a large amount.
I use some of it right away.
And the other, I pour it into an ice cube tray to make ice cubes with natural flavors.
And then, you can also freeze the rest of the infusion.
The advantage is that you will always have some on hand.
No need to redo it every week.
Can I drink rosemary tea?
Yes of course !
It is even rather a good idea, because rosemary is full of virtues.
It promotes digestion, makes the liver work and lowers cholesterol.
This herbal tea is also diuretic.
It is also said to boost memory and brain function.
Finally, rosemary is antibacterial and antiseptic.
Which rosemary to choose?
In general, in our gardens, we plant rosemary officinalis.
And that's great, because it's the most suitable for making a lotion.
But be aware that there is also camphor rosemary.
It will be ideal for clearing the airways.
Rosemary cineole or verbenone is less common in our latitudes.
You will find them more easily in the form essential oils.
Your turn…
Have you tried this boiled rosemary infusion recipe? Let us know in the comments if it worked for you. We can't wait to read you!
Share this tip
Do you like this trick ? Click here to save it to Pinterest or click here to share it with your friends on Facebook.
Also to discover:
Rosemary Jelly: My Easy Recipe With Garden Herbs.
18 Amazing Uses of Rosemary (Revealed By My Naturopath).