We use the paper towel every day to do housework, clean kitchen stains …
… or even replace the napkins at the table so as not to do laundry.
Not only is it far from being economical, but in addition it makes a lot of waste in the trash!
And many think that you can throw away used paper towels in the bin for recyclable papers.
So which trash can you really throw the paper towel in? And is it recyclable?
Here is the answer to never go wrong again. Look :
But what is the paper towel made of?
Paper towels are made from cellulose fibers.
What is cellulose fiber?
Well, it's recycled wood or recycled paper.
We could say to ourselves that this is exactly what we should put in the wastepaper bin, isn't it?
Well no !
Let's see why.
The paper towel should not be thrown away with recyclable papers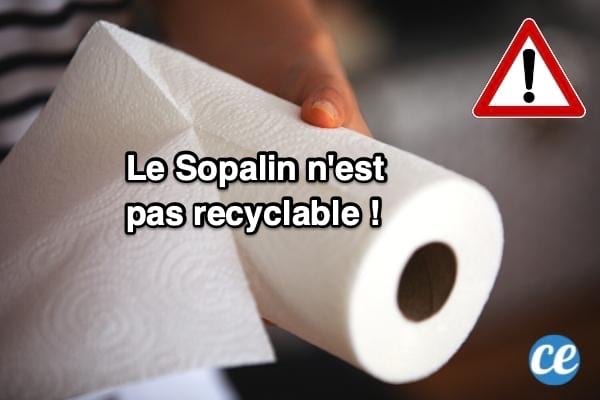 Yep, that's bad news for anyone throwing paper towels in the yellow bin.
It's a daily mistake!
There is no need to throw it in the recycling bin:
No one will recycle it!
Whether it is full of food, cleaning products or even new, the paper towel is not recyclable.
The paper towel must therefore be thrown in the green bin with the rest of the waste which is not recyclable.
The only part you can put to recycle is the paper towel roll.
You can put the used paper towel in your compost
On the other hand, Sopalin is biodegradable and compostable.
That means you can put it in your compost.
But be careful not just anyhow!
There are several rules to follow to compost it correctly.
Even if the paper towel is not recyclable, it nevertheless remains compostable.
So that you can put it in your compost, the paper towel must not be impregnated with cleaning products.
The same goes for DIY products like paint, solvents and varnish.
If you have cleaned up food with food or food stains, you can put it in your compost.
Your turn…
And you, in which trash do you usually throw the paper towel? Tell us in the comments if it worked for you. We can't wait to hear from you!
Do you like this trick ? Click here to save it on Pinterest or click here to share it with your friends on Facebook.
Also to discover:
5 Easy Tips To Replace Kitchen Paper (And Banish Kitchen Paper).
How To Store Your Fruits & Vegetables 2 Times Longer!