Instead of covering up gray roots, this hairstylist encourages clients to keep their hair gray
Masterweb
28.06.2023 12:14
Source of the article: Source
We live in a time when we only seem to exist through our success and our power of seduction. But there are many women who worry about slipping into the abyss of age and losing their youth. With age, wrinkles set in, skin sags and hair becomes increasingly gray. However, some women have decided to take charge of their gray hair and call on a professional to enhance their gray hair.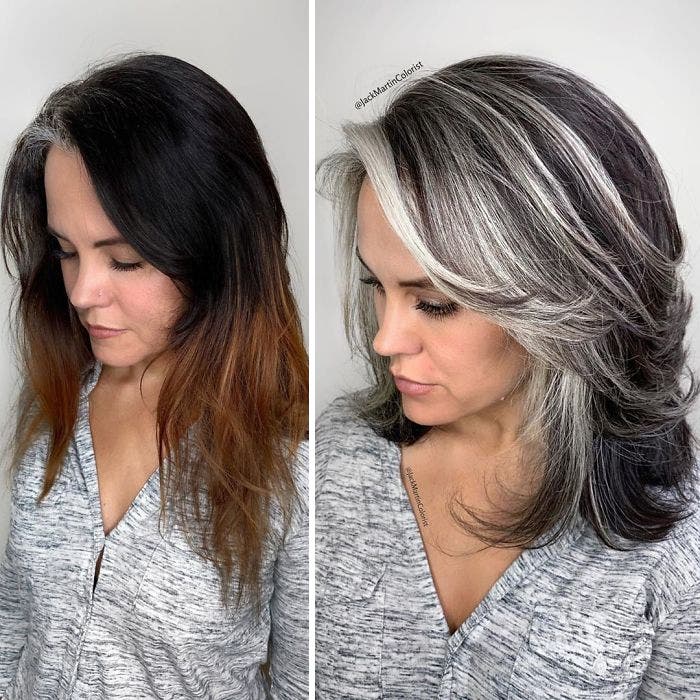 For most, gray hair is synonymous with old age, easy to detect, especially by the eyes of others, which remain distressing. For this reason, they are hidden and camouflaged to regain a youthful look and show signs of vitality and energy. A youthful appearance is nowadays more and more essential. Especially since showing your gray hair is perceived as negligence towards your person.
Mariette Julien, a professor at the Ecole Supérieure de Mode de Montréal, says that a woman who accepts her gray hair assumes complete responsibility and exudes self-confidence. She accepts herself as she is and does not seek the approval of others to feel beautiful. She follows the current of her body and her life without fighting against time. For his part, Vincent Bonhomme, owner of a large hairdressing salon, observes more and more women who prefer to keep their hair with a natural color and the majority of them opt for the ash color or platinum blond and avoid more and more colors that damage the hair. The latter must be renewed every month because of hair regrowth which soon reveals the root or graying locks.
Read also: What your eye color says about your personality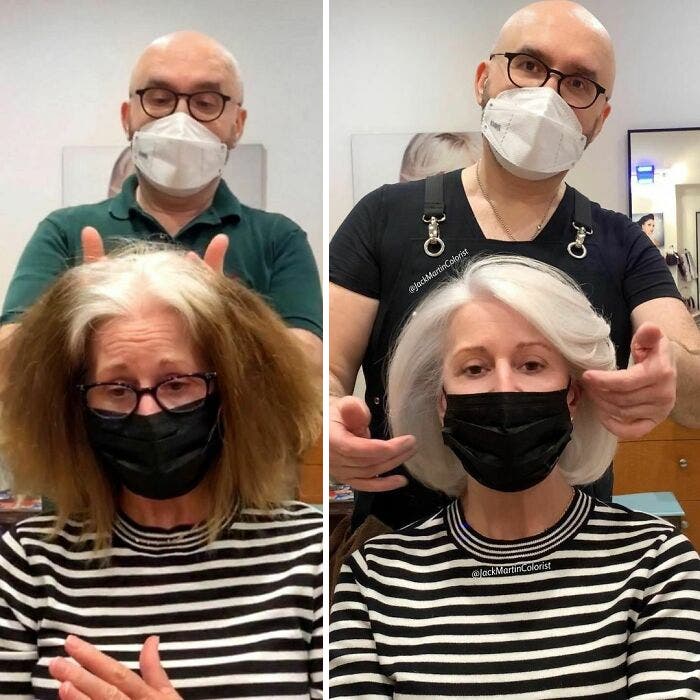 A famous colorist, staunch supporter of gray hair
In his hairdressing salon, Jack Martin does hair for celebrities, but not only. Often he encounters women who try to conceal their gray hair with dye. Blond, dark blond, chestnut, light chestnut, brown, mahogany, reddish-brown or golden copper.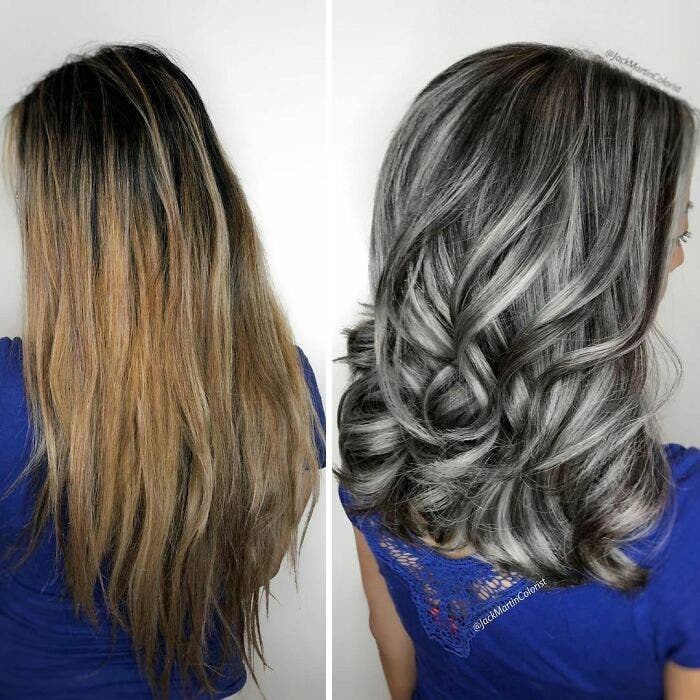 The colors and shades are not lacking to sublimate all types of mane. But the famous hairdresser is still trying to persuade women that gray is timeless and that it can enhance a woman as much as other hair colors.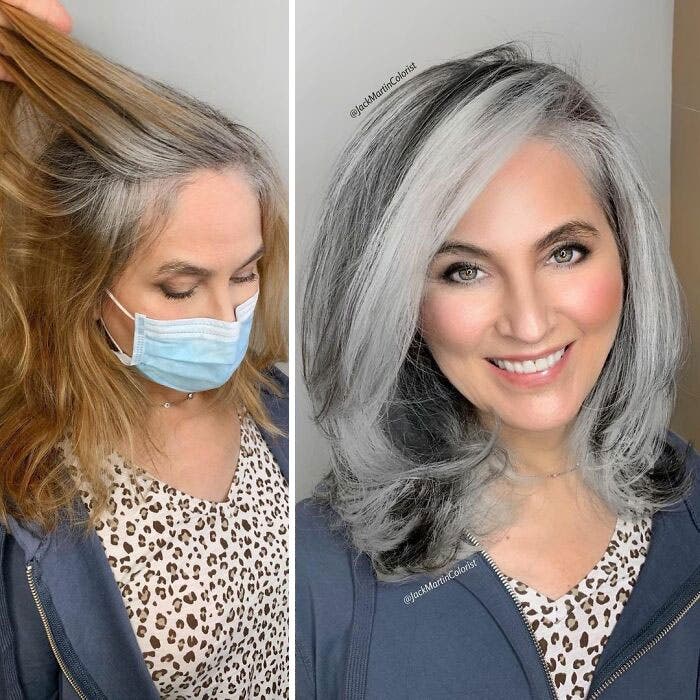 The most interesting thing about this type of coloring is that this gray tint makes it look respectable and classy. In addition, the woman who chooses this color will no longer need to do a color every month or every 20 days. She will thus protect her hair from chemical coloring unless she chooses vegetable coloring.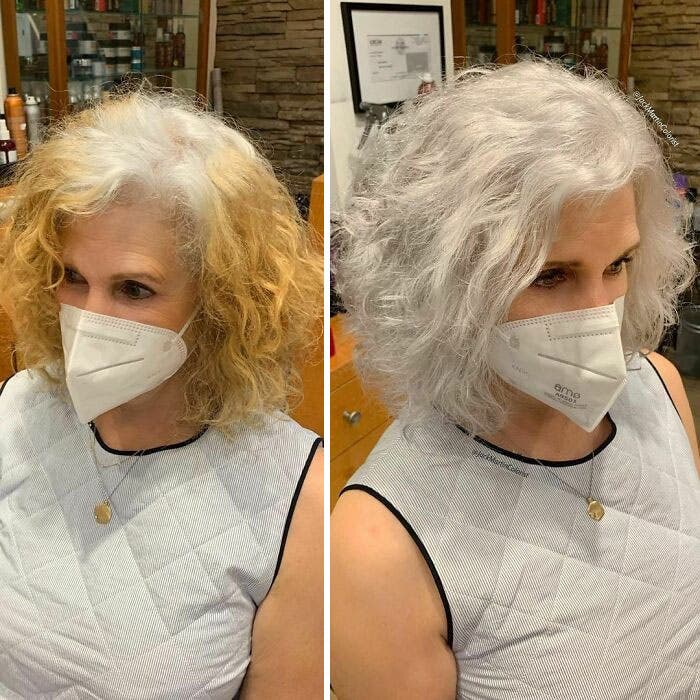 The effect is breathtaking with a natural result and pretty silver reflections. The woman will thus regain her natural color without demarcation. If the need arises, she can from time to time make a few touch-ups to perfect her color.
The famous hairdresser does not hesitate to post the transformation of his clients on social networks, which arouses the admiration of many Internet users. Many of them then decided to opt for this coloring which embellishes graying hair.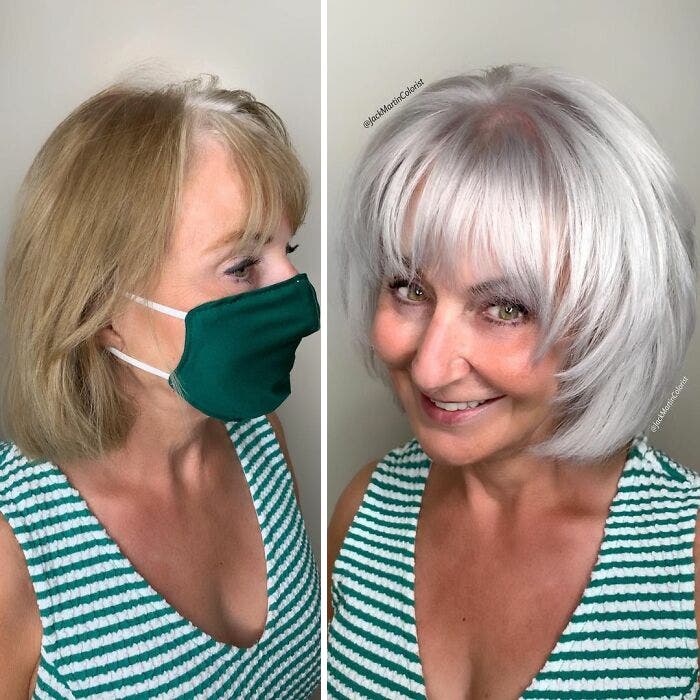 These transformations glorify the ash hair of these women. Just look at the photos he publishes to understand it.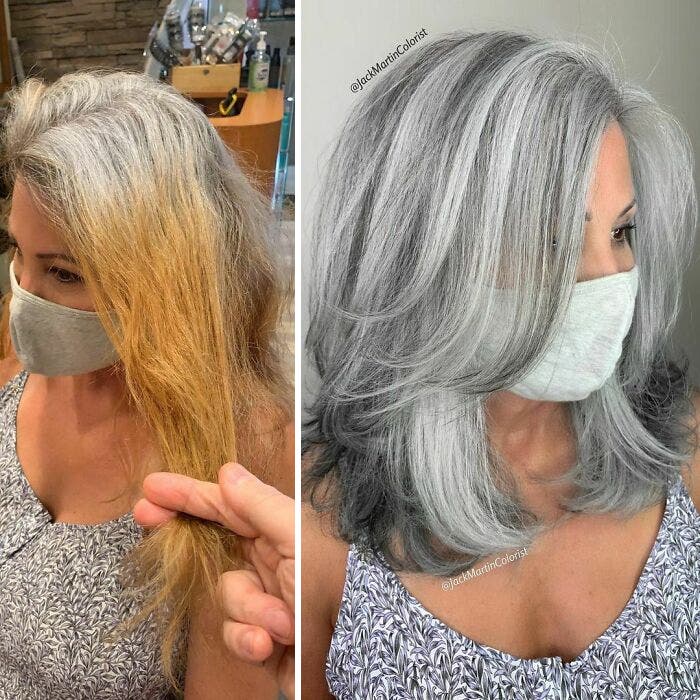 The colorist explains that he starts first by bleaching the hair, preserving the root. It must thus eliminate the shades of the already existing colored hair. It thus bleaches the hair to prepare it for the new color.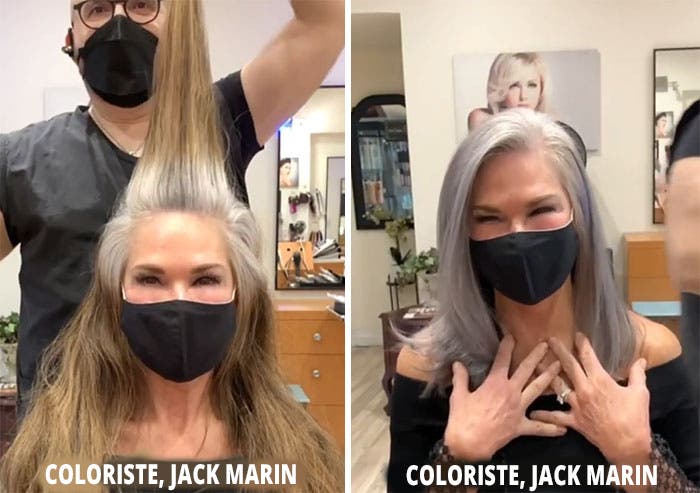 The hairdresser says that after trying this color for the first time, many women have started to love and appreciate their gray hair which they find simply beautiful. Most have decided to adopt it forever.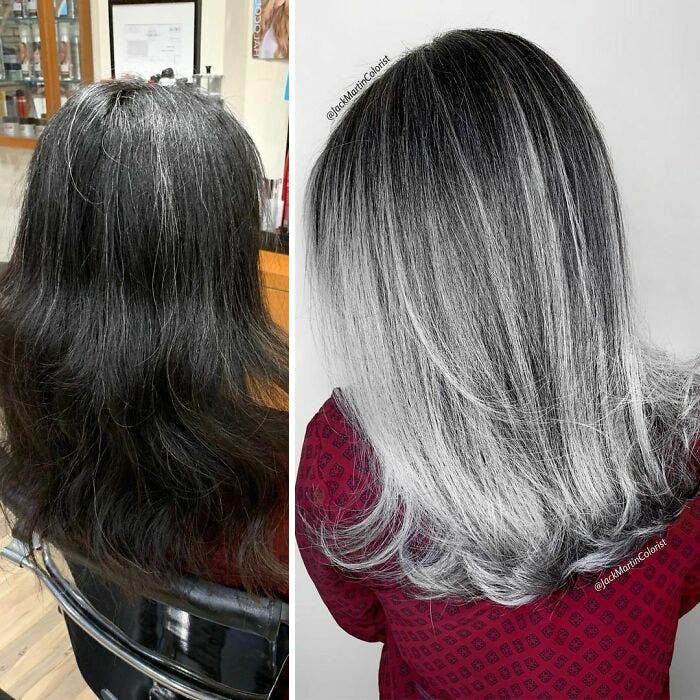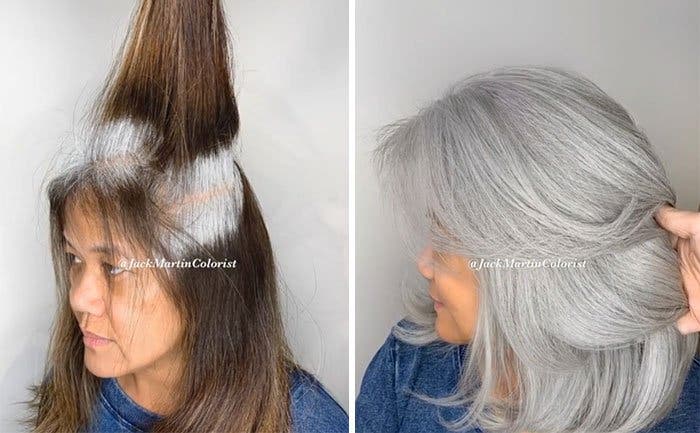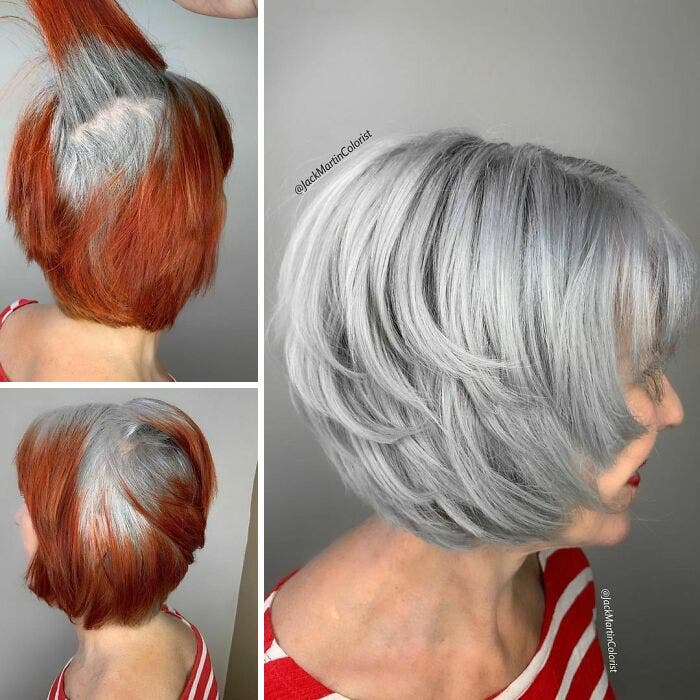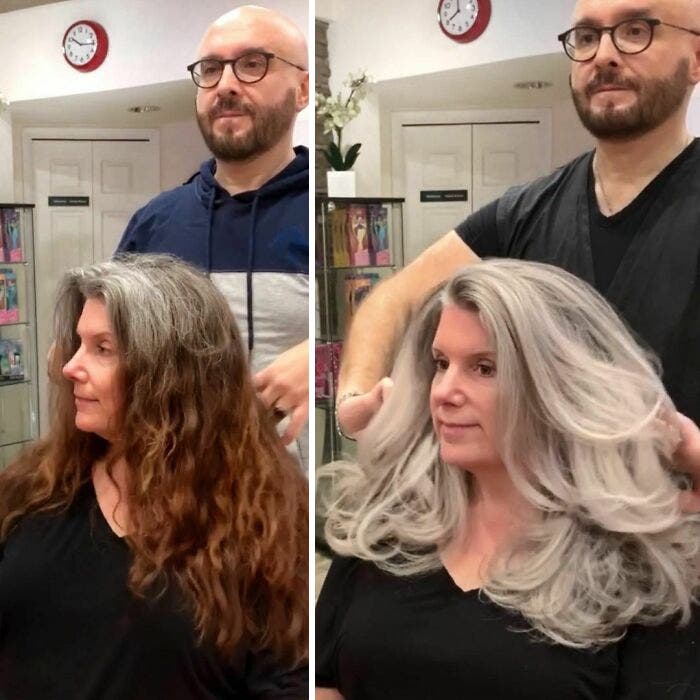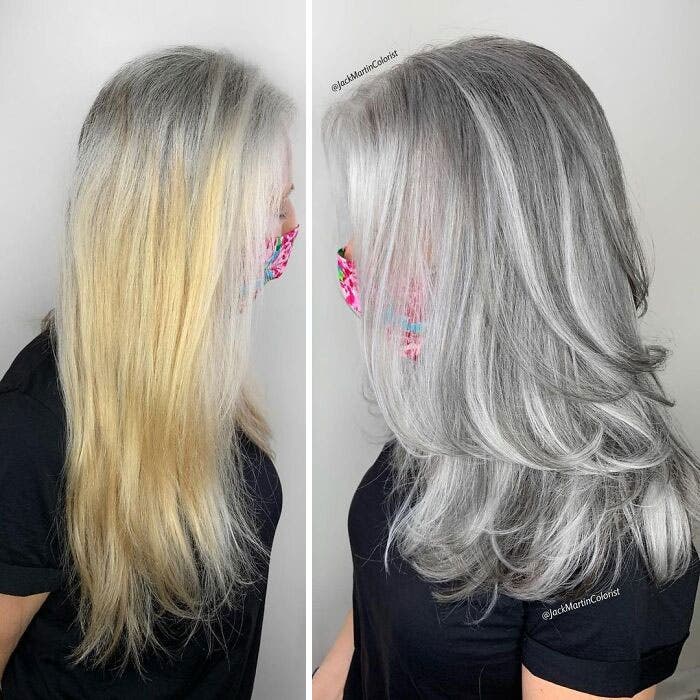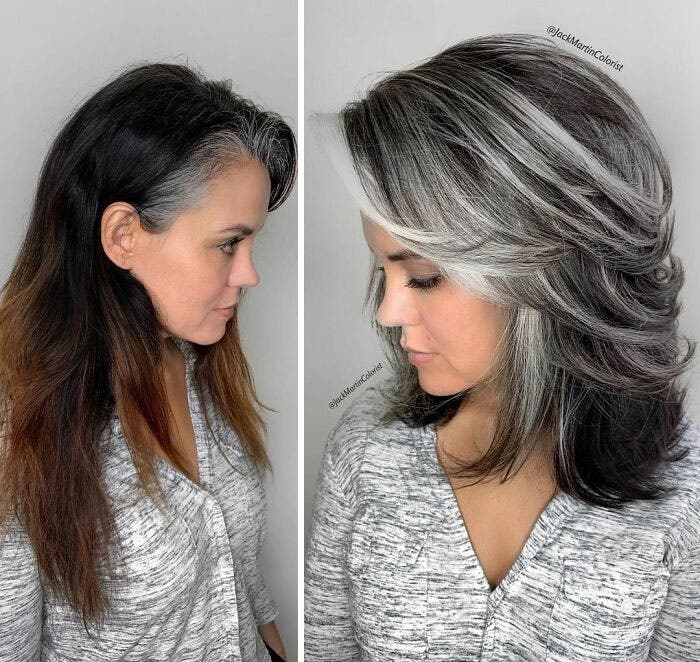 Gray hair adds elegance and allure to women who accept and embrace it. However, even if they no longer need to color their hair and thus choose to avoid dyes containing oxidants and ammonia which cause allergies, they still need to take care of their natural hair.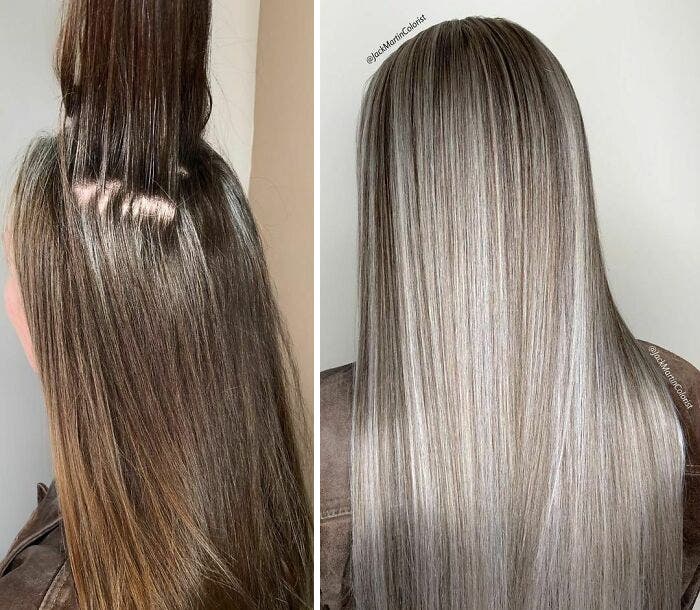 Therefore, it is important to choose the shampoo that suits the nature of the hair without sulfates or parabens and also choose a nourishing conditioner to illuminate the hair and make it soft and silky. With age, hair texture changes and hair becomes drier and unruly. Hair care is essential to perform either at home or at the hairdresser.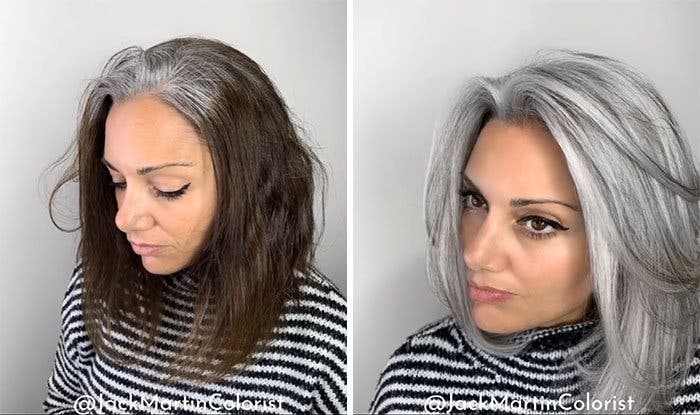 Moreover, besides the nature of gray hair, it tends to have yellow reflections, due to pollution and the resulting oxidation. Specific treatments are often carried out in the salon to neutralize yellow reflections. It is also possible to use a yellowing shampoo that is combined with another clarifying shampoo. Combined with usual and natural care, they give a nice silver tint to naturally gray hair.
Read also: No more chemical hair dyes, with this natural remedy you can cover gray hair without damaging it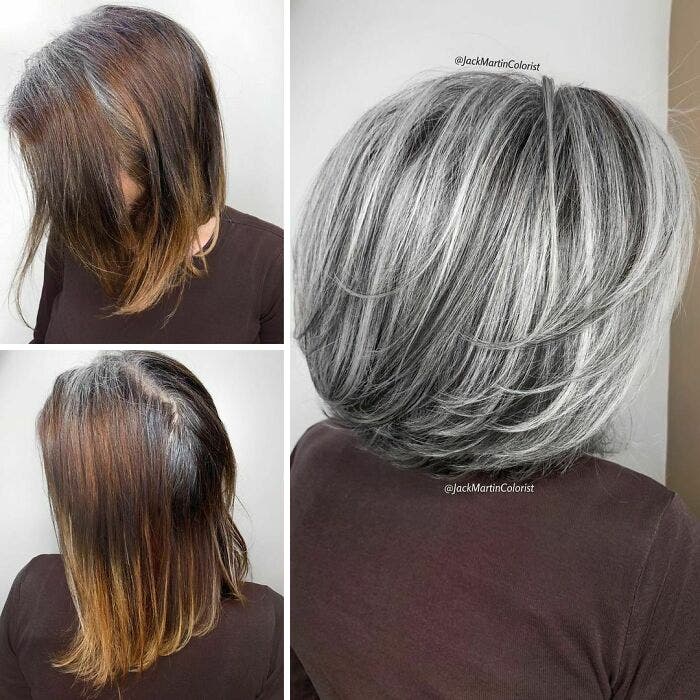 In addition, do not forget to add shine to them for more radiance and to illuminate dull gray hair. Lotions, masks, treatments, everything is an excuse to deeply moisturize the hair and neutralize unwanted reflections. The haircut should also be refreshed for fresh, structured hair that will look more resplendent than sloppy, shapeless hair.