They are also called « darlings » and I am a fan.
The only concern is that it is very (very) sweet.
Fortunately, I reveal here my easy recipe for cooking caramel almonds with much less sugar.
They're even better than the store-bought ones and are super easy to make.
It was my artisan confectioner who gave me his technique for caramelizing almonds at home.
here is how to make homemade roasted almonds yourself with just 3 ingredients. Look :
Ingredients
– 100 g of white sugar
– 50 ml of water
– saucepan
– baking sheet
– wooden spatula
– baking paper
– optional: cinnamon or vanilla sugar
How to do
Preperation : 1 min – Cooking: 5 minutes – For 4 people
1. Pour the sugar and cold water into the bottom of the saucepan.
2. Add the spices if you want to add some.
3. Put on medium heat and bring to a boil.
4. When it boils, put the almonds in the sugar water.
5. Let cook slowly until the water evaporates.
6. The sugar will caramelize and produce filaments that stick to the almonds.
7. Stir with the spatula so that the caramel permeates all the almonds.
8. When the sugar is fixed to the almonds, turn off the heat.
9. Now lay out the almonds on the baking sheet covered with parchment paper.
10. Leave to cool as well.
Results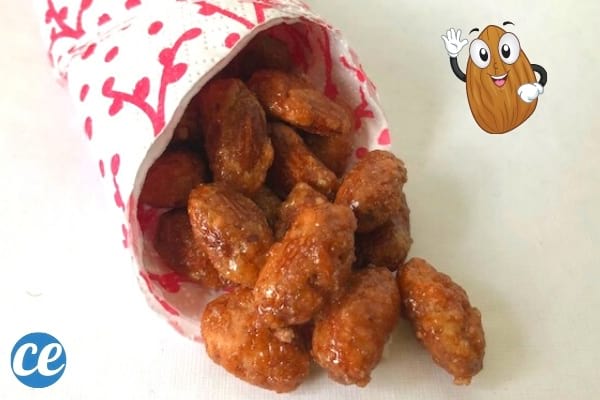 There you go, your homemade caramelized almonds are already ready 🙂
Easy, quick and delicious, isn't it?
And now, all you have to do is taste!
I'll give you a secret: still lukewarm, these almonds are a real killer!
They are 100% natural so no gelling agent, flavor enhancer or aspartame.
If you like even more caramelized almonds, double the amount of sugar and water.
You can also mix white sugar and brown sugar.
If you have a food processor, such as Thermomix, this recipe is even easier to make! It just happens.
Storage of caramelized almonds
How do you store roasted almonds? Simply in an airtight jar.
Finally if you don't eat them all first!
Small, cool variations with hazelnuts, walnuts, cashews or sunflower seeds.
5 great ideas with toasted almonds
Of course, you can eat them just like that.
But I give you other really delicious ideas:
– Sprinkle your cookies with scrunchies
– Put almonds-caramel in a yogurt cake to give it crunch
– Break the almonds into small pieces and place these pieces on your chocolate cakes for example.
– Do you like salted butter caramel? So, make this same recipe by adding a little salted butter at the end of cooking.
– Spread a little chocolate in addition to the caramel on the almonds.
How to clean the caramelized pan?
This is a good question.
Because we all know that caramel sticks well to the bottom of saucepans. A real pain in the scouring process.
Here's the easy trick that'll save your life … and your pot.
Your turn…
Have you tried this homemade caramel almond recipe? Tell us in the comments if you liked it. We can't wait to hear from you!
Do you like this trick ? Click here to save it on Pinterest or click here to share it with your friends on Facebook.
Also to discover:
2 Natural Homemade Candy Recipes For Our Children.
Delicious and Easy: The Homemade Lollipop Recipe.