Winter is here, the cold too, with the accompanying ailments.
Rheumatism, back pain, painful periods, colic and stomach aches …
As far as I'm concerned, my pet peeve is the cold, especially the cold on my feet. I still have frozen feet!
Luckily I found a lethal weapon to fight against the cold : the hot water bottle.
Here's how to make one yourself. It's easy, watch:
What you need
– Cherry pits, rice, grains, whole grains … This will be the garnish of my dry hot water bottle. For my part, I used pits from the cherries I ate this summer. I washed them (the pits) and hung out to dry.
– Microwave safe fabric: linen, 100% cotton, poplin. Many shoe covers are made of linen. This is what I used to avoid sewing work. This will be the container for our filling.
– Thread and a needle.
– A cover for our hot water bottle. Once again I reused a small cushion cover. But I'm sure sewing and embroidery enthusiasts will be able to show more creativity.
How to do
1. Garnish the fabric that you have chosen with rice, grain, cereals, cherry stones or whole grains.
2. Then close it.
3. According to your convenience, add a little lavender which will perfume your hot water bottle and perfume the air with each use.
4. Choose a cover with the right dimensions to embellish your hot water bottle or make it yourself.
5. Without its cover, place your hot water bottle in the microwave for about 30 seconds with a glass of water, then adjust the temperature by adding 10 or 20 seconds in increments of 10 degrees.
Results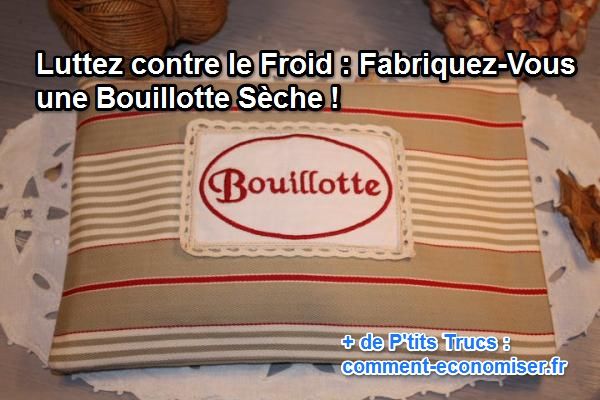 And there you have it, now you are very hot, even on your feet 🙂
It's nicer that way, isn't it?
And no need to raise the temperature of the heating to be warm.
You therefore save energy.
And that is exactly what it takes to save money on a daily basis.
You will finally see your electricity or gas bills go down!
This is enough to tackle winter with a little more peace of mind, relaxation guaranteed when you get home!
This DIY hot water bottle is easy and quick to make, even if you are a beginner in sewing.
And you have seen, its use is very simple.
Additional advice
– Do you want to transform your dry hot water bottle into a cold diffuser?
No problem !
Place it in a plastic bag and place it in the freezer.
– Do not overfill your hot water bottle with the garnish.
This allows a better heat distribution and so that the cushion fits better to the different parts of your body.
– Not only does your homemade hot water bottle warm you …
But in addition it calms the stomach aches and joint pain.
Handy, isn't it?
Your turn…
If you too adopt the DIY dry hot water bottle or have any ideas to improve it, let me know in a comment. We can't wait to hear from you!
Do you like this trick ? Click here to save it on Pinterest or click here to share it with your friends on Facebook.
Also to discover:
Face Irritated by the Cold? Test my New Homemade Recipe.
The Home Tip To Insulate Your Windows From The Cold.