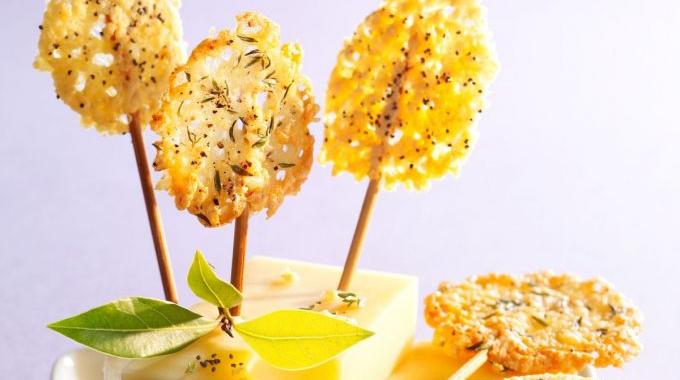 While some people like aniseed lollipops, at home we prefer them with Gruyere.
Funny as you wish, they amuse the children and amaze the elders.
Friday evening, it's a drink with the family and, with my Gruyère lollipops, we share moments that delight young and old.
My ingredients for 4 gourmets
– 1 sachet of grated Gruyere of 100 g (for about 20 lollipops)
How to do
Preparation: 15 min – Cooking: 5 min
1. I preheat my oven to 180 °.
2. On the baking sheet of my oven, I place a sheet of baking paper.
3. I put small heaps of Gruyere on top of it, which I flatten out a bit to give them a round shape.
4. I place my pick in the middle of my preparation and I cover it with a little cheese so that it holds well.
5. I cook for 5 minutes: the cheese should be melted, but not toasted.
6. I take my baking sheet out of the oven and let my lollipops cool for a few minutes so that the cheese hardens.
7. I gently peel off the lollipops using a spatula.
Results
There you go, your Gruyère aperitif lollipops are already ready 🙂
Simple and economical!
You will see, everyone is going to love these little snack lollipops.
It is the ideal snack for aperitifs with friends and it is an ideal recipe. You can also prepare some for a dinner aperitif /
It's an easy and quick aperitif recipe idea to make.
My bonus tip
How about flavoring our lollipops with Gruyère?
If, in general, children prefer them plain, adults will be delighted to decorate them with various spices: turmeric, curry, cumin, pepper or even mustard and cinnamon.
I just have to sprinkle my lollipops before putting them in the oven and voila.
Likewise, I sometimes combine my grated Gruyere with a little Parmesan to enhance the taste of my cheese. A delicious alliance!
A very small cost
– 100 g of grated Gruyère: at 6.33 € per kilo, i.e. 0.63 €
Either a Gruyère lollipop costing me € 0.03 or a score of € 0.63. Difficult to prepare a more economical aperitif!
Do you like this trick ? Click here to save it on Pinterest or click here to share it with your friends on Facebook.
Also to discover:
The 11 Best Recipes for a Nice and Cheap Aperitif.
The Secret Recipe for Making a Delicious Cocktail.