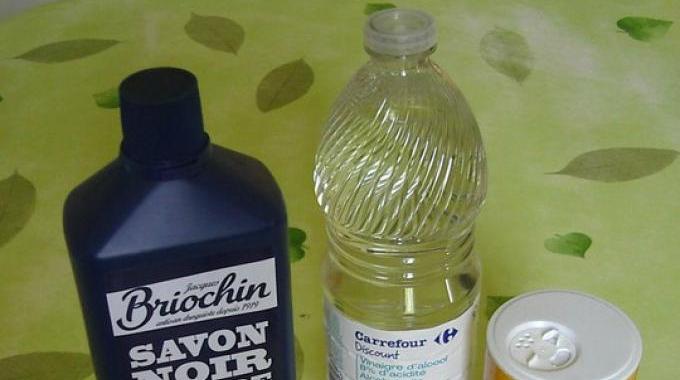 This will do us the most good.
This has the merit of cleaning up our homes after a long cold and wet winter.
Now follow the guide for bedroom and living room.
Today, here are my tips for the living room and bedrooms. At work !
1. I equip myself
I have on hand:
– from rags clean, preferably in microfiber
– from garbage bags and some boxes
– a big bucket
– from White vinegar
– from linseed oil black soap
Here you have everything you need to clean your home naturally.
In addition, these natural products are effective and economical.
And they are just as useful at home as in the garden.
These are essential multi-purpose products!
2. I sort
We always tend to keep more than necessary. So it's time to to sourt out our books, DVDs, newspapers, toys and clothes.
I put in a box what I think I can resell or give away. Think for example of reselling your business on Leboncoin.
Don't forget that you can simply donate items you no longer need.
In a garbage bag, I put what is really worth to throw.
You may be able to recycle some of these objects… And give them a very useful second life!
Thus, we make room and I earn a few euros by reselling my things!
3. Everyone participates!
I ask for help from my husband and my children.
They also live in the house, so it's normal that they participate.
Children can sort their toys for example.
After all, they are the ones who know which toys they no longer use.
You can also teach children to tidy their room in 10 minutes, top time!
4. Cleaning operation
Once the sorting is finished, I clean in depth.
– Dusting furniture.
I start at the top of cabinets and chandeliers with a microfiber cloth. Why ? Because it retains dust well, without requiring the use of a spray bottle. And that's time saved!
I wax furniture that needs it.
– Leaching painted interior walls. I proceed in the same way as in the bathroom.
– Cleaning tiles: I fill my bucket with hot water.
I add to it white vinegar. I clean with the squeegee for the windows.
I finish by rubbing with moistened newspaper. It's nickel for a streak-free result on the windows!
– Cleaning tiles: I start by vacuuming. Are the seals dirty? I take black soap paste. I scrub with a brush, then I rinse. That's all !
In a bucket of hot water, I add black soap. And I pass swab.
Thus, my tiles are perfectly cleaned without chemicals.
And my house smells clean!
Your turn…
And you, have you started your spring cleaning? How do you organize yourself? Let's talk about it in the comments. We can't wait to read you!
Do you like this trick ? Click here to save it to Pinterest or click here to share it with your friends on Facebook.
Also to discover:
Sell ​​your clothes in a consignment store.
11 Hacks That Will Make Housework Child's Play.