I show you here how to clean a glass table easily and without any traces.
Because nothing worse than a table with lots of marks or a dull veil on the glass plate.
It doesn't look very « clean », especially when you have guests.
But we don't always know how to clean it …
It was a professional cleaning lady friend who gave me these tips to maintain this type of table without damaging it.
And you want some good news? All of these techniques are 100% natural.
Here are my 5 magic tips for washing a glass table without leaving any traces. To concern :
1. Dishwashing liquid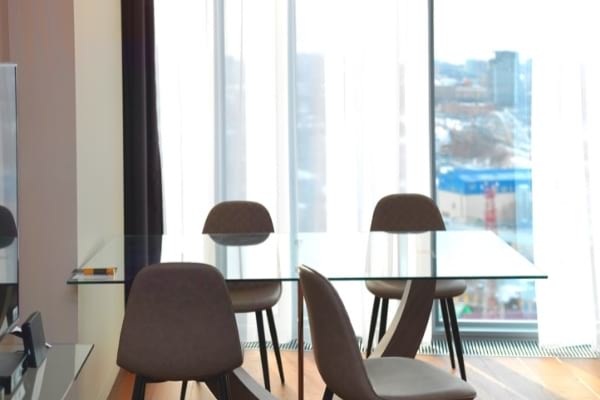 A glass table is very designer in a dining room, because it does not break the space.
But the slightest glass placed leaves a clearly visible mark on the glass top.
And I don't even tell you about traces of fat, wine or sticky soda after a meal.
To overcome it, a simple cleaning with a soft sponge and a drop of dishwashing liquid does the trick.
Remember to rinse well and wipe dry with a clean lint-free cloth.
My advice: don't use too much washing up liquid. Why ? Because it can leave a white veil.
2. White vinegar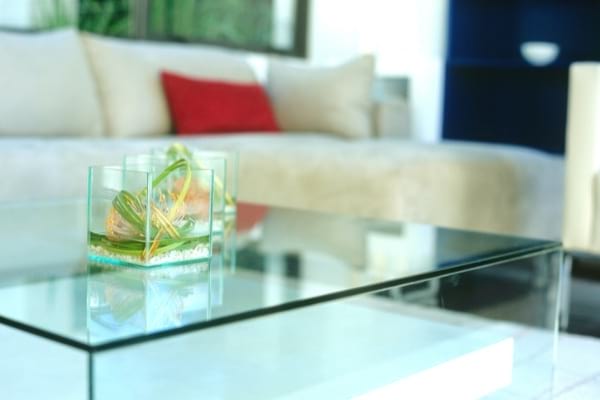 If your glass coffee table has white marks or lime deposits from the glasses …
There is only one solution: white vinegar!
Spread a cloth soaked in vinegar on the table, paying particular attention to the affected areas. Then rinse and dry.
White vinegar also erases red fruit stains, oily areas.
And the ultimate little bonus: it disinfects. Perfect for cleaning up eating areas, right?
3. Household alcohol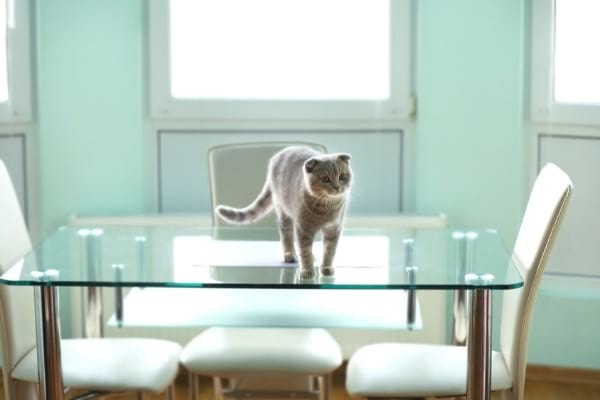 Here is my favorite method of cleaning and disinfecting without leaving any marks on the glass table!
Household alcohol overcomes greasy, sticky traces of ink, glue, tea.
And in addition, she makes the glass shine.
4. The window cleaning product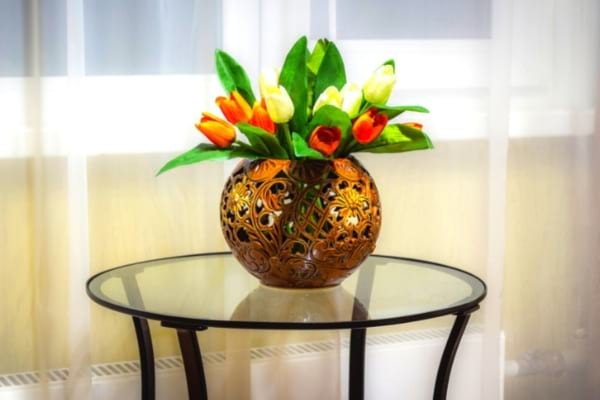 A small swipe of window cleaner on a frosted or transparent glass table gives good results.
Especially in case of very greasy fingerprints!
Do you know why it works? Because this product contains alcohol which makes the glass surface shine.
5. Toothpaste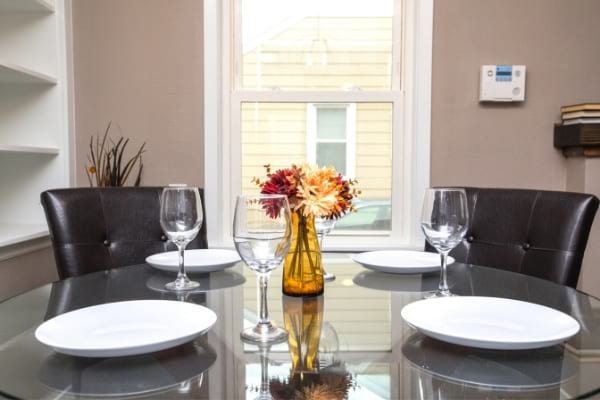 A stubborn stain on your glass table?
Before you go crazy with a sponge and scratch your table, try toothpaste.
Put a layer of toothpaste on the stain in question, and let sit for at least 30 minutes, then rinse and dry.
You will be surprised with the result!
It is even said that toothpaste may hide some shallow scratches on the glass.
How to properly maintain a glass table?
Whether your table is in tempered or frosted, transparent or colored glass, regular maintenance is the secret.
This is also true for outdoor garden tables.
After each use, wipe with a soft damp sponge, or a cloth soaked in alcohol.
It allows to remove fingerprints, food before they become permanently encrusted.
Also regularly dust on it.
Should I protect my glass table, and how?
Yes, it is ideal!
To protect your table during a meal, put placemats or a tablecloth.
In the event of a children's « craft session », protect the table with newspaper to prevent scratches and splashes of paint, glue or markers.
The same goes if you have a glass desk! Protect it with a desk pad to prevent scratches.
What products should you avoid to clean a glass table?
– Marseille soap (or Castile) which can leave a dull, whitish haze on the glass table. If you insist on using this soap, you will need to rinse the table well to remove all soap residue.
– Abrasive sponges that can scratch the surface of the glass. And a striped glass table is not very beautiful and less practical to maintain.
– Fluffy tea towels or paper towels that leave a bunch of tiny fibers on the table.
– White spirit which is too fatty a product. Therefore, it greases the table even more than if it had not been washed.
Your turn…
Have you tried these natural tips for cleaning a glass table without scratching it? Tell us in the comments if it worked for you. We can't wait to hear from you!
Do you like this trick ? Click here to save it on Pinterest or click here to share it with your friends on Facebook.
Also to discover:
5 Tricks That Have Been Proven To Clean Windows.
19 Great Cleaning Tips That Will Make Your Life Easier.