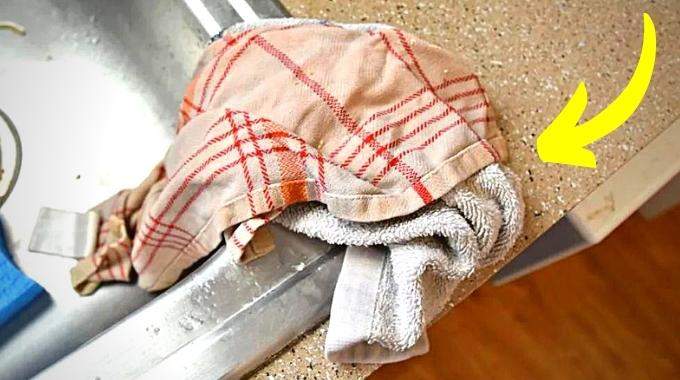 Especially for wiping the dishes…
I explain here how to remove these bad smells.
We wipe everything and anything with it without giving them time to dry well…
Fortunately, there is an economical and natural trick to deodorize kitchen towels.
It was my grandmother who gave me her simple and effective trick.
Here is the best way to clean tea towels to remove bad odors. Look :
What you need
– White vinegar
– basin
– Hot water
– iron
How to do
1. Take the basin.
2. Pour hot water to half fill the basin.
3. Fill the rest with the white vinegar.
4. Put the tea towels to soak in the mixture.
5. Leave to act for at least 3 hours.
6. Rinse with clear, warm water.
7. Dry and iron at 200°C.
Result: tea towels that smell good!
And There you go ! No more kitchen towels that smell bad 🙂
Easy, fast and effective, right?
And above all, super natural!
No bleach or ammonia needed.
Or even fabric softener with chemical odors.
In addition to being respectful of the planet, we also save money!
However, washing at 60 or 90°C is sometimes necessary.
Do not hesitate to wash them 2 or 3 times a year at this temperature.
You can also add to the recipe 3 drops lemon essential oil or lavender.
Not only does it purify, but it also leaves a good smell on the fabric.
Why does white vinegar work?
The vinegar water disinfects the tea towels.
This is important because bacteria are often responsible for bad smells.
Better !
Vinegar is also the best natural air freshener.
It would be a shame to deprive yourself of it.
Why iron the tea towels?
Ironing tea towels may seem a little weird…
But of course, there is a good reason to do it!
The heat of ironing rids the fibers of the last bacteria.
It also eliminates the last traces of humidity that could leave a musty smell.
Your turn…
Have you tried this trick to deodorize your tea towels? Let us know in the comments if it worked for you. We can't wait to read you!
Share this tip
Do you like this trick ? Click here to save it to Pinterest or click here to share it with your friends on Facebook.
Also to discover:
Very Dirty Tea Towels? How to Clean and Disinfect them Easily.
What To Do With Old Towels? 33 Ingenious Ways to Recycle Them.