Are you looking for an effective trick to keep mosquitoes away on the terrace?
It's true that these dirty creatures have a habit of ruining evenings in the garden!
It is best to use natural repellents. They're safe for you, kids, or pets, but tough on mosquitoes.
There are a number of plants that mosquitoes hate. These are often strong-smelling plants or flowering plants.
So why not create a beautiful composition of plants that repel mosquitoes in a planter?
That way you can place your natural repellent wherever you want!
On a terrace, on the lawn, in the yard and move it as you want to drive away the mosquitoes that infest the garden.
No more tiger mosquitoes that spoil the beautiful summer evenings!
In addition, not only are these plants very practical for repelling mosquitoes, but they are also pretty!
You can therefore arrange them in a pretty planter and display them proudly on your terrace.
Here is the mosquito repellent flower pot for the terrace to be used all summer long. Look :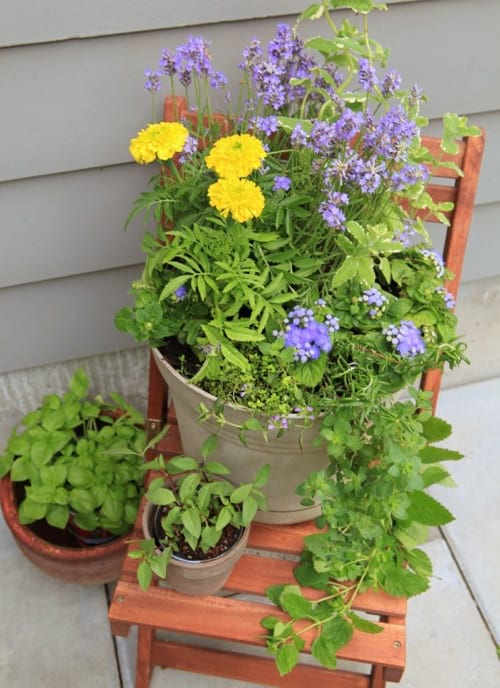 And no need to go to Jardiland! This homemade composition was created for a garden that receives at least 6-8 hours of sunlight a day.
Nothing to worry about ! It's easy: these plants grow easily, without special care.
They bloom at different times and their leaves have different shapes and colors. It's even prettier that way!
A. Calendula
These pompom-shaped flowers, also called « marigolds », have beautiful yellow and orange colors. They are not very tall and are well suited to planters.
Marigolds contain a compound that is also found in many insect repellents. Naturally occurring in flowers, it does not harm insects, but simply drives them away.
B. Lavender
Lavender (Lavandula angustifolia) is a plant that adapts very well to flowerpots. Its flowering is abundant and it blooms up to 3 times a year, if care is taken to reduce it by half after flowering.
Its fragrance, which is very pleasant for us, is particularly unpleasant for mosquitoes.
C. Pineapple mint
Pineapple mint (Mentha suaveolens Variegata) is a very decorative mint with white-edged leaves and a woolly texture. It gives off a pleasant and sweet mint aroma. And its leaves are very decorative, making it an attractive addition to a container.
All kinds of mint are effective as mosquito repellent plants, but I really like this one in particular for its aesthetic appeal.
D. Mexican Agerate
L'Ageratum « Artist Blue » contains coumarin, which is widely used in commercial mosquito repellents. Does it emit enough to keep pests away? The question is debated. But its slow-growing blue-violet flowers are an asset to make your composition even more beautiful.
E. Oregano
L'Origanum vulgar has downy, slightly serrated leaves. Its rounded green leaves spill out of the pot as they grow.
Its very fragrant flowers are a natural and powerful repellent against insects.
F. Melissa
The Melissa officinalis is one of my favorite mosquito repellent plants! It is fragrant, lemony and its stems are large.
If your planter isn't big enough to hold this prolific plant, you can plant some nearby and rub the leaves on your skin as you walk through the garden.
It can be quite invasive, which is why I let a small patch grow in a controlled way near my fence (and when I say « controlled », I mean I pull it out periodically before it grows back!).
G. Thai Basil
L'ocimum basilicum has pointed green leaves and purple young shoots. Its taste is more aniseed, with a hint of liquorice, than that of basil.
It is a pleasant herb that is also delicious with coconut milk and red curry.
Like mint, it's basil in general that mosquitoes don't like. I chose Thai basil specifically for its appearance and flavor. But any basil deters harmful mosquitoes.
As a bonus, if you end up with too much basil, you can make a delicious pesto!
H. Lemon Thyme
the Thymus citriodorus is a pretty persistent thyme variegated with yellow and green that smells of lemon. And besides, it tastes like it! The bursts of yellow complement that of the marigolds and add some sparkle to the plant. Lemon thyme is said to be more effective at repelling mosquitoes than other varieties of thyme.
Another example of a mosquito repellent flower pot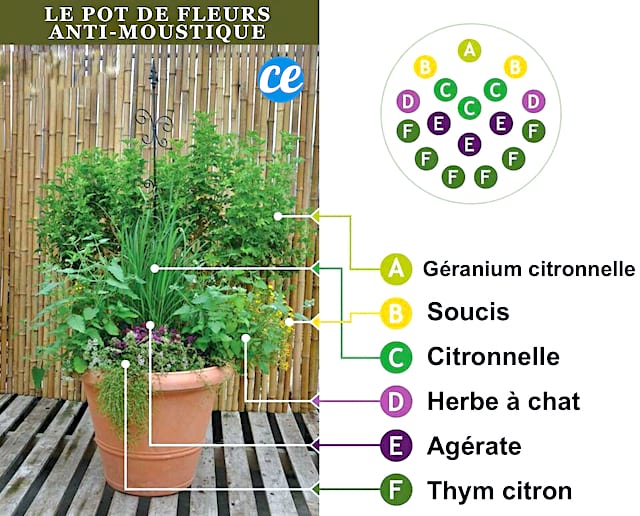 HAS : citronella geranium
B: Worry
VS : Lemongrass
D: Catnip
E: Agerate
F: lemon thyme
12 plants that repel mosquitoes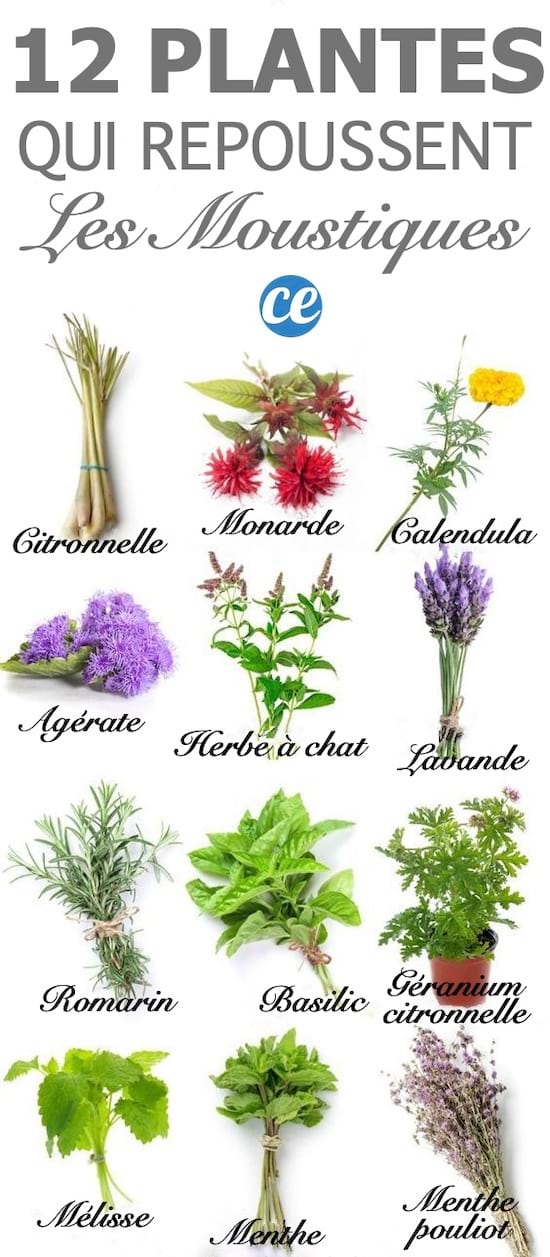 To make your mosquito repellent flower pot, you can also make a composition of these plants:
1. Lemongrass
2. Monarda
3. Calendula
4. Agerate
5. Catnip
6. Lavender
7. Rosemary
8. Basil
9. citronella geranium
10. lemon balm
11. Mint
12. Pennyroyal mint
As you can see, the choice is yours!
Where should you place your mosquito repellent flower pot?
It is not enough to put your pot of mosquito repellent plants anywhere on the terrace for it to be effective.
The best way to use it is to place it near the entrance to the garden or lawn, or where your guests congregate.
By placing the planter next to a driveway or on the steps leading to the patio, people and pets will brush against the fragrant foliage and release the scent into the air.
Rub the plants with your hands and apply the scent to your body while you're outdoors to keep the scent strong and permeate your skin.
Your turn…
Have you tested these mosquito repellent plant pots? Let us know in the comments if it worked for you. We can't wait to read you!
Share this tip
Do you like this trick ? Click here to save it to Pinterest or click here to share it with your friends on Facebook.
Also to discover:
11 Mosquito Repellent Plants You Should Have In Your Home.
19 Insect Repellent Plants That Naturally Protect Your Home & Garden.