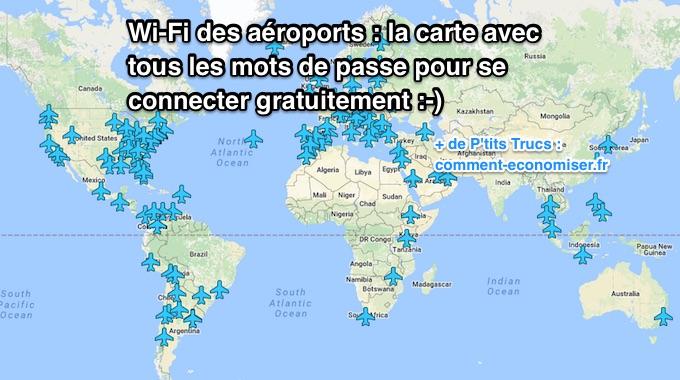 At the airport, we spend a lot of time waiting!
And when we're abroad without Internetit can get long…
Especially when you don't want to pay for Wi-Fi!
Fortunately, traveling will become much less boring thanks to this map of Wi-Fi in airports.
This map includes all passwords to access free Wi-Fi at airports around the world. Look :
How to do
1. Move around the map to find the airport you are interested in.
2. Click on the airplane icon.
3. Write down the Wi-Fi name and password.
4. Once at the airport, all you have to do is enter the Wi-Fi password.
Results
There you go, you can now connect to Wi-Fi at airports around the world for free. without paying a euro 🙂
No more paying for Wi-Fi at the airport or blowing up your bill because you used your cellular data abroad.
The wait might be shorter now, right?
In addition, when necessary, it is even indicated on the map where you must sit to receive the Wi-Fi in question.
Do not forget to look up the password for the airport you are departing from, but also the one where you are arriving.
Because the wait can also be long at customs and you will surely need Wi-Fi on arrival to get in touch with your loved ones.
And don't worry, this map is updated regularly by its designer Anil Polat.
Your turn…
Have you tested this interactive map with all the airport Wi-Fi passwords? Let us know in the comments if it worked for you. We can't wait to read you!
Do you like this trick ? Click here to save it to Pinterest or click here to share it with your friends on Facebook.
Also to discover:
Finally a tip to connect for FREE to ALL Wifi.
The BEST Time to Buy your Plane Ticket.