Unlike our old TVs where the screen was made of glass…
However, it is necessary to remove all these fingerprints, stains and dust.
Discover, not one, but five simple and effective tips for properly cleaning your flat screen television. Look.
1. With a microfiber cloth
We give you a first piece of advice that goes without saying, but regular dry cleaning can eliminate a lot of dust and dirt.
Successive cleanings are therefore easier to do.
Use for this feather duster, anti-static cloth or microfiber dust cloth.
This removes all small dirt and particles that may leave scratches during wet cleaning.
Also, never wipe your television with paper towels or toilet paper.
These materials are slightly abrasive and leave tiny scratches on the surface, resulting in screen dullness.
Make sure the TV is off and clean it at least weekly with the utensils seen above.
Know that it is exactly the same principle for a computer screen.
2. With demineralised water
Cleaning a TV screen with clean water removes daily dirt and is one of the safest solutions.
However, if your TV is very dirty, water may not be enough.
You can then create your homemade cleaner to eradicate stubborn stains.
You will need: some demineralised water, a spray bottle, a soft cleaning cloth and a microfibre towel.
Once the ingredients are combined, proceed as follows.
Fill the spray bottle with demineralised water. Turn off the TV and spray some water on the soft cloth.
Gently rub the TV screen in circular motions.
Never spray water directly on the screen and don't apply too much pressure when cleaning.
Use a dry towel to gently polish the screen to make sure all lint and dirt is gone.
This method is also ideal for cleaning glasses and other glass surfaces without leaving streaks.
3. With white vinegar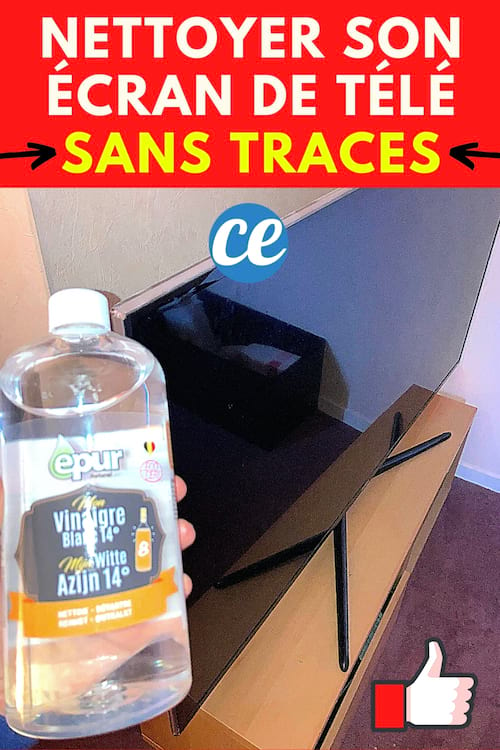 If you have fingerprints on your TV screen, the white vinegar + water solution removes the grease without leaving traces.
For this you need: white vinegar, a little water, a spray bottle, a lint-free cloth and a microfiber cloth.
Pour equal parts water and white vinegar into the spray bottle.
Prefer to use demineralized water rather than tap water (this avoids leaving residues on the screen).
Spray the solution on a microfiber cloth, never directly on the television.
Turn off the TV so that the cleaning process does not interfere with the pixels on the screen.
A screen that is off and therefore completely black also makes it easier to see dirt and smudges.
Rub the damp cloth all over the screen in a light circular motion.
Finally, polish the screen using the microfiber cloth.
This homemade cleaning product is very effective.
So there is no need to buy cleaning sprays that can damage the screen.
This method is also suitable for cleaning mirrors throughout the house.
These ingredients make all glass surfaces shine without leaving streaks.
4. With washing up liquid
Your flat screen TV is not only dirty with dust or a few fingerprints.
Well-encrusted stains can sometimes be present, especially if you have children!
A mild dishwashing liquid is then necessary to properly clean the surfaces of the flat screen without damaging it.
What you need: Mild dish soap, deionized water, a bowl, a soft cloth and a microfiber towel.
Fill a bowl with warm deionized water and add 1 or 2 drops of mild dish soap.
Mix the solution with a spoon and wet the corner of the soft cloth without saturating the fabric.
Rub the damp cloth over the TV screen in small circular motions, concentrating on the dirtiest areas.
Finally, dry the screen well using a soft microfiber towel.
5. With petroleum jelly for scratches
After cleaning a flat screen, there may be small scratches that appear on the clean surface.
No worries ! These scratches are easily removed by applying petroleum jelly.
After cleaning your TV and letting it dry completely, apply about a teaspoon of petroleum jelly to the scratched surfaces.
Once the Vaseline is embedded in the scratches, use a soft, clean cloth to wipe off the excess product.
Be careful not to press too hard on the screen while wiping the area.
Bonus Tips:
Before working on your television, first consult the manufacturer's manual for information on the device's warranty.
Before cleaning the television, always remember to turn it off or even unplug it.
Before turning it back on, wait until the screen is completely dry.
If you want to use cleaning products such as wipes, make sure they are approved by the manufacturer…
…Or that they claim to be specially made for screens.
Remember to clean the ventilation holes, often located behind the device (by vacuuming with a low-power vacuum cleaner).
We don't necessarily think about it, but your remote also likes to be pampered.
Given the number of people who handle it, it is she who holds the record for bacteria and dirt.
What you should never do
Cleaning flat screens with regular glass cleaner damages the surface of the TV and its anti-reflective coatings!
This is also the case for industrial cleaners that contain ethyl alcohol or ammonia.
These chemicals wreak havoc and can cause cloudiness, scratches and damage of any kind.
So, above all, do not buy aggressive products in stores to clean your screen.
Instead, use the 5 natural and effective tips we just talked about together.
These tips work with all types of flat screen: OLED, Plasma, LED…
But also with all TV brands: Samsung, LG, Philips, BlauPunkt, Brandt, Grundig, Haier, JVC, Loewe, Panasonic, Proline, Sharp, Sony, Thomson, Toshiba…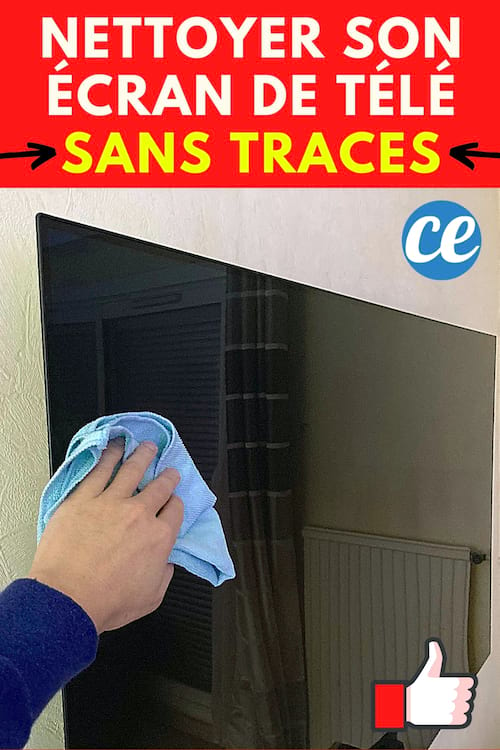 Your turn…
Have you tested our 5 tips for properly cleaning your flat screen? Let us know in the comments if it worked for you. We can't wait to read you!
Share this tip
Do you like this trick ? Click here to save it to Pinterest or click here to share it with your friends on Facebook.
Also to discover:
Clean Your TV Screen With a Coffee Filter!
Dirty Computer screen? How to Clean Nickel with White Vinegar.