I advise you without hesitation this natural homemade cough syrup recipe.
His secret? It is thyme, super effective against viral diseases.
This aromatic syrup relieves coughs in 5 min.
Since I discovered this cough syrup recipe without prescription, I only use that.
Now let's see together the easy recipe for homemade thyme cough syrup. Look :
Ingredients
– water
– sugar
How to do
1. Put the thyme in a saucepan
2. Pour water over it to cover it.
3. Let it macerate for 24 hours.
4. After 24 hours, boil the water with the thyme.
5. Simmer for about 15 minutes then turn off the heat.
6. Cover the pot with a lid and let the thyme steep again overnight.
7. With a strainer fine, filter the water and thyme over a bowl to keep only the infusion.
8. Weigh the liquid on a kitchen scale.
9. Prepare 50% of the weight of the liquid in sugar. For example, if you have 1 kg of liquid (i.e. 1 liter), you need to prepare 500 g of sugar.
10. Pour the infusion and the sugar into a saucepan.
11. Heat over low heat until you get a thick liquid.
12. Pour the syrup into a glass bottle and close the bottle tightly.
Results
There you go, your thyme cough syrup is ready 🙂
Easy, fast and efficient, isn't it?
No more scratchy throat!
You can use it for stop a coughing fit.
Thanks to this remedy, you will stop coughing quickly.
No need to run to the pharmacy to buy a cough syrup!
These syrups are expensive, not always effective and sometimes dangerous for health!
With your 100% natural syrup, you know exactly what it is made of.
In addition, this grandmother's recipe is particularly economical, compared to commercial syrups.
But that's not all.
This DIY syrup is effective for coughing, but also for relieving a sore throat or clearing a stuffy nose.
Handy, isn't it?
Be aware that you can take thyme from your garden and dry it or buy in stores.
How to use thyme syrup for cough?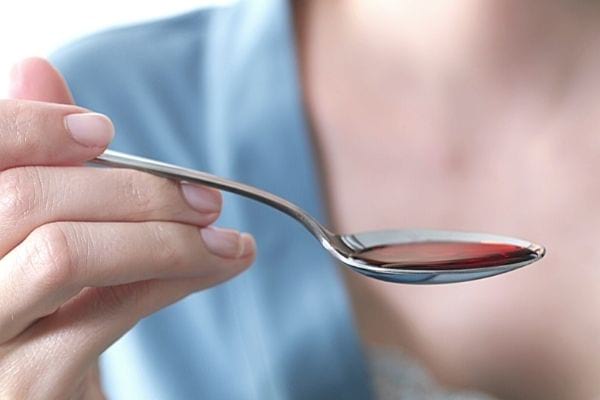 As a natural treatment, your thyme syrup can be taken three times per day.
Swallow a tablespoon morning, noon and night.
Warning, this treatment should not be followed for more than a week.
If symptoms persist, see a doctor.
You can also put a teaspoon in your favorite infusion to enjoy all its benefits.
Did you know that you can also use your thyme syrup as a simple thirst quencher?
Just pour a little into a glass and dilute it with water …
Like any other syrup!
How long does this thyme cough syrup keep?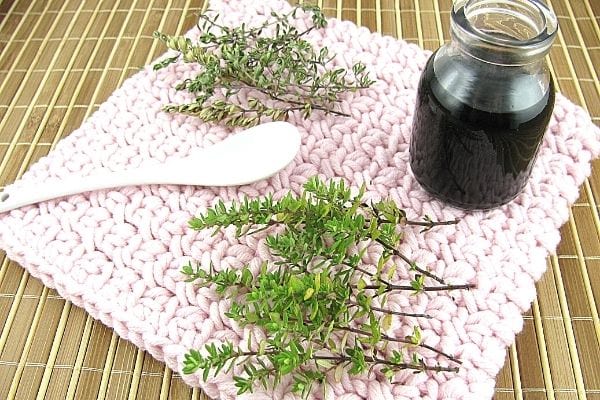 And the best part is that it keeps really well.
The sugar that goes into its composition allows excellent long-term conservation.
You should also know that the sweeter it is, the longer you can keep it.
Concretely, what does this mean?
It means you can keep it between 3 and 6 months in a cool and dark place, after placing it in its bottle.
Once opened, you keep it 2 to 4 weeks in the fridge.
Why does this cough remedy work?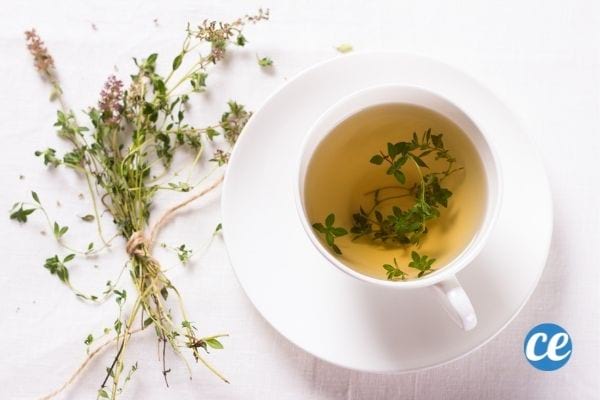 Thyme is a delicious herb for flavoring dishes.
But that's not all.
Its health benefits are numerous and have been recognized for a very long time.
Thyme has antiseptic and anti-infective propertiess that allow it to fight against viral diseases.
It is used for example to treat bronchitis.
But the good news is that it is effective in relieving other respiratory illnesses such as asthma, tonsillitis or whooping cough.
Overall, it acts effectively on any the ENT sphere : throat, sinuses, bronchi.
This is why it is able to soothe a cough or sore throat and decongest the nose.
Your turn…
Have you tried this cough syrup recipe? Tell us in the comments if it worked for you. We can't wait to hear from you!
Do you like this trick ? Click here to save it on Pinterest or click here to share it with your friends on Facebook.
Also to discover:
9 Amazing Grandma's Cough Remedies.
The Super Effective Cough Remedy.