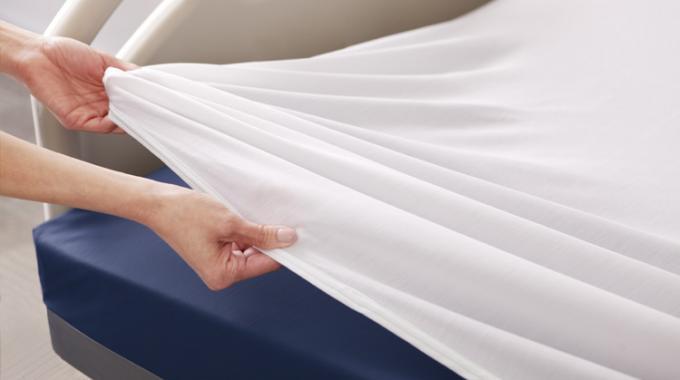 As a result, you still spent the night with your head directly on the mattress…
Fortunately, there is a trick so that the fitted sheet no longer comes off.
How to do
1. Arrange the sheet as usual.
2. Take safety pins.
3. Hang the sheet and the mattress at the same time.
Result
And now, your mattress cover can no longer be removed at night 🙂
Who's going to have a good night? 🙂
Thanks to this simple little trick that fixes the sheet to the mattress, no more fitted sheets that don't hold and come undone in the middle of the night!
It is also a good trick to use if, on the contrary, your sheet house is too big.
Thanks to the pins, you can easily adjust it to make it fit.
And if you're afraid of tearing your sheets, you can always get sheet stretchers.
It's a kind of rubber band with a clip to hold the fitted sheet under the mattress.
The principle is the same as that of a strap that attaches the sheet under the mattress.
Very practical when the fitted sheet is too small! In a way, it enlarges the sheet.
And this small object can also be very useful for holding a sofa cover.
Your turn…
Have you tried this grandma's trick to make your fitted sheet stick? Let us know in the comments if it worked for you. We can't wait to read you!
Share this tip
Do you like this trick ? Click here to save it to Pinterest or click here to share it with your friends on Facebook.
Also to discover:
How to Properly Fold a Fitted Sheet (Video).
12 Ways to Repurpose Your Bed Sheets.