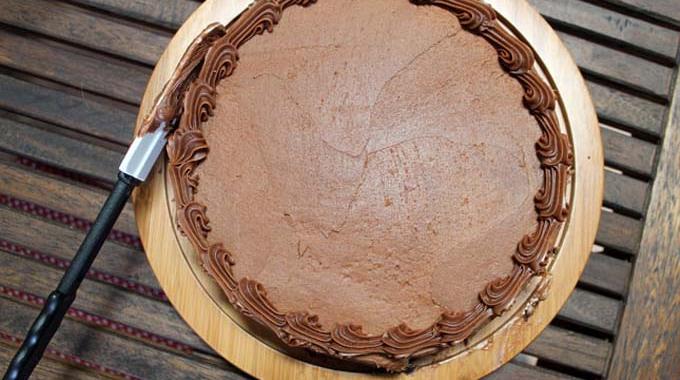 Frosting a cake is very difficult.
It's not me, who sucks in the kitchen, who's going to tell you otherwise.
And yet, we would like to make one for parties, birthdays or Christmas.
It takes technique, it's true.
Fortunately, there is a parry, a great trick very simple.
This trick that all pastry chefs use is the « turntable« .
And voila.
Because the cake that we rotate, it really facilitates handling… Look at the result in image:
How to do
1. Place your cake on the turntable.
2. With a spatula, scoop out the icing.
3. With one hand, approach the spatula so that the frosting is in contact with the cake. Be careful not to press too hard.
4. On the other, gently swirl the cake.
5. Repeat until your cake is completely covered.
Results
There you go, you have successfully frosted your cake 🙂
Simple, practical and effective!
Your frosting is perfect.
Even better than in Le Meilleur Pâtissier!
You see, it's not that hard to make nickel glaze.
This is a professional trick that you can use to make frosting for your chocolate, white chocolate cake.
And it even works for a successful mirror glaze.
Now all you have to do is enjoy your cake.
If you don't have a turntable, here's another easy way to frost a cake.
Otherwise, you can find it at very affordable prices.
Good to know: these turntables are also called Lazy Susans.
Your turn…
Have you tried this grandma's trick to easily make frosting? Let us know in the comments if it worked for you. We can't wait to read you!
Share this tip
Do you like this trick ? Click here to save it to Pinterest or click here to share it with your friends on Facebook.
Also to discover:
The Trick to Keeping a Cake Moist Longer.
My 3 Ideas For Cooking Leftover Chocolate.