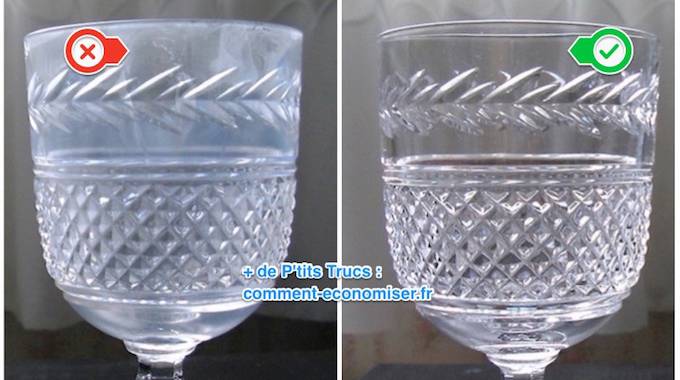 Due to limescale, they become dull and lose their transparency and shine.
The magic trick to recover glasses bleached by the dishwasher is to soak them in white vinegar for 10 min.
How to do
1. Fill a basin with white vinegar.
2. Put your glasses to soak in the basin.
3. Leave to act for 10 min.
4. Rinse them.
5. Wipe them with a microfiber cloth.
Results
There you go, your glasses are now sparkling 🙂
They shine again as if they were new. No more dull glasses from the dishwasher!
It's a great trick to recover bleached and tarnished glasses by the dishwasher.
You will see.
There is no longer a single white trace: they have regained all their shine and without using any Sun Wash 😉
It's so easy and economical to remove this corrosion on the glasses!
And it's much prettier like that on your table!
You now know how to clean glasses damaged by the dishwasher!
Believe me…
This white vinegar cleaning is the best way to remove white marks and make dull glasses shine.
And the good news too…
It is completely natural and ecological!
In addition, it also works for your cutlery and crystal glasses.
Why does it work?
Why bleach glasses in the dishwasher?
It often happens after a while because of hard water.
And you probably know that white vinegar is a great anti-limestone.
Its pH is very acidic.
It is this acidity that dissolves the limestone that gradually deposits on the glasses.
It will remove the veil on the glasses.
This is what makes it possible to catch a bleached glass in the dishwasher. No more opaque glasses!
bonus tip
– How to prevent glasses from turning white in the dishwasher? It's simple ! To prevent a white veil from depositing on your glasses, pour a glass of white vinegar into the rinse compartment of the dishwasher. Put in your dishwasher tablets. And run the dishwasher as usual.
– White vinegar is a multi-purpose product. So if you have limestone on larger surfaces, put white vinegar in a spray bottle. Spray it on the surfaces to be treated and finish by wiping with a microfiber cloth. Lo and behold, the limestone is gone!
Your turn…
Have you tried this trick to remove white marks from your dishes? Let us know in the comments if it worked for you. We can't wait to read you!
Share this tip
Do you like this trick ? Click here to save it to Pinterest or click here to share it with your friends on Facebook.
Also to discover:
Your Dishwasher Leaves White Marks on Your Glasses? Here's what to do.
Stop Buying Dishwasher Rinse Aid. Use White Vinegar.