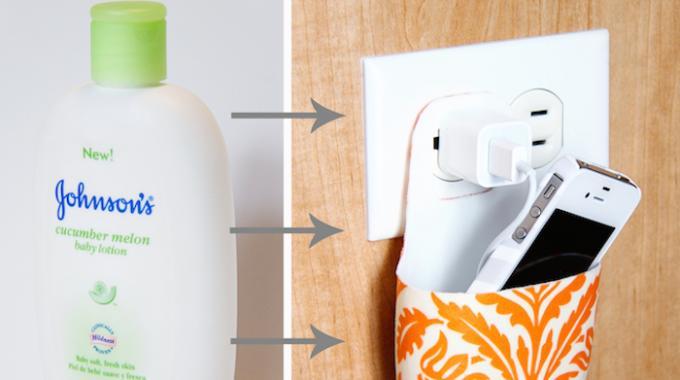 In addition to risking scratching it, it is not very aesthetic in the house.
Especially when the whole family starts charging their phones.
How to do
1. Cut an empty shampoo bottle in half.
2. Leave a piece of the bottle to hang on the feeder, as in the photo.
3. On this part, make a notch with a cutter, as in the photo.
4. Rinse the bottle well.
5. Wipe it well.
Results
There you go, you now have a stand to charge your iPhone 🙂
Simple, practical and effective!
No need to buy a support for your iPhone. You have what it takes at home to make it completely personalized.
And you can even decorate it to make your stand even more beautiful.
The advantage is that it works with any mobile phone: iPhone 12, 12 Pro Max, 11, 11 Pro Max, SE, X, XS, XS Max, XR, X, 8, 7, 7 Plus , 6S, 6S Plus, 6, 6 Plus, 5S, 5, 4S, 4 and 3G for iOS 7, 8, 9, 10, 11, 12 and 14, Samsung, Huawei p30, Huawei p30 pro, Huawei p30 lite, Huawei p20, Huawei p20 lite, Huawei p40, Huawei p40 pro, Huawei p40 lite, Samsung Galaxy s20, Samsung Galaxy s10, Samsung s20, Samsung s9, Samsung s10, Samsung Note…
Your turn…
Have you tried this cheap trick to make an iPhone stand? Let us know in the comments if it worked for you. We can't wait to read you!
Share this tip
Do you like this trick ? Click here to save it to Pinterest or click here to share it with your friends on Facebook.
Also to discover:
An Inexpensive, Even Totally Free iPhone Dock.
Certainly the Best Support (free) to Watch a Video on Smartphone.